Posted on 01st July 2019 by Media Relations
Giving today's generation the tools they require to become leaders in conservation
Imagine giving your class the opportunity to experience what it is like to have a career at Taronga, one of the world's most renowned zoos, where working on conservation programs and rehabilitating wildlife is an everyday occurrence. Imagine being able to do this from the comfort of your very own classroom. Thanks to Google Expeditions and Taronga Conservation Society, the impossible has now become possible, with the recent launch of their Careers in Conservation at Taronga Zoo, Sydney Expedition. 
Working at Taronga is more than just a job, Taronga's team of talented employees connect with both guests and animals, and highlight the demand for conservation on both a local and global scale. With the Careers in Conservation Google Expedition, teachers and students are able to go exclusively behind the scenes at Taronga and discover the exciting range of career paths which all contribute to securing a shared future for wildlife and people. With the assistance of Google Expeditions and the recent launch of the Taronga Institute of Science and Learning, Taronga Conservation Society in alliance with Sydney University offers a range of accredited training courses that gives individuals the unique experience of working on site whilst you study.
Through the power of virtual reality, 'Careers in Conservation' is an immersive and captivating education experience where students are transported to over 8 different unique scenes found within the gates of Taronga by simply using a VR headset of just a mobile device. These 8 immersive scenes include the following: 
Southern Corroboree Frog Breeding Facility 

This experience allows students to gain an understanding of what it is like to be working as a Herpetofauna Keeper at Taronga. Through each focal point found within the scene, teachers and students will learn about the aid and recovery process of the Southern Corroboree Frog, a critically endangered and native species that Taronga is trying to save.
 
QBE Free Flight Bird Show

Zookeepers lie at the very heart of Taronga Zoo, they are individuals who work incredibly hard to bring together amazing experiences for guests whilst still highlighting exceptional animal welfare. The QBE Free Flight Bird Show is just one of these initiatives. This immersive scene explores the QBE Free Flight Show and gives viewers the chance to meet one of Taronga's Senior Keepers.
 
Australian Registry for Wildlife Health

A small yet mighty team who has dedicated their lives to researching and investigating the health and disease of both captive and wild animals. This team works alongside a range of partners to solve crucial issues such as disease outbreaks and wildlife events out in the field.
 
Wildlife at Risk

Teachers and students are transported to Taronga's immersive classrooms found within the Institute of Science and Learning, connecting children with wildlife at risk and educating them on different initiatives they can take to help combat issues such as illegal trade.
 
Immersive Learning at Taronga Zoo 

Education programs play a crucial role in connecting students with the natural world. Within this immersive scene, teachers and students are transported to Taronga's 3 unique habitat Classrooms such as The Dessert Classroom. Chat with Education Manager Courtney and learn about Taronga's recovery such as the Greater Bilby Recovery Programs.
 
Wild Australia 

Connecting guests and students with native Australian animals is a highlight of many roles at Taronga Zoo. Within this scene, students get the chance to meet kangaroos to regent honeyeaters and different characteristics of these native animals.
 
Taronga Wildlife Hospital

Taronga's expert veterinary team have care responsibilities that extend beyond the borders of the Zoo. Taronga's incredible team manage not only the health of animals within the Zoo's care but assist with up to 1,400 wildlife treatment and rehabilitation cases each year! 
 
Tiger Trek

Working as an exotic Fauna Zookeeper, like the carnivore division who work within the award- winning Tiger Trek exhibit is a fascinating career path. Sumatran Tigers are on the brink of extinction in their homeland due to deforestation of jungles in Sumatra. Within this scene, students learn about what initiatives they can take to combat this issue as well as the importance of tiger enrichment.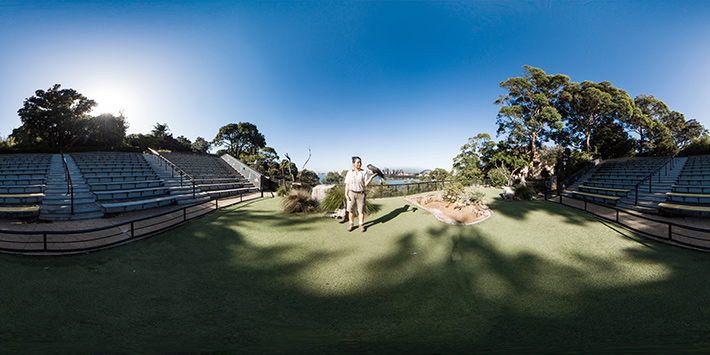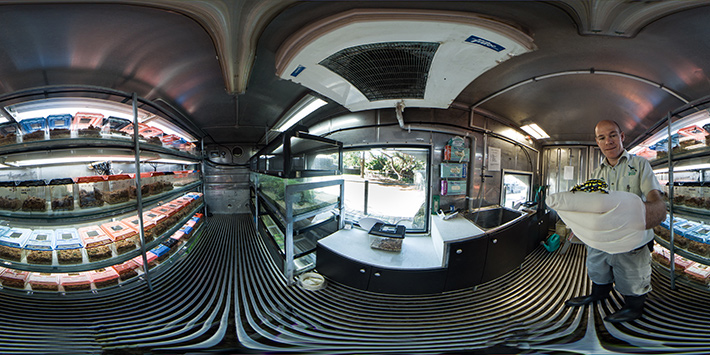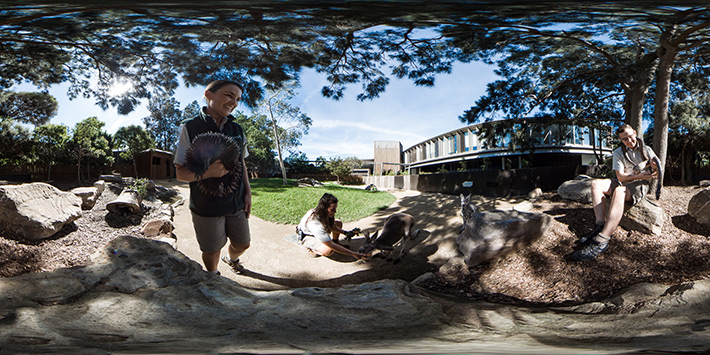 Within each unique experience found within Careers in Conservation at Taronga Zoo, there are stimulating questions which range from beginner to advanced to help encourage and increase student engagement. All scenes are also accompanied by curriculum – aligned learning resources to help deliver a rich learning experience for all students and teachers. 
"Working collaboratively with the NSW Department of Education STEMshare team and Google for Education on creating our Google Expeditions has been an exciting project. These digital resources are free and accessible to teachers and students across Australia and around the world. It highlights the incredible animals in Taronga's care and shares the inspirational stories of our talented staff, who are the faces behind our research and species recovery programs. 

Exposure to industry experts is a powerful tool in shaping career choices and we have designed these immersive virtual reality experiences to inspire careers in wildlife conservation and the STEM space for a new generation of global citizens and future change-makers."

Says Senior Education Officer Matthew Nelson.
Careers in Conservation at Taronga, in conjunction with the Education Programs offered at Taronga, work as a gateway for students to access the wider Zoo campus, it provides an authentic and interactive learning opportunity like no other. 
Google Expeditions can be accessed via downloading the Google Expedition app via the App Store or Google Play Store, simply by searching Taronga. Guide your students from the comfort of your classroom with interactive points of interest, embedded questioning and detailed descriptions and give them an immersive classroom experience like no other. 
For all media enquiries or more information, contact:
Jenny Steed   
02 9978 4606         
jsteed@zoo.nsw.gov.au