Stand with us and become a Light for the Wild
Lights for the Wild at Taronga Zoo Sydney backed by American Express is back! Running from 24 May–15 June, your journey begins at Taronga's heritage-listed main entrance—brought to life with our dazzling and moving animal projection show. Walk through the gates and explore the illuminated trail that winds through the stunning grounds of Taronga Zoo Sydney, showcasing new awe-inspiring giant multimedia light sculptures: meet the magnificent Sumatran Tiger and her new gorgeous tiger cubs, a fearsome pride of Lions and a Koala set against the spectacular Sydney Harbour awash in Vivid lights. Back this year is also the brightly coloured Marine Turtle, a swarm of tiny buzzing bees and our larger-than-life gorilla family – plus a whole cast of other captivating creatures that will sparkle in the night. Take time out and alight into the Taronga Centenary Theatre to see a multi-award winning animated short film favourite, reimagined as an amazing 270-degree cinema experience.
This year each of our incredible installations and light sculptures tell a fascinating story about our wildlife conservation. At Taronga we believe in a world where wild species make a comeback. Where the wild remains wild, and one day the balance is restored. Stand with us at Vivid Sydney at Taronga Zoo to become a wildlife champion and be a Light for the Wild.
As part of Vivid Sydney at Taronga Zoo, there are also a limited number of American Express Sky Pass tickets. American Express Sky Pass holders will have access to the Taronga Zoo Sky Safari at night to view the zoo from above and get a unique perspective of Vivid Sydney.

Lights for the Wild at Taronga Zoo operates Wednesday-Sunday as well as Public holiday Monday 10 June. But hurry, spaces for this spectacular event are limited with some sessions already sold out! Book today so you don't miss out!
If you are an American Express Card Member, enter the code 'AMEX' when selecting your tickets and pay with your American Express card to receive 10% off all admission tickets. T&C's apply.
Taronga Zoo is not for profit. All ticket proceeds go directly back to work in conservation and wildlife care.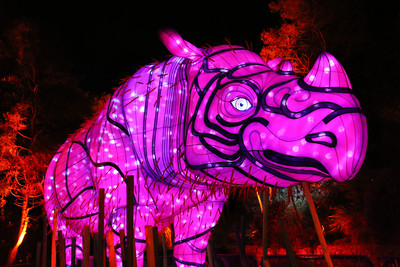 Dinner at The View
Epicure is lighting up The View Restaurant in celebration of Vivid Sydney at Taronga Zoo! Pre-book your dinner at The View Restaurant, located in grounds of Taronga Zoo, with one of the best views of the city.
Need to know:
Two sessions available each night: 6.00pm - 7.30pm or 8.00pm - 9.15pm
Includes Main and Dessert
Prices vary depending on the night you wish to book
Wednesdays – Saturdays: Adult $48, Child $19 inc. GST
Sundays: Adult $55, Child $21 inc. GST
Public Holiday: Adult $60.00, Child $25.00 inc. GST
View the menu
MAIN COURSE – please select on the day
Huon Valley Pan Seared Salmon, Wilted Bok Choy, Capers and Aromatic Herb Mash, Salmon Roe Soy and Butter Sauce (GF)
Grilled Chermoula Chicken Breast, Asparagus, Roasted Chat Potatoes and Wild Mushrooms Sauce (GF)
Forest Mushrooms and Asparagus Risotto with Cold Pressed Avocado Oil Drizzle (GF, VEG)
Roasted Vegetables Ragu with Penne Pasta (GF)
DESSERT – please select on the day
Pistachio, Apricot and Cranberry Tart served with Vanilla Gelato
Dark and White Chocolate Charlotte with Berry Sorbet
KIDS MENU – please select on the day
Kid's Fish and Chips, Battered Whiting Fish Fillet, Mayonnaise and Garden Salad
Macaroni Pasta, Roasted Vegetables, Baby Spinach and Mini Bocconcini (V)
KIDS DESSERT – please select on the day
Vanilla Panna Cotta with Strawberry Coulis
Nutella and Strawberries Crepes
Menu Key
(V) Vegetarian
(GF) Gluten Free
(VEG) Vegan
BEVERAGE
All beverages to be ordered and paid for on the evening
FAQs
Tickets
What are the ticket prices?
Wednesday – Sunday (Including Monday Public Holiday 10 June):
Adults: $26.95
Children: $19.95
Concession: $24.26
How do I purchase tickets?
Can I buy tickets at the Zoo on the night?
Tickets can be purchased at the Zoo on the night, unless sold out. We recommend you pre-book online to guarantee entry and avoid disappointment.
What is the American Express Sky Pass?
Thanks to our presenting Partner American Express, there will be a limited number of tickets per night available for purchase at no additional cost. The American Express Sky Pass features a round trip on the Sky Safari, giving visitors an exclusive bird's eye view of the light walk and illuminated city skyline.
Does a Vivid ticket give me entry to the Zoo during the day?
No, entry for Vivid Sydney at Taronga Zoo commences at 5.30pm. You can purchase a zoo day add on ticket when you book online.
Transport
How do I get to the Zoo at night?
There are lots of transport options available for visitors to Vivid Sydney at Taronga Zoo backed by American Express. You can drive and park at the Zoo but there are limited spaces so the best option is to take public transport. The Zoo is located 12 minutes from Circular Quay by ferry or a short bus trip from the city or North Sydney. Additional ferry services to Circular Quay and bus services to Spit Junction will be running from the zoo during Vivid.
Visit www.transportnsw.info or call 131500 for up-to-date information and timetables, or download the Vivid ferry timetable now.
How do I get from the wharf to the Zoo's top entrance?
There will be regular bus services to transport visitors from the wharf to the Zoo's top entrance. Please note there will be no entry via the Zoo's lower entrance or Sky Safari cable car.
Is the bus a free shuttle service?
No they will be regular Sydney public bus services, so please ensure you have your ticket or Opal card ready.
Can I take the Sky Safari from the lower entrance?
No, entry to the Sky Safari will only be possible for American Express Sky Pass holders at the Zoo's top entrance. The Sky Safari will be providing round trips, giving visitors a bird's eye view of the light walk and illuminated city skyline. Please note visitors will not be exit the Sky Safari at the Zoo's lower entrance.
How much does parking cost?
The car park is $9.00 for guests entering after 4.00pm.
The event
What time does Vivid Sydney at Taronga Zoo open?
Taronga Zoo closes at 4:30pm to day visitors. Vivid Sydney at Taronga Zoo is then open from 5:30pm - 9:30pm every night of Vivid from Friday 24 May to Saturday 15 June. Last entry is at 8:30pm.
How long does the light walk take?
The light walk will take approximately 1 to 1 ½ hours at a comfortable pace.
Can I download the Vivid Sydney 2019 at Taronga Zoo map before I go?
Is the Zoo an accessible site?
Taronga Zoo is an accessible site, but it does contain some steep slopes and the light walk is no exception. To get the most out of your experience, comfortable shoes and attire are highly recommended. Please contact us if you may require assistance. For full information on accessibility at Taronga Zoo, please visit: https://taronga.org.au/taronga-zoo/plan-your-zoo-visit/facilities-accessibility
Will there be places to eat?
Yes, food and beverage outlets will be open at Taronga Zoo during the evening, as well as additional Vivid-only food and beverage pop-ups, and Taronga's retail outlets to purchase keepsakes and other wildlife memorabilia. Additionally, dinner sessions at The View restaurant are available to book as an add-on to your Vivid experience.
These locations are marked on the Vivid Sydney at Taronga Zoo map. Taronga is a non-profit organisation and purchase helps support our wildlife conservation efforts.
What happens if it rains?
As an outdoor event, Vivid Sydney at Taronga Zoo is subject to weather. Please note the event will proceed rain or shine. We strongly recommend you come prepared with wet weather gear, raincoats and ponchos and something waterproof to sit on in case of rain. Ponchos and umbrellas are available to purchase at the Zoo's retail outlets.
Animals
How will the animals respond to the light sculptures and extended opening hours during Vivid Sydney?
Rest assured that Taronga's first concern is always the welfare of the remarkable animals in our care.The locations of the lanterns and light sculptures for Vivid Sydney at Taronga Zoo backed by American Express have been carefully chosen to focus on public areas rather than animal exhibits.
Taronga's animals also have access to the comfort and shelter of their night dens and inside areas, but it's not uncommon for certain animals to choose to remain outside during night events.
Planning has included detailed assessments from keepers, veterinarians and behavioural studies experts to ensure that the event will not be problematic for our animals. Additional keepers that are very familiar with the behaviours of all our animals will work later shifts to monitor them.
The actual lighting within the zoo is largely based on softly glowing lanterns, not an intense lighting display. These lanterns will gradually be switched on in late afternoons so that our animals can become accustomed to them.
Will visitors get to see animals during Vivid Sydney at Taronga Zoo?
The focus of Vivid Sydney at Taronga Zoo backed by American Express will be on the amazing light sculptures and lanterns, along with Taronga's spectacular harbour and skyline views.
After the animals have retired to their night quarters for the evening, the lights of Vivid Sydney at Taronga Zoo will take centre stage.
How you can help
Here are our tips to help reduce the impact of our collective footprint on the wild creatures that we share this planet with:
Reuse your own – raid your cupboards for any fun, flashing items (such as light wands) you have already purchased and bring them along. Most will have batteries that can easily be changed to bring it back to life!
BYO Bottle - We are promoting the use of reusable bottles and provide free water refill stations, which will be available for you. Please remember to bring an empty reusable bottle with you through security. Refer to map for location.
No Glow - Whilst they might shine bright for a night, unfortunately glow sticks cannot be recycled. Why not try wearing bright, neon coloured clothing instead?
Bring your old mobile - By recycling your old mobile phone you are not only keeping it out of landfill, but you are reducing the demand for further illegal mining in gorilla habitat. When you visit Vivid at Taronga Zoo, bring your old mobile phone and place it in the collection bin at the front entrance.
To find out more about what Taronga is doing to help reduce our impact on the environment, read our article Treading Lightly this Vivid.