Welcome to HATCH: Taronga Accelerator Program. HATCH aims to inspire, support and launch innovative ideas and actions to help address some of the most pressing environmental and conservation challenges currently facing our planet. 
We are calling on innovators, thought leaders, disruptors, developers, passionate individuals and everyone in between to help develop and implement brilliant ideas for the planet. 
One simple idea could change the future. The future starts today. What's your brilliant idea?
Applications closing soon!

HATCH applications close 5pm on Tuesday 24 March - apply now!
Program overview and structure
HATCH is a 14-week accelerator program designed to help you develop your brilliant idea into a not-for-profit or social enterprise venture that has a positive impact on the environment. The program will involve two immersive events in Sydney, weekly online workshops that you can attend from your home location, and a final pitch event in Sydney.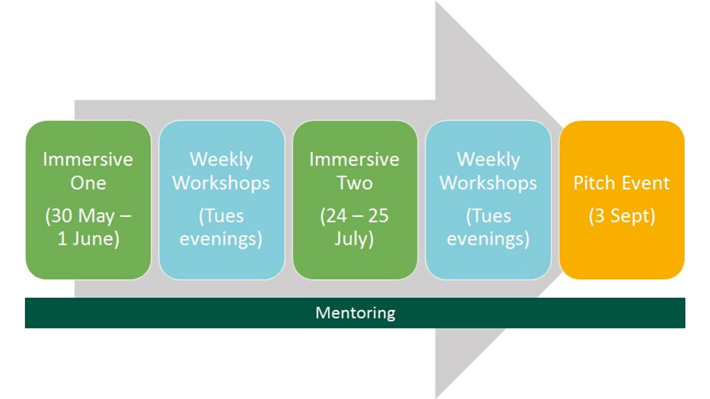 What is an accelerator?
Think of an accelerator as similar to a University or TAFE unit – a structured, fixed term development program. However, the purpose of an accelerator program is not only to educate, but to help participants to develop and refine their initiative or business venture.
During the HATCH program, you will undertake education sessions, peer collaboration, and have access to mentors from a range of different expertise. You will also undertake work on your game changing idea or product for the planet in your own time. 
Accelerators often provide seed capital to participants as well. HATCH: Taronga Accelerator Program will provide $2,000 to each participating team. 
At the end of the structured program, participants will present their ideas to a panel of experts. The panel will provide feedback and determine which idea or product is the overall winner and recipient of the major funding. 
If you have an innovative idea, an accelerator such as HATCH is a great place to develop your idea with the support of experts, and to meet and collaborate with like-minded people. 
HATCH program inclusions
The opportunity to receive up to $50,000 to bring your brilliant idea to life 
$2,000 seed funding for each team participating in the program (at zero equity)
A blended approach of face to face workshops, online sessions and digital modules to provide you with the knowledge to develop your initiative 
Expert learning, guidance and support from mentors and subject matter experts including Taronga experts, industry professionals, and not-for-profit and social enterprise leaders
Co-working space during the program, subject to availability 
Your brilliant idea is...
Targeted to address a key conservation or environmental challenge
An innovative approach to address the issue you're targeting 
Designed to make a positive impact on the natural environment
Aligned to the United Nations Sustainable Development Goals (SDGs) and Taronga's 360 degree approach to conservation
Early stage – you bring the concept, we'll help you to assess, test and validate it
Is established as, or plans to develop into, a not-for-profit or social enterprise organisation 
Ideally it has potential to scale up for ever greater impact over time
Taronga's 360o approach to conservation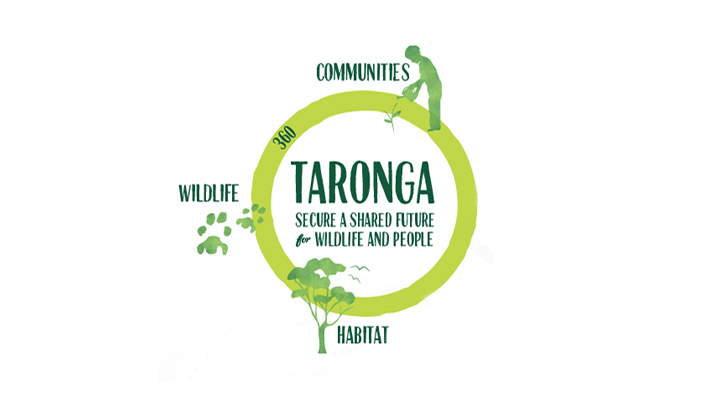 At Taronga we recognise that to achieve successful conservation of species we must also consider and support the habitat in which the species live, and the communities that interact with the species and habitat. Below are some examples of activities that Taronga undertakes under each area that may help you to consider how your initiative aligns to these areas.
Species
Habitat
Communities

Monitoring of wild populations
Breed for release programs
Rescue and rehabilitation of injured native wildlife
Research and development of suitable nutrition 

Habitat restoration, e.g. tree planting for Regent Honeyeaters 
Ensuring suitable habitat for native species within our two Zoo grounds
Researching and monitoring habitat use

Guest, student and community education programs
Tools to enable the public to protect wildlife, e.g. the Wildlife Witness app
Working with local communities to address challenges and be self-sufficient, e.g. Beads for Wildlife
Key dates
| | |
| --- | --- |
| Stage | Dates |
| Applications open | Tuesday 4 February 2020 |
| Applications close | 5pm on Tuesday 24 March 2020 |
| Application review | Late March to mid-April 2020 |
| Short-listed applications to provide additional information | Mid-April 2020 |
| Short-listed applicants panel interviews | Thursday 7 May 2020 |
| Program participants confirmed | Week commencing Monday 18 May 2020 |
| Immersive One | Saturday 30 May 2020 to Monday 1 June 2020 |
| Weekly online workshops (Tuesdays 5pm-7pm) | Tuesday 9 June 2020 to Tuesday 21 July 2020 |
| Immersive Two | Friday 24 July 2020 to Saturday 25 July 2020 |
| Weekly online workshops (Tuesdays 5pm-7pm) | Tuesday 28 July 2020 to Tuesday 25 August 2020 |
| Pitch event | Thursday 3 September 2020 |
Eligibility criteria
Open to Australian citizens and permanent residents only
All applicants must be 18 years and over
Teams can be a maximum of 5 people per team; individual applicants are welcome
Initiatives must align to the United Nations Sustainable Development Goals (SDGs) and to Taronga's 360 degree approach to conservation 
Initiatives must be delivered in Australia to benefit/support the Australian environment
Not for profit and social enterprise initiatives are welcomed; for profit initiatives are not eligible for this program
If applying as an organisation, the organisation will likely have an annual revenue of less than $150,000  
All participants must comply with the Terms and Conditions associated with the HATCH Program
All participants must comply with Taronga's Code of Conduct 
Header photo: Shunsuke Ono