Pre-Accelerator Program
Do you have an early-stage idea that aims to positively impact Australian wildlife or the natural environment? If you've got an innovative idea, we can help you set the critical foundations for success through the HATCH Pre-Accelerator Program.
Over six weeks this FREE online development program will help you to: 
Clearly articulate the problem you are addressing;
Clearly articulate your solution to the problem;
Develop your Theory of Change and Social Business Canvas, and;
Develop a plan for first round market testing of you solution.
This is a great opportunity to kickstart your startup journey and connect with other awesome changemakers, as well as some of the inspiring HATCH alumni.
The program is open Australia-wide, 18 years and older; places are limited, and selection is merit based. 
Program Structure

Program Dates

About HATCH

The HATCH Accelerator Program is designed to help ecopreneurs take their idea from vision to reality. If you are a not-for-profit or social enterprise founder or start up with a venture that will drive positive change for wildlife, biodiversity and the environment then we are here to support you.
We are excited that the 2023 HATCH Accelerator Program will be run in collaboration with the Odonata Foundation, which means we have amplified and multiplied the opportunities that come through joining this program.
Program highlights:
$50,000 prize. No strings attached – free to participate, no equity required
$2,000 equity free seed funding per initiative
Available to applications Australia wide
Travel and accommodation included
Expert advice from Impact Boom, Entrepreneur in Residence and delivery partner
Social enterprise or not-for-profit ventures accepted
Access to Taronga's and Odonata's expert network and individual team support
Access to the Odonata impact investor panel led by Nigel Sharp
Additional prizes up to $30,000 and pathways for regenerative agriculture innovations and ideas
Additional prizes and awards up to $5,000 each in top tier business management consulting packages, tailored to your needs
One year membership into the Wild People Alumni Network and platform providing exclusive trade benefits and continuous collaboration and promotion opportunities all year
Accelerator Program 2024
The HATCH Accelerator Program is all about supporting ecopreneurs to take their idea from vision to reality. If you are a not-for-profit or social enterprise founder with a venture that will drive positive change for wildlife and the environment, we have an amazing network of mentors and experts who can help you bring your vision to life and reach your goals sooner. And at the end of the program one team will receive the $50,000 HATCH Grant!
The program is open Australia-wide 18 years and older, to individuals and teams who have at minimum completed their business model canvas and demonstrated initial traction through first round market testing, and are seeking to accelerate their development and path to impact.
Places are limited and selection is merit based. If you're keen to be part of the next Accelerator Program, please register your interest and we'll be in touch with more information.
Register your interest by emailing: web@zoo.nsw.gov.au
Program structure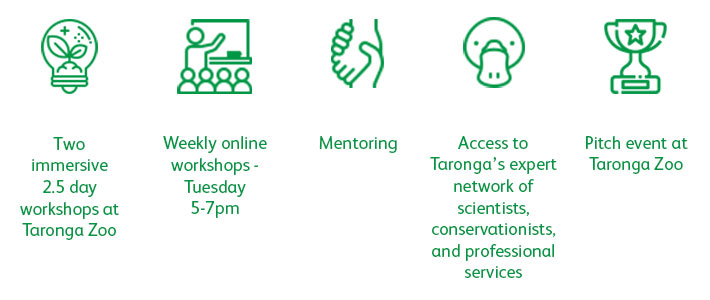 HATCH delivery team
The HATCH program is led by Belinda Fairbrother, Tom Allen, Paul Maguire, Christie Gazal and Sam Marwood, with involvement and support from other members of the Taronga and Impact Boom teams.
HATCH mentors and experts
HATCH participants are supported by a range of mentors and experts from across the startup, business, and for-purpose arenas, as well as Taronga's in-house expertise in conservation, community engagement, education and not-for-profit management. A huge vote of thanks to our mentors and experts for their commitment to support the HATCH participants and program.