About the course
Swing, step and climb right above the Zoo itself - look down and say hi to our cheeky koalas, emus and kangaroos at the Australian Walkabout along the way. The course can take anywhere from 45 minutes to 2 hours, dependent on the package (and how afraid you are of heights!).
Our adrenaline-fueled Wild Ropes courses are suitable for kids through to adults - just choose your challenge, strap on a helmet and harness, and get ready to climb! 
Wild Ropes is temporarily closed as our Australia Exhibit undergoes an exciting revamp!

The new exhibit will feature a brand new Koala encounter area with canopy walk, extensions to the Kangaroo and Wallaby immersive walk-through experience, a refurbishment of the Nocturnal Animal exhibition and a new underwater Platypus viewing area. 

While this does, unfortunately, mean that the Wild Ropes high ropes course does need to close temporarily, it will allow this exciting new development to not only breathe new life into one of our most iconic native exhibits, but also allow visitors the opportunity to interact with and foster a unique connection with our unique Australian wildlife and environment.

We look forward to reopening and welcoming back climbers around Christmas 2022.
Keeping you safe
To ensure the safety of all of our adventurers, staff and animals as our top priority, extra hygiene and physical distancing practices have been put in place to keep you COVID Safe:
Restricted capacities on sessions to allow for social distancing
Extra cleaning and sanitising stations
Tickets will only be allowed to be purchased online to avoid cash transactions (no cash purchases on-site)
Guests will also be encouraged to wear gloves while climbing
Come visit and let us show you the ropes!
Adult / Junior courses
Adults (18+) and Juniors (8 - 17 years old)
Four different courses available 
Juniors must be over 140cm tall
Juniors (8 - 13 years old) require climbing adults at a ratio of 1:4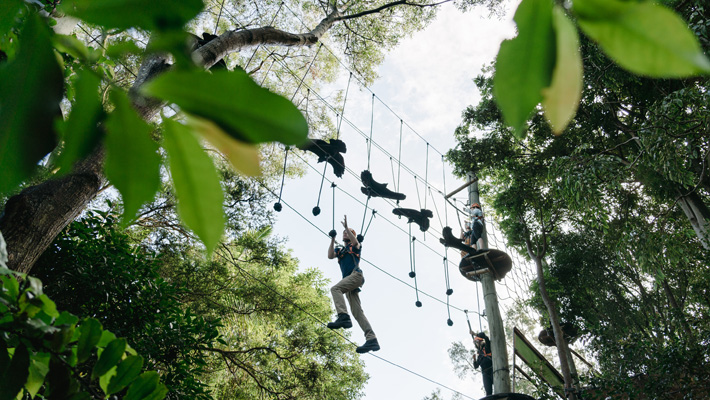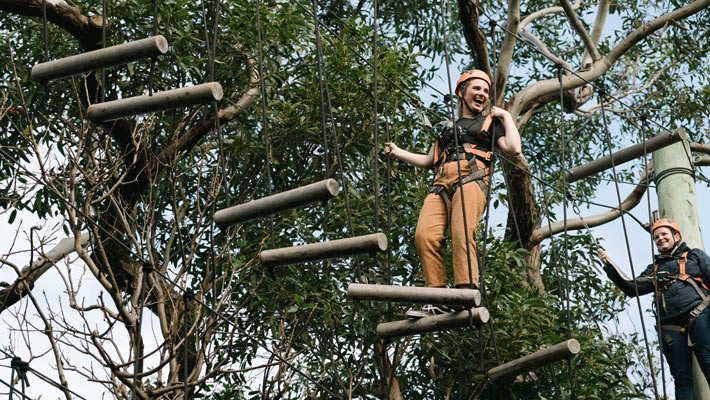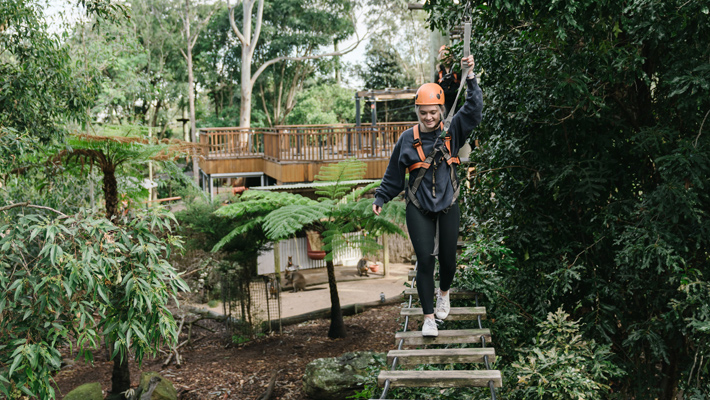 Children's courses
Children (3 - 8 years old)
Two different courses available: Koala and Possum 
Children can take the courses as many times as they like during their one-hour session
Harnessing and safety briefing included in one-hour session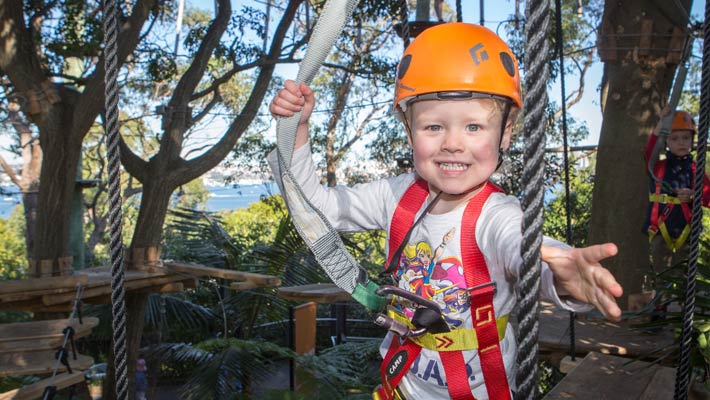 Zoo Friends
Did you know that if you join as a Zoo Friend you can get a 20% discount on tickets to Wild Ropes?
Simply enter your promotional code found in your Zoo Friends Newsletter during your payment process to redeem your discount*.
*Not applicable for gift vouchers.
Group bookings
Corporate or school groups welcome 
Motivational and great for team building 
Birthday party-packs available
Safety requirements
As an outdoor adventure activity, certain requirements must be met to ensure maximum safety and comfort for you and all our guests. Completing Wild Ropes requires agility, strength and endurance. As the activities undertaken on Wild Ropes involve some risks, it is the responsibility of all participants to ensure they are aware of and adhere to the below.
The following must be adhered to:
Adult and Junior climbers must be a minimum of 140cm tall and 8 years old
Children's course climbers must be at least 3 years old
The maximum weight is 120kg
A waiver form must be signed prior to participating by each individual participant
Compulsory safety equipment must be worn at all times
All shoes must be fully enclosed with rigid soles, no slip-on shoes or barefoot shoes (eg,Vibram Five Fingers) allowed
No exposed skin from the ankle down
Your waist should be covered and any piercings should be taped over or taken out
Long hair must be tied back
Glasses, including prescription glasses, may only be worn with a strap. Straps are available for purchase from the Wild Ropes arrivals desk
Nothing can be taken onto the course, including phones, cameras, keys and coins. Free lockers are available for your convenience and on-course photography will be available for you to purchase
The equipment provided includes:
Harness
Continuous belay system
EcoTrack Pulley
Helmet
A compulsory safety briefing will take place prior to your climb. If you miss this briefing, you will not be able to participate. Climbers will be allowed to access the courses once they have demonstrated an understanding of the safety briefing. 
The activity is not recommended for pregnant women, people with back injuries, heart conditions or any injuries affecting mobility, strength and endurance
For your safety and to avoid damage to the Zoo surrounds please stay on the marked paths
Wild Ropes management reserves the right to expel any person who does not abide by the conditions of entry and safety rules. By failing to follow the instructions you may increase the risk to yourself and/or others.