Our capital works program will continue to deliver transformational outcomes post 2020 following several new funding announcements from the State and Federal Governments in November 2020. These exciting new capital projects will enable Taronga to expand its important research and conservation works for our endemic wildlife following the devastating bushfires of 2019 – 20 summer along the NSW and Victorian coastline. 
Both Taronga Zoo Sydney and Taronga Western Plains Zoo Dubbo will continue to boost their transformational guest experiences, by creating increased wildlife tourism and hospitality offerings as well as fostering unparalleled conservation research and education outcomes.
Learn more about the plans for Taronga Conservation Society Australia Capital Programs below.
Taronga Zoo Sydney
Upper Australia Habitat
One of Taronga Zoo's most popular native animal exhibits will receive a $16 million revamp as part of NSW government funding, featuring an up-close Australian animal habitat experience. The new exhibit will house a specially designed koala encounter area with canopy walk, significant extensions to the kangaroo and wallaby walkthrough experience, refurbishment of Taronga's much-loved nocturnal exhibition and incorporation of underwater viewing of platypus. The revamp will also include a new western pavilion, tree top walkways and back-of-house and infrastructure upgrades.
This development will breathe new life into one of Australia's most iconic tourist destinations, particularly once international visitors can be welcomed through the gates to help Taronga recover following devastating impacts and challenges from the bushfires and COVID-19 pandemic.
This revitalised precinct allows for greater focus on giving visitors the opportunity to interact with animals that are unique to Australia and are vital improvements that will continue to give people a special connection to our wildlife and environment.
Demolition works are scheduled to begin in early 2021 and primary construction works scheduled to commence post mid-2021, with a target to have the precinct re-opened as soon as possible in 2023.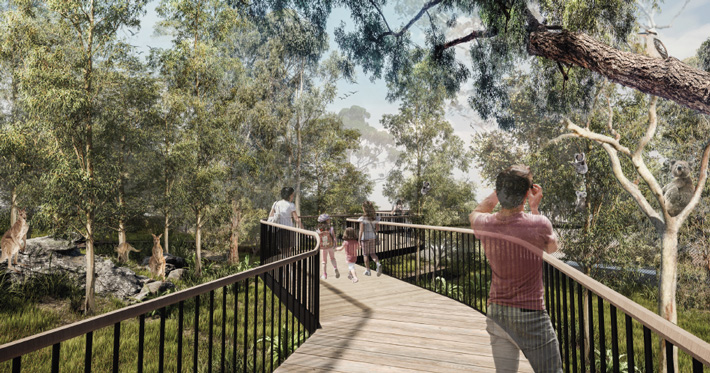 Taronga Wildlife Hospital - Sydney
A new state-of-the-art Taronga wildlife hospital complex which will bring back of house to the public eye. This new facility will connect our existing clinic and educational facilities in the Taronga Institute and create the opportunity to continue the excellence of zoo animal care and wildlife rehabilitation.
Phase 1 – Construction of the back of house Nutrition Centre – scheduled to commence in 2022.
Phase 2 – Construction of Main Taronga Wildlife Hospital – scheduled to commence in Late 2023 - Early 2024.
Reptile and Amphibian Conservation Centre
This new precinct will deliver a highly engaging guest experience, with a selection of specialised exhibits showcasing an array of amazing reptiles and amphibians "Of the Wild", including critical breeding facilities to support zoo-based conservation programs. 
Construction of the Reptile and Amphibian Conservation Centre is scheduled to commence 2022.
Taronga Platypus Conservation Centre Sydney
The Taronga Zoo Platypus Conservation Centre at Sydney will have the ability to house up to 12 platypus at one time in need of temporary accommodation or rehabilitation. In addition, the centre will include a research facility allowing programs to be established to address knowledge gaps in reproductive biology and develop species specific translocation strategies.
Construction of the Taronga Platypus Conservation Centre Sydney is currently scheduled to commence 2021.
Congo Forest
The Congo Forest Precinct will deliver a new lush simulated forest experience, whereby Taronga's guests will be able to find the growing gorilla family nestled in natural environment. The exhibit will be deliberately designed to deliver the optimal environment and ambience that will enable the gorillas to display natural behaviours in a comfortable and embracing space. 
This will in turn offer our guests with a breathtaking and highly immersive experience that will provide a solid platform to engage and influence guest on how they can supportthe future of gorillas in the wild.
Design of the Congo Forest Sydney is currently scheduled to commence in 2021/22 and construction is currently programmed to commence in 2023.
African Savannah Precinct - officially open
The new Taronga African Savannah precinct at Sydney was officially opened in 2020. 
This highly immersive and engaging precinct offers our guests a one of kind multi-species habitat experience, whereby guests can see up close Lions, Giraffe, Zebra, Meerkats, Ostrich and Fennec Foxes, whilst enjoying expansive views of the spectacular Sydney Harbour. 
The precinct recently won the Master Builders Association Award for the best public building in its class. 
Taronga Western Plains Zoo Dubbo
Taronga Wildlife Hospital - Dubbo
This project will deliver a brand-new state-of-the-art Wildlife Hospital and Wildlife Clinic that will enable Taronga to expand its service offerings as well as continue to deliver excellence in wildlife rescue, rehabilitation and conservation, as well as ensure its at the forefront of delivering excellence in animal care and welfare. This project will increase the size of Taronga's rehabilitation facilities and recovery capabilities, which were in high demand through the last drought and bushfire season.
Construction of the Taronga Wildlife Hospital Dubbo is currently scheduled to commence early 2021.
Taronga Platypus Conservation Centre
The new Taronga Western Plains Zoo facility expands the Sydney operation to regional areas throughout NSW, QLD, Victoria and Tasmania.
As part of an NSW government commitment to secure platypus populations, Taronga Conservation Society Australia (TCSA) will deliver a new multi-purpose Platypus Conservation Centre at Taronga Western Plains Zoo in Dubbo, NSW. 
The facility will deliver:
The capacity to support a catchment-scale insurance population of up to 65 platypi
A research centre to observe and understand platypus breeding behaviour
A visitor centre to engage communities and inspire students
A naturalistic pre-release creek to observe platypus in a wild setting & build condition before releasing animals into the wild.
Construction of the Taronga Platypus Conservation Centre is currently scheduled to commence in 2022.
African Waterhole and Overlook Cafe - officially open
The waterhole café offers an opportunity to interact with mischievous meerkats while providing an interactive water play picnic spot.
This African-themed café precinct was successfully opened to guests in mid-2020, and has received highly positive feedback from guests.
Awards and Recognition
Over the many years of capital development from our first masterplan in 2001 to the current, Taronga has achieved many industry awards with its bespoke buildings and unique landscapes which are industry recognised as design and delivery leaders of exhibits, tourism, sustainability and hospitality assets throughout Australia and around the globe. 
Taronga Zoo Sydney
Capital Program - Awards and Recognition
Taronga Institute of Science & Learning – World leading 6 Star Greenstar environmental rating
Wildlife Retreat at Taronga – State and National Master Builders Association's Excellence in Building and Construction Award in its category. Find out more and book a stay at the Wildlife Retreat
African Savannah recently won the Master Builders Association award for best public building in its category and sits along other buildings and exhibit landscapes as industry winners in design and construction
Taronga Conservation Theatre – State and National Master Builders Association award in its class
Taronga Top Entry Plaza - Master Builders Association award
Asian Elephant Rainforest - Master Builders Association award
Backyard to Bush Exhibit – Master Builders Association award
Taronga Western Plains Zoo Dubbo
Capital Program - Master Builders Association Awards (MBAA)
Children's Playground – Master Builders Association Award winner
Elephants – Master Builders Association Award winner
Zoofari Lodge – Tourism and Master Builders Association Award winner
Billabong Camp – Tourism NSW winner