Journaling increases our physical, emotional and mental wellbeing. Journaling in nature prompts us to still our minds as we connect with our surroundings – to become immersed in the moment, hone our observational skills, and engage all our senses in quiet contemplation. 
This inspirational day follows a program conceptualised and designed by Associate Professor Jay Johnston, University of Sydney for people looking to deepen their connection with nature by developing their nature observation and writing skills. By connecting ourselves with the rest of nature, we will learn how to translate experience into written word.
This day course would also appeal to anyone engaged or looking to contribute to citizen science programs.
About your teacher
With a strong belief in the importance of science communication, Dr Paul Mason has published in leading popular science journals including Australasian Science, Cosmos, and The Conversation. His passion for understanding humans and the rest of nature has seen him conduct a mixture of both laboratory and field research. He has received writing awards from Australia Post, Samsonite, and QANTAS, and regularly appears on radio to discuss science and philosophy.
Day course discoveries
Associate Professor Johnston has identified the following benefits of the program:
Develop nature journaling techniques including objective and creative recording skills
Build species knowledge via practices of close attention and conceptual enquiry
Connect to species and habitats via the practice of disciplined observation
Generate participant confidence and understanding about how to apply these skills, e.g. contributing to citizen science 
Promote on-going curiosity about biodiversity and the wellbeing benefits that ensue from nature connection
What the day looks like
As part of a small group, you will learn about the history, practice, and methods of nature journaling before embarking upon your own nature journaling expeditions at key sites around the Zoo. Through guided journaling activities you will develop key techniques in sensing, perceiving and observing the natural world.
During the day, participants will conduct observations of birds, mammals and marsupials. They will participate in four group seminars with animal observations in Zoo grounds in between each session:
Re-educating the Senses
Nature Journaling Methods
Nature Narratives
Group Feedback and Editing
The opening session will be held in the Taronga Institute of Science & Learning with the remaining sessions utilising the open space of the Zoo and the many different outdoor amphitheatres.
What to bring
Nature Observation & Journaling includes walking around the Zoo and sitting to observe animals at specially selected areas. Lunch and afternoon tea is not provided. While food can be purchased on the day, it is recommended that guests bring their lunch to avoid lunchtime queues. Appropriate food storage and refrigeration is provided.
Nature Observation & Journaling participants should bring:
Comfortable clothing suitable for wearing outdoors and appropriate for the weather (rain jacket, hat, sunglasses etc.)
Protective, closed footwear
Refillable water bottle and food
Notebook, pen and pencils, pencil sharpener and eraser.
Nature Observation & Journaling is an all-weather experience so please come prepared accordingly. Taronga reserves the right to cancel the program at any time due to unforeseen circumstances such as in the event of forecasted severe weather. In the unlikely chance that this situation should occur, Taronga will contact you prior to your participation date.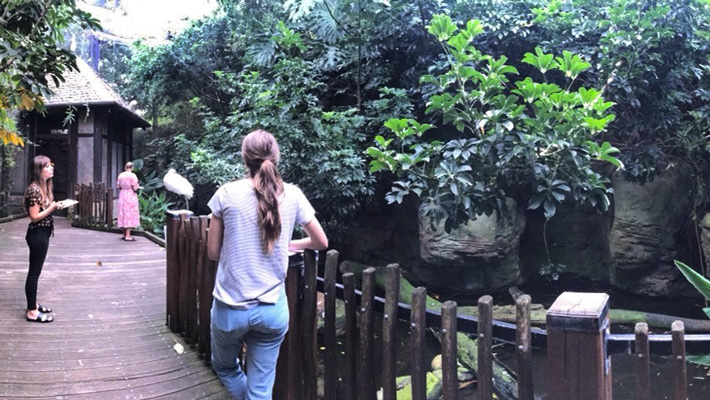 Available dates
Individuals can book into the following set date to participate in a Nature Observation & Journaling day:
Participants will be part of a small group of up to 18 people. A minimum number of 4 participants is required for the day course to proceed.