Posted on 26th July 2018 by Media Relations
There will be no shortage of excitement at Taronga Zoo these school holidays following some major breeding successes recently.
Orange is the new black in the François' Langur exhibit after one of the world's rarest monkeys, a bright orange male tiny infant was born in April.
The infant has been named Didi, meaning little brother in Chinese, which represents his Southeast Asian heritage.
Like all young François Langurs, Didi was born with distinctive bright orange hair, a stark contrast to his parents' black colouring. It is believed the colour distinction makes it easier for adults to identify and look after infants.
Senior Primate Keeper, Jane Marshall, said: "Didi is doing really well. He is starting to become independent and wander away from mum Noel to climb on his own."
"He is a stunning golden colour at the moment, but we're already starting to see the hair growing dark on his body."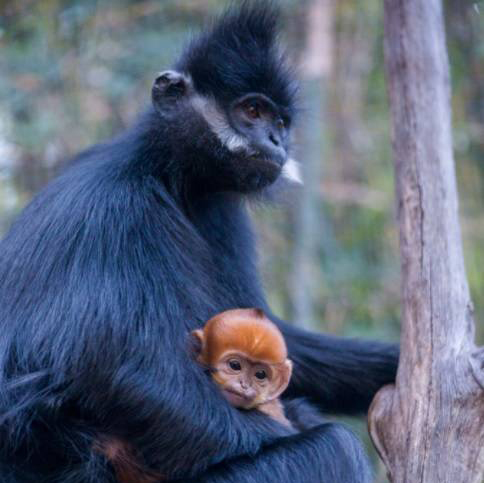 An adorable Southern Hairy-nosed Wombat joey emerged from its mother's pouch at Taronga last week after eight months.
The female joey, born in October last year, has been named Mila which is 'five' in the language of the Kaurna people of South Australia, where these wombats can be found. Mila is the fifth joey from mum Korra; her father is Noojee, and she has one older sister at Taronga Zoo Sydney named Nulai.
Mila and her mother Korra can be seen throughout the day by keen-eyed guests in the Wombat Dens located in the Backyard to Bush precinct.
To add to the conservation achievements at the Zoo, one of Taronga's brand new Koala Joeys has started to emerge from the pouch over the past week.
First time mum Wattle, will be home for the Joey until it is about one year old.
The joey can be seen in the Australian Fauna precinct in Taronga, popping it's little head out every now and then. Another Koala joey is soon to emerge as well.
The newest kids on the block at Taronga are in our Backyard to Bush farm area. They are adorable Goat Kids named Sooty and Milo, kids to mum Bess and dad Zodiac.
Visit the kids at 2pm to see the farm show, which will involve animal feeds and talks on sustainable farming.
The Zoo is open every day of the holidays, from 9.30am–4.30pm, and is a great place to relax and unwind with family.
Visit taronga.org.au/taronga-zoo for tickets and information.
— ENDS —
For media enquiries, interviews or more information, contact:
Sarah Lievore, slievore@zoo.nsw.gov.au