Posted on 25th January 2019 by Media Relations
SIMON DUFFY, DIRECTOR OF TARONGA Zoo Sydney, has been appointed a Member (AM) of the Order of Australia in recognition of his work in wildlife conservation, both in Australia and for primate species in Africa. Simon is among an inspiring cohort of local Aussie heroes named on the Australia Day 2019 Honours List, published today.
"I feel honoured to receive this award," says Simon, "but also very fortunate that I've been able to work with the people and projects that I have over my career. I am also proud of Taronga and the journey it has been on in its transformation from a traditional zoo to a zoo-based conservation organisation. A zoo visit today is about being inspired by some of the world's wildlife while also discovering ways each of us can live more sustainably and conserve wildlife."
A long-time employee of Taronga Conservation Society Australia, Simon, originally from NSW's Wagga Wagga, started as a work experience zoo keeper at Taronga Western Plains Zoo when he was just 15. After university he secured a role in Taronga Sydney's education team, relocating from his home town to Sydney in 1996. Since that time Simon has held various roles at Taronga, including nine years in the position of Director of Wildlife Conservation and Science.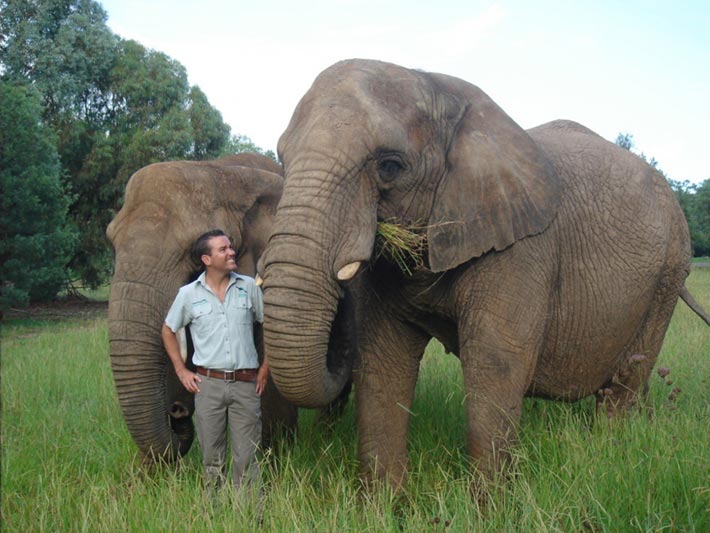 "There have been so many highlights in my career," says Simon, "Some of the most memorable have included starting Taronga's Roar & Snore sleepover program, leading the conservation team when we bred and released the 50,000th animal to the wild, helping to launch Taronga's sustainable seafood campaign and being involved in the development of Taronga's Institute of Science and Learning." 
"At Taronga we talk about a 360° commitment to wildlife," Simon adds, "which means we don't just focus on wildlife, but we have a holistic focus that also includes communities and habitats. Taronga's skills in caring for small populations of wildlife, wildlife ecology, veterinary health, biosecurity, nutrition, community education and animal welfare is increasingly being called upon for the recovery and conservation of wildlife in Australia and around the world."
As well as being recognised for his commitment to the conservation of local species, Simon is being honoured with an Order of Australia medal for his work with endangered primate species in Africa. Since his first meeting with renowned primatologist Jane Goodall in 1997, Simon has worked with the Jane Goodall Institute on primate conservation and volunteered in Chimpanzee sanctuaries in Uganda, Republic of Congo and the Democratic Republic of Congo.
"These experiences are life changing," he says. "I work with chimpanzees that were orphaned by the illegal pet and bush meat trade and people that are dedicating their lives to wildlife, despite the horrific troubles and daily challenges they have to face in their homes.  The stories of struggle, hope, and commitment to a peaceful future are mind blowing."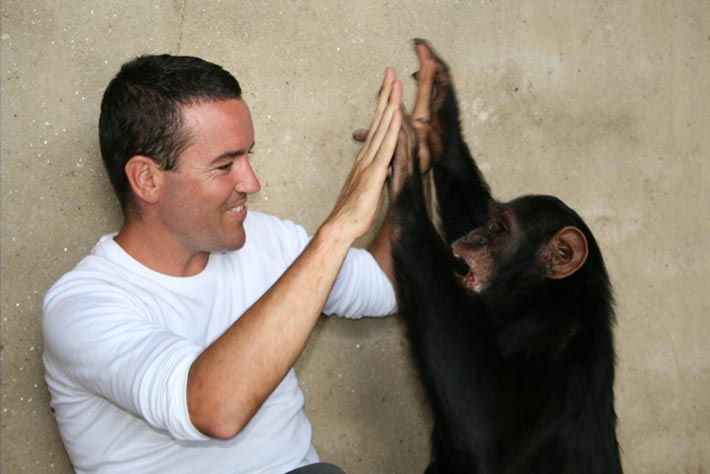 Today Simon is the Chair of the Jane Goodall Institute Australia Board. The Institute contributes to programs in Africa for wildlife but also coordinates Roots & Shoots, a youth led action program where kids all around the globe can make a difference.
"We live in an age of rapid and unprecedented planetary change," Simon says. "According to the 2018 Living Planet Report, wildlife populations have declined by 60 per cent in just over 40 years. In saying this, there is hope. We are fortunate that we are the generation that has a clear understanding of the value of nature and our impact on it and we may be the last generation that can take action to reverse the trend – a decisive moment in our history." 
"The key to conserving wildlife is the knowledge and commitment that we can all act. The choices we make and our everyday behaviours make a difference. It can be as simple as finding out and making purchasing choices that have little to no impact on wildlife, reducing our consumption overall and finding our personal magnificence and value in what we contribute not what we consume." 
Learn more about Taronga's conservation work here.