Posted on 28th April 2022 by Media Relations
Taronga Western Plains Zoo has continued its breeding success for the critically endangered Regent Honeyeater in just its second year in the conservation breeding program. This year 33 chicks hatched from eight pairs.
"This year we again achieved a 100% success rate with our breeding pairs, which was a great result. Seven of our eight pairs actually had two clutches of eggs during the breeding season," said Regent Honeyeater Keeper, Kara Stevens.
"It is such an incredible feeling to have back-to-back successful breeding seasons. It's evident that the birds are comfortable here in Dubbo to breed so confidently."
Recently the 33 juveniles underwent a physical health check by the Zoo's veterinary team, whilst Keepers took measurements for sexing. These included head to bill, tail and wing measurements. When all birds were identified, Keepers fitted leg bands and moved all juveniles to the Zoo's purpose-built flight aviary. It is here that they will develop their flight fitness and socialise with other Regent Honeyeaters and other species, as a multi-species flock.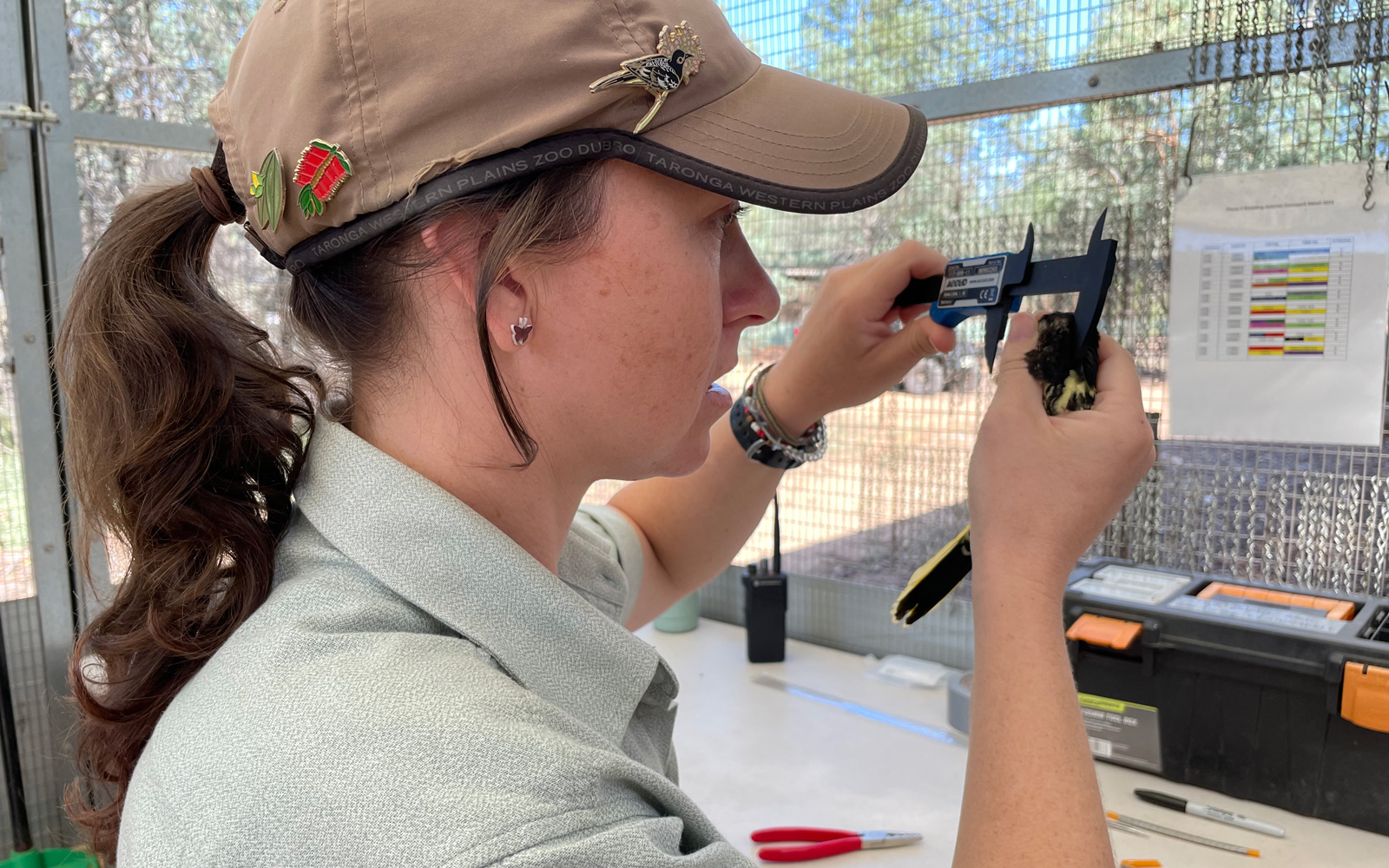 There are an estimated 350 Regent Honeyeaters remaining in the wild, so these newest arrivals are vital to help boost the zoo-based insurance population for this critically endangered species. These juveniles will likely one day be released into the wild.
Last year, Taronga Western Plains Zoo transported 30 Regent Honeyeaters to a release site, part of a cohort of 58 birds released into the Hunter Valley as part of the conservation program for this species. Seventeen of these birds were bred at Taronga Western Plains Zoo in the first breeding season in Dubbo.
"The past 12 months have been a mixture of excitement and also a time for learning," Kara said. "We have learnt so much to help us create a great environment for the birds and the results speak for themselves."
"The team that works with this species is thrilled with the success of the program here in Dubbo. We have some keepers who are new to zookeeping and to be involved with a conservation program that is breeding birds for release into the wild is very exciting."
The Regent Honeyeater Recovery Program is supported by the Department of Planning, Industry and Environment (NSW), Department of Environment, Land, Water and Planning (Victoria), Australian National University, Bird Life Australia and a number of zoo and wildlife parks in Australia.
Regent Honeyeaters are medium-sized black and yellow birds feeding on nectar, obtained mainly from eucalypts and mistletoe. Once widespread across Australia, they now exist in small numbers across limited sites from north-east Victoria to south-western Queensland.