Posted on 15th July 2022 by Media Relations
New arrival unlocks hope for Taronga Zoo's Fiordland crested penguin breeding program
Taronga Zoo Sydney is flippin' excited to announce the arrival of a rare Fiordland crested penguin. The male penguin, named Ed, was recently transferred from Melbourne Zoo to join Taronga's Fiordland crested penguin colony with hope that he will contribute to the only global breeding program of this rare species.
Taronga Zoo Senior Marine Mammal Keeper Jo Walker said: "We are beyond excited to have Ed join our Fiordland breeding program. Before Ed's arrival, we had four charismatic Fiordland penguins, three females named Gari, Moeraki and Dusky and one male, named Mr Munro.

"Like many species of penguins, Fiordland crested penguins are monogamous so it's fantastic for colony to have an additional male. This will give the other female penguins the opportunity to form a pair bond with Ed and potentially become parents," said Walker. 
Fiordland crested penguins are one of the rarest and most endangered species of penguin on the planet, with less than 2,500 – 3,000 breeding pairs estimated to be remaining in the wild. Threats including habitat destruction, introduced predators such as stoats which prey on Fiordland chicks and eggs have had a detrimental impact on wild populations. Other predators also include dogs, cats, rats and a native New Zealand species of bird, the Weka. Unfortunately, like many other species of marine life, Fiordland penguins also fall victim to becoming by-catch of the fishing industry.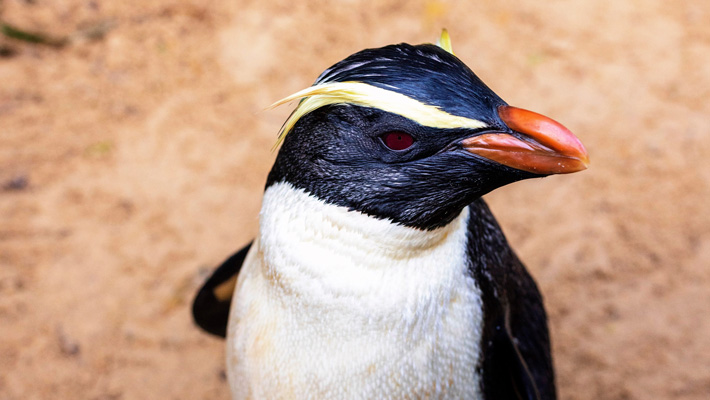 "Taronga Zoo is the only zoo in the world to have a Fiordland crested penguin breeding program. All five birds who call Taronga Zoo home are rescue birds that have washed ashore, thousands of kilometres away from their native homeland and in a state where they have required human intervention to help them survive. That's why Ed's arrival is so crucial for this incredibly rare species," said Walker.
Taronga's keepers have already introduced Ed to Dusky and have been very pleased with the behaviours they witnessed towards one another: "Ed has taken a keen interest in Dusky. We have seen them eating together, swimming together and we have even seen Ed starting to collect nesting materials to build a nest in his burrow. We hope it won't be too much longer until he invites Dusky into the burrow where they can nest together," said Walker. 
Taronga's Fiordland crested penguin colony can be seen at Taronga's Greater Southern Ocean Precinct located at map reference 9E. Take advantage of the winter school holidays at Taronga Zoo Sydney and learn how to waddle just Taronga's penguin colony with Taronga On Ice, Taronga's open-air pop-up ice rink. Running for the duration of the school holidays from 10am-5pm Taronga on Ice is the perfect addition to any zoo visit or the perfect winter date with a difference. Get your tickets now.