Posted on 15th August 2018 by Media Relations
Every two years, Taronga extends its reach by awarding funding to other organisations and conservation projects around the world. Since launching the Field Conservation Grants in 2008, Taronga has provided funding and staff support to 70 vital programs. Projects that have benefited from a Taronga Field Conservation Grant have helped to regenerate habitats, mitigate human-wildlife conflict, reduce poaching and trafficking and create opportunities for people and wildlife to live side by side.
Taronga has been a valued supporter of Conservation South Luangwa (CSL) in Zambia for many years. This respected organisation is dedicated to wildlife monitoring and rescue, law enforcement, and mitigation of human-wildlife conflict in a vast tract of the beautiful Zambian wilderness. South Luangwa is home to many species close to Taronga's heart, including lions, giraffe, zebra and African wild dogs.
CSL aims to use their current field conservation grant to increase the number and effectiveness of their anti-poaching patrols with enhanced aerial surveillance and to support their ongoing wildlife de-snaring activities. Despite many unexpected challenges throughout 2017, the organisation is on track to meet both of these goals.
The devastating increase in international demand for ivory and other wildlife products has resulted in elevated poaching pressure in some parts of South Luangwa. This, coupled with a significant drop in financial support for national parks due to administrative changes, has made the past 12 months particularly difficult. However, this team is made up of tough and intelligent staff and they know better than most that achieving results in conservation requires plenty of tenacity and hard work.
In just the first five months of the field grant period, CSL has conducted 200 patrols, apprehended 23 suspects, removed 225 snares from the bush and confiscated a total of 21 firearms, 228kg of bush meat, three leopard skins and three live pangolins!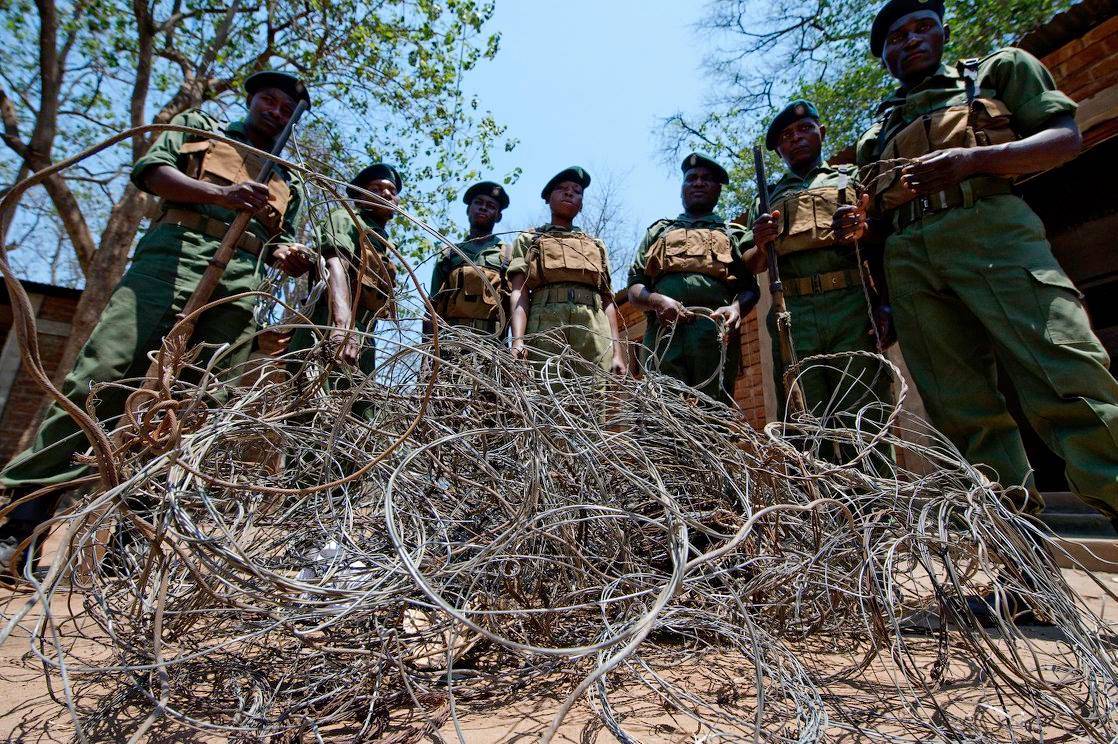 In 2017 CSL's Cessna 180 aircraft flew more than 200 hours in support of anti-poaching efforts, covering over 27000km of remote and largely inaccessible land. The year-round ability to locate wide-ranging, low density carnivore species (namely, African wild dogs and lions) that would be impossible to track from the ground, facilitates prompt identification of any snared individuals and ongoing monitoring of areas at risk of developing human-wildlife conflict. 
Snared animals continue to be reported, despite CSLs concerted anti-snaring efforts, but at a lower rate than in previous years. As the human population around the South Luangwa National Park increases, it is believed snaring will continue to be a threat, as wildlife is considered by some as a valuable source of meat. In 2017, in collaboration with the Zambian Carnivore Program (ZCP) and the government wildlife agency, CSL de-snared the following animals: three wild dogs, one giraffe, one lion, one hyena, three elephants, two zebras, four impalas and one buffalo. There is no doubt that all these animals would have died without intervention.
In addition to his role in treating snared wildlife, staff veterinarian Dr Sichande has been kept busy monitoring the health and wellbeing of CSL's expanding Detection Dog Unit. Due to the high levels of wildlife trafficking in and around the city of Chipata, CSL has established new kennels and a base there.
Conservation isn't easy. Under difficult circumstances, the recent upturn in CSLs operational performance is truly impressive and has directly benefited the individual animals rescued, whole populations of endangered wildlife, and indeed, this entire ecosystem. Taronga is proud and inspired as a supporter of these conservation heroes.
Learn more about CSL's work at: www.cslzambia.org