Posted on 03rd December 2021 by Media Relations
Find out how to be nice by choosing good palm oil when you shop for your festive food this Christmas!
Tis the big question of the festive season – have you been naughty or nice?
As we prepare for Christmas festivities with family and friends, planning the menu and finding the perfect gifts, it's a good time to reflect on the year that's been and consider what we've achieved and what we would like to do better in the future.
The last couple of years have shone light on the natural world and the negative impact of human activity on animals and the environment. While the big picture can make us feel helpless, if we focus on the every day actions, we can make nice choices for wildlife, habitat and communities.
One area where we can all make a difference is palm oil. Deforestation for unsustainable palm oil plantations threatens the future of many forest-dwelling species including orang-utans and tigers. But it's a complex issue and humans rely heavily on vegetable oil, of which palm oil is the most efficient option. Palm oil is found in roughly half the packaged products sold in supermarkets and is likely present in nearly every room of your home. So how do we find a win-win solution?
The answer is to seek the sustainable option. Certified Sustainable Palm Oil (CSPO) is oil that comes from plantations that have been independently certified as meeting the standards of the Roundtable on Sustainable Palm Oil (RSPO). When grown sustainably, palm oil production can benefit local communities and help to protect valuable species and forests.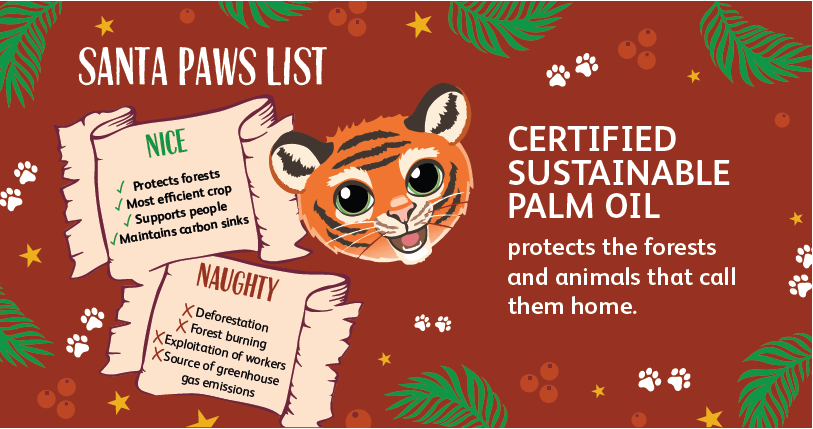 Sir David Attenborough's series Seven Worlds, One Planet calls for us to support sustainable palm oil:
"We can protect wildlife by buying products made with deforestation free sustainable palm oil. From companies that support local people and use existing palm oil plantations without cutting down more rainforest." 
So let's be nice to nature by choosing good palm oil when you shop for your festive food this Christmas, including ice cream, cookies, crackers, chocolate products, cereals, doughnuts and potato chips. Here's what you can do:
Choose brands that use 100% Certified Sustainable Palm Oil
Visit the WWF Palm Oil scorecard, select your favourite products and then show your support for those companies who are taking the right action to protect tigers
Share the news with your friends, there is such a thing as good palm oil  
Visit Taronga Zoo's Tiger Trek to see our majestic Sumatran Tigers and send an email to congratulate the Australian companies that already using 100% Certified and Sustainable Palm Oil. Over 130,000 emails have already been sent to companies through Taronga's Tiger Trek experience – add your name to the list.
Our vision is that 100% of all products in Australia are deforestation-free. Join us to protect tigers and help secure a shared future for wildlife and people.