Posted on 23rd February 2023 by Media Relations
Little Penguin released back into OCEAN after lifesaving care at Taronga Wildlife Hospital
A Little Penguin is now back in the ocean after having made a full recovery from life-threatening injuries. The female bird had been treated at Taronga Wildlife Hospital in Sydney for seven weeks, but was relaxed and healthy when the hospital team released her off Sydney's Palm Beach on Monday. 
"Nothing beats the feeling of being able to release a fully recovered Little Penguin back into the wild," Taronga Wildlife Hospital Rescue and Rehabilitation Coordinator Libby Hall said.
The penguin was found lying lethargic with deep wounds on its back by a member of the public on Newcastle Beach on 1 January. Local wildlife group Hunter Wildlife Rescue brought the injured bird to Taronga Wildlife Hospital for specialist care.
Upon admission, the hospital team determined the penguin had three deep, rake-like wounds on her back, a gash on her belly and an injured right leg. She was examined under anaesthetic and x-rays were taken to ensure no other injuries were present. 
"Although it is difficult to know exactly what has happened, judging by the pattern of the wounds she could have been attacked by another animal - potentially a sea eagle or even a dog," Taronga Wildlife Hospital Veterinary Officer Frances Hulst said. 
The penguin received full supportive care and pain relief, as well as regular wound care at the Taronga Wildlife Hospital during her stay. She also spent several weeks in the hospital's dedicated rehabilitation area, where she was able to swim and exercise to regain her fitness and strength.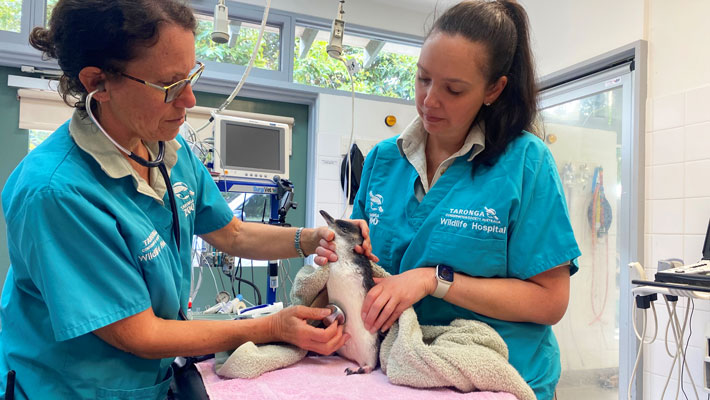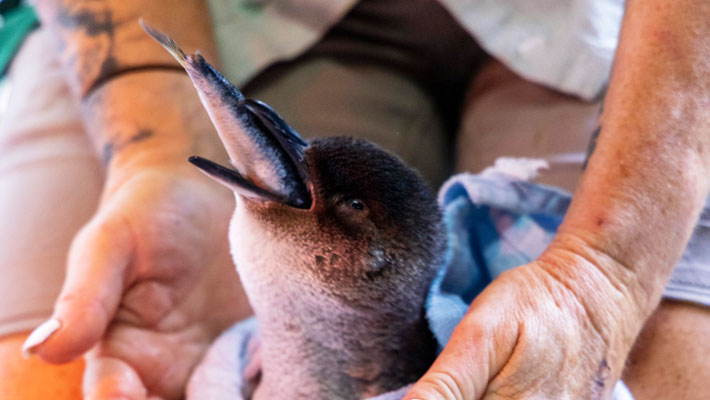 "We decided to release her off Palm Beach because there is a Little Penguin colony nearby, and we suspect she may have temporarily been travelling further up the coast when she sustained her injuries," Taronga Wildlife Hospital Rescue and Rehabilitation Coordinator Libby Hall said.
However, the danger isn't over for this Little Penguin. Moulting season takes place around March for Little Penguins in NSW, during which they replace their entire set of feathers with new ones.
During this time, they remain out of the water and are unable to feed and can lose up to 50 percent of their body weight which makes them weak and vulnerable to predators on land.
"The moulting season is the most vulnerable time of the year for Little Penguins, and that's when we see an increase in injured penguins being treated in our wildlife hospital," Libby explained. 

"We urge people to keep your dog on a leash where there may be wildlife, but this is more important than ever during the entire month of March for penguins in NSW. Little Penguins may be hiding in a cave near the beach while they moult, so you might not be able to see them with the human eye, but your dog will be able to smell them," she added. 
The Little Penguin is the world's smallest penguin species, and it's the only penguin to breed in Australia. Every year, 1500 animals are admitted to Taronga Wildlife Hospitals, and Taronga is the leading contributor to veterinary services in wildlife treatment and rehabilitation in NSW. 
Taronga's strategic priority is to increase its capacity to assist wildlife in need, which is why work is underway to build a new world-class wildlife hospital in Sydney. 
The new Taronga Wildlife Hospital in Sydney – set to open in 2025 – will increase the hospital's capacity to hold and care for injured wildlife including turtles, koalas and platypus and other native animals by 400 percent. 
The project is a joint philanthropic project between Taronga and the NSW State Government, with the NSW State Government matching philanthropic donations to Taronga up to $40 million. 
Find out more how you can support Taronga's wildlife conservation efforts here.