Posted on 15th September 2023 by Media Relations
Rhino Mania at Taronga Western Plains Zoo!
Southern Black Rhino calf Matobo has made his public debut at Taronga Western Plains Zoo, meaning there are now not one, but two rhino calves on exhibit at Dubbo – just in time for the school holidays.
The Dubbo Zoo is the only zoo in Australia to hold and breed three species of rhino – Black, White and Greater One-horned.
Born using a world-first reproductive treatment in April 2023, Matobo spent the past four months bonding behind-the-scenes with mum Kufara, but can now be seen by Zoo guests.
"Matobo and Kufara are now out on our main Black Rhino paddock and while they were a bit shy to start with, Matobo is getting more confident each and every day," said Black Rhino keeper Jake Williams.

"He's a big boy now, about 250 kilograms, and starting to eat mum's food, like browse, hay, and goodies like sweet potato, carrots and bananas.

"He's out there running around with mum in the mornings, exploring his world and is meeting all the milestones we like to see."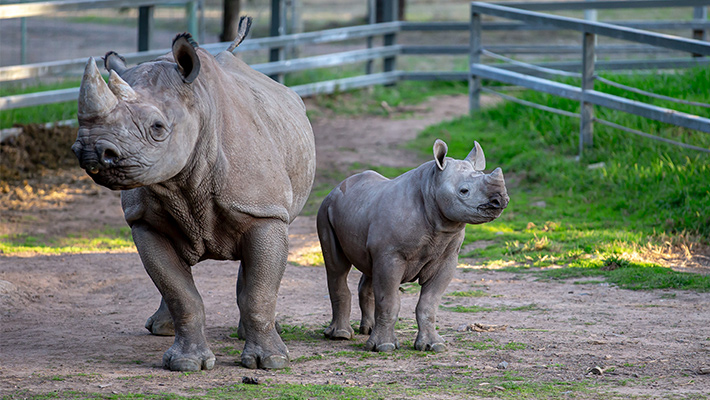 Southern White Rhino calf Jabulani, born in June, can also be seen on the White Rhino paddock at NSW's best Major Tourist Attraction this spring.
On Friday, September 22, the Zoo will celebrate World Rhino Day with three special enrichment keeper talks to take place across the day.
Throughout the Queensland and NSW spring school holidays, children will also be invited to complete the Rhino Ranger Trail and learn more about the five surviving species of rhino.
"For us keepers, every day is Rhino Day, but it's extra special for us to see the species taking over the Zoo these school holidays," Jake said.

"With fewer than 27,000 rhinos left in the wild, days like World Rhino Day are important to raise awareness of the plight all rhino species are facing, so we can all do our part to save them."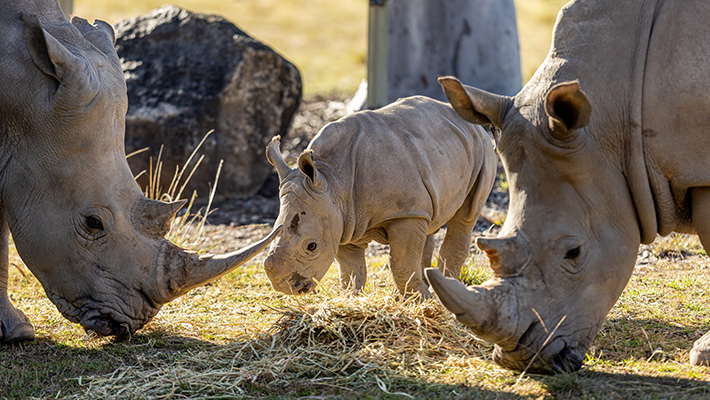 Rhinos are not the only babies bouncing around at Taronga Western Plains Zoo this spring, with the Meerkat mob recently welcoming its second litter of pups for 2023.
Born on August 2, the six fluffy new additions are right at home at The Waterhole where guests can see them busily digging, foraging, playing and of course doing sentry duty. Meerkats reach their full height at just six months of age, so get in quick to see these adorable babies for yourself.
Taronga Western Plains Zoo is open 8.30am-4pm daily during the spring school holidays. Plan your next adventure at https://taronga.org.au/dubbo-zoo