Priorities and actions
Zoo-based studies incorporating longitudinal monitoring of hormones, blood metabolites, behaviour, foetal development (via ultrasound monitoring) and other parameters have allowed us to answer many fundamental questions about a species' biology and life history that could not be answered by studying them solely in the wild. Information from such controlled studies in a zoo setting can then be combined with discoveries made in the field and integrated into management decisions for wild populations (for example, interpreting wild animal hormone profiles to assess rates of pregnancy loss and reproductive health).
There are a range of strategic interventions in the field of reproductive technologies that Taronga can integrate into its species care and management – artificial insemination, in vitro fertilisation, biomaterial banks (Taronga CryoDiversity Bank), sperm analysis and sorting – which have significant strategic benefits. Through these interventions Taronga is able to monitor anthropogenic impacts on species populations in the short and long term, facilitate fitness trait selection, bolster insurance population breeding programs with other zoos, rescue and safeguard genetic diversity by enabling the introduction and reintroduction of valuable genetics.
Taronga believes that reproductive technologies can play a significant role in species conservation and provide benefits to zoo-based species management when conducted strategically. Reproductive technologies do not represent a stand-alone avenue for species conservation, but instead represent another conservation tool that, when combined with adequate species prioritisation and threat prediction and mitigation, can improve the effectiveness of strategies for species and ecosystem preservation.
Diagnostics and research services
In addition to our roles in conservation recovery, education and outreach, zoos like Taronga facilitate an extensive understanding of a species' physiology and life history. This knowledge is critical to the success of in situ conservation efforts. ​
​We work to fill knowledge gaps in reproductive and stress physiology and functional genomics of key threatened species to support their recovery. We integrate reproductive, genetic and genomic tools to ensure zoo-based and wild populations remain resilient and adaptable to environmental change. Our diagnostic and research services enable hormone monitoring to: evaluate female reproductive cycles; diagnose pregnancy; assess stress responses in conjunction with other data types (e.g. behavioural data).
Our laboratory staff have expertise in serum and non-invasive sample (faeces, urine, saliva) hormone monitoring with validated enzyme-immunoassays (EIA) for a range of native Australian and non-native taxa.​​​​​​
Services we offer
Assay validation for species of interest

Full-service processing and analysis of samples using validated in-house assays under strict quality control

Full-service processing and analysis of samples using client-sourced assay kits

Training in assay techniques
Download a Faecal Collection Protocol.

Download an example sample log form.
Shipment instructions
Shipment instructions:
For full shipment instructions, please first contact the team via replab@zoo.nsw.gov.au 
Pricing
Hormone analysis using our established EIA protocols range in price from AU$12 to AU$19 (ex. GST) per sample.
Price varies depending on sample processing requirements and assay format.
Please contact replab@zoo.nsw.gov.au for further information.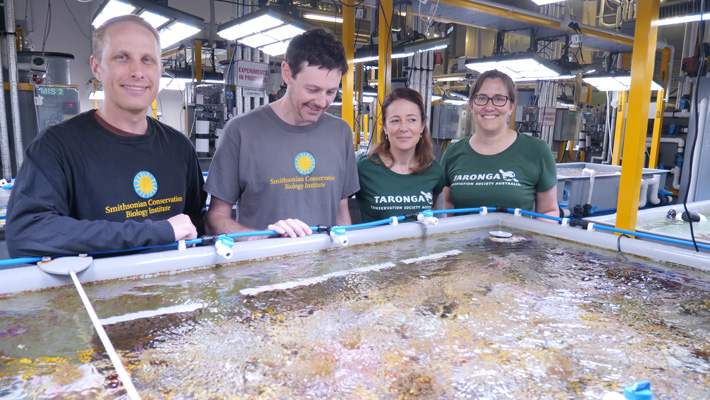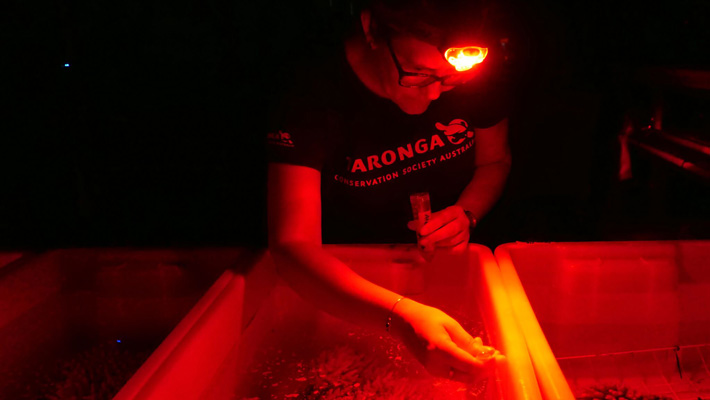 Taronga CryoDiversity Bank
Our efforts are directed to strategic biobanking of high conservation value gametes & tissues for long-term storage & targeted use in assisted fertilisation and species recovery efforts. Our program efforts include prioritised biobanking of sperm from wild populations of frogs impacted by recent drought and bushfire events, and Great Barrier Reef corals including heat-tolerant genotypes for supporting an assisted evolution approach for reef resilience.​
​CryoDiversity banks are not only used for storing living cells destined for assisted reproduction efforts (e.g. IVF in amphibians, or artificial insemination in birds and mammals), but are instrumental for long-term monitoring of anthropogenic (human-driven) impacts on reproductive health and ensuing population sustainability (e.g. environmental pollutants).
Publications
Scientific foundations of zoos and aquariums: Their role in conservation and research: Hobbs, R. J., Spindler, R. E. and O'Brien, J. K. (2019). Chapter 4: Strategic Gene Banking for Conservation: The Ins and Outs of a Living Bank. In: Scientific Foundations of Zoos and Aquariums: Their Role in Conservation and Research. Cambridge University Press. A. Kaufman, T. Maple and M. Bashaw (eds). Pp. 112-146. DOI: 10.1017/9781108183147.005