Giraffe
Occurs in: Sub-saharan Africa
The vast savannahs of Northern Kenya are not only beautiful – they also provide a home for many of the world's most fascinating and iconic wildlife species. This is a place where large predators live alongside huge herds of grazing herbivores.
Take a walk among the boabs and marvel at a majestic tower of Giraffe, as they glide across the plains. 
Growing up to 5.5m in height, Giraffes are the tallest members of the animal kingdom. They also have tongues that can grow up to 45cm in length and have been known to weigh in at more than 1000kg! 
But while older members of the herd, like Jimiyu, Zarafa and Kito show off their size and grace, be sure to catch a glimpse of adorable baby Ebo – the youngest of the group at just a year old!
Sadly, many of the incredible species that call the savannah home are now endangered. Hear from Ntashawna, a local girl, on how the children of her community are helping create a shared future for people and wildlife.
Visit the Giraffe at map ref. 13J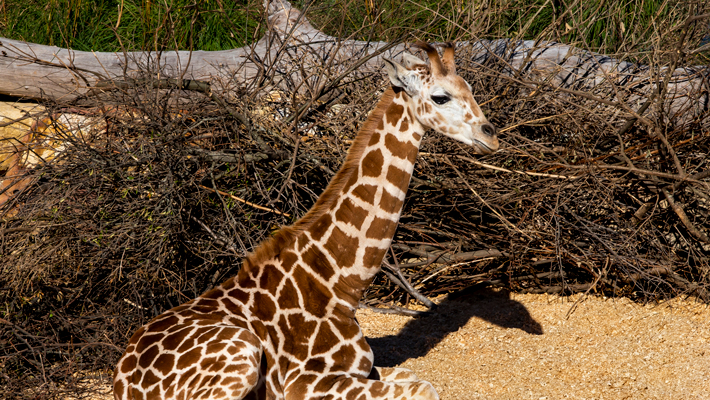 African Lion
Occurs in: Sub-saharan Africa
As you move west, the grass thickens, and the terrain begins to slope. This is Lion country.
With a roar that can be hear more than 8km away, you might just hear the King of the Savannah before you see him. However, while their roar may be mighty, Lions actually have the most complicated communication system of any of the big cats – vocalising through puffs, grunts, growls, gnarls and moans – each with its own specific meaning.
Get closer than ever before to Africa's most iconic carnivore and hear from Geoffrey – a ranger with the Northern Rangelands Trust, charged with protecting these magnificent and endangered creatures from would-be poachers.
African Lions once roamed most of the African continent but, due to a number of human factors such as habitat loss, fragmentation, illegal wildlife trade and human-wildlife conflict, are now extinct in 26 countries. From a population of approximately 200,000 just a century ago, there are now thought to be just 20,000 remaining in the wild, with this population restricted to sub-Saharan Africa.
Three-year-old Lion brothers Lwazi and Ato share their impressive harbourside home with new arrival – Maya the Lioness. While they're yet to be introduced, you'll be able to catch them all as they alternate use of the main exhibit, changing over at 2.30pm each day. 
Visit the African Lions at map ref. 16K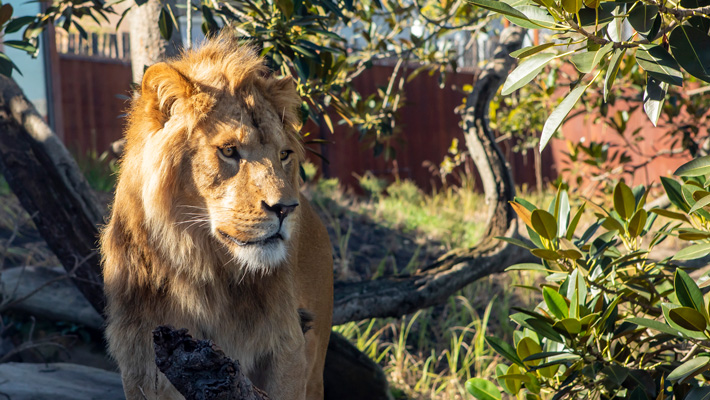 Meerkat
Occurs in: Botswana, Namibia and North and West South Africa
As you resume your expedition inland the grass becomes sparse, and soil gives way to sand. The deserts of Kenya are harsh and unforgiving – but the wildlife who call this region home have developed the adaptations and attitude to thrive in this environment. 
As you turn your attention to the intricate system of trenches and tunnels at your feet, stay on the lookout for a mischievous mob of Meerkats! You'll recognise them by the black fur around their eyes, which act like a pair of in-built sunglasses, shielding their eyes from the glare of the desert sun.
Meerkats are an incredibly collaborative species, who live together in large family communities and rely on teamwork to keep each other happy, healthy and safe from predators. Don't be fooled by their cuteness – a group of Meerkats can kill a cobra!
Watch in wonder as the group take turns foraging for food and keeping watch for predatory birds, all under the careful command of matriarch Nairobi.
Visit the Meerkats at map ref. 14I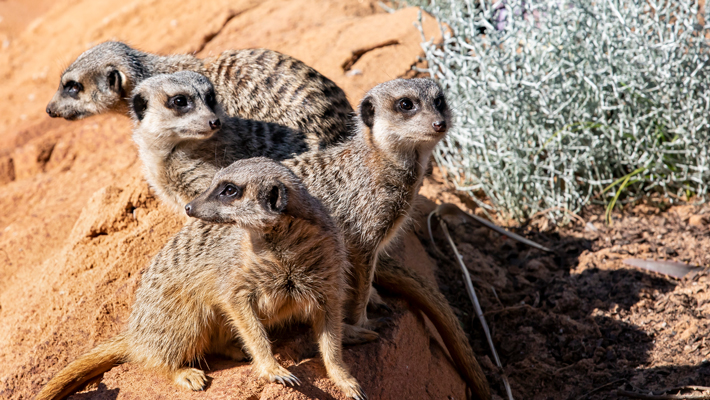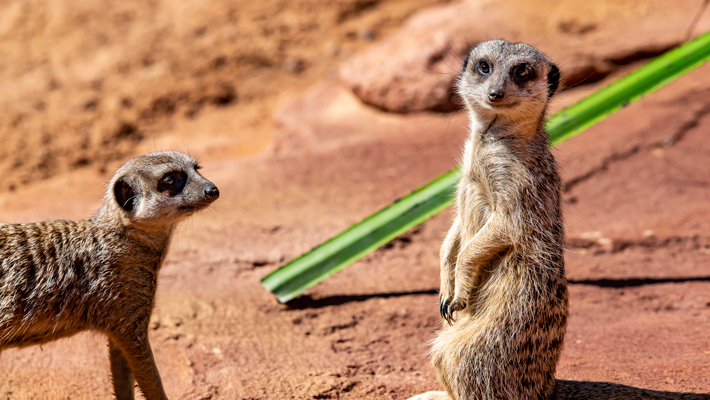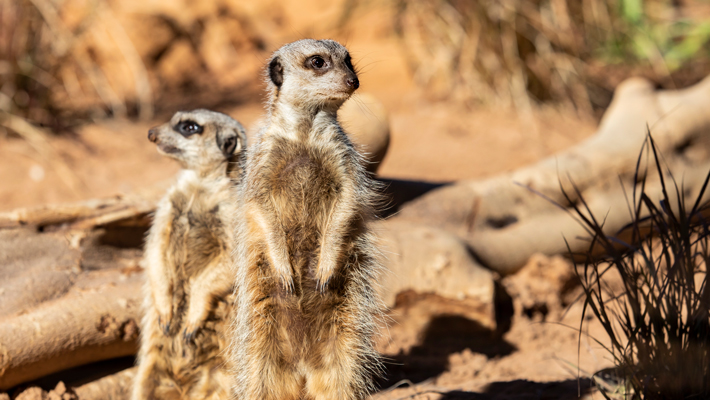 Fennec Fox
Occurs in: North Africa
As you continue your voyage across the desert, you might just be lucky enough to spot one of its most elusive and mysterious inhabitants! 
The fantastic Fennec Fox might be the smallest species of Fox on the planet, but its 15cm ears are anything but tiny! See if you can spot the sand-coloured coats of Zalika and Zinder as these shy but adorable creatures use those incredible ears to help them dissipate the extreme heat of the African desert.
Their thick hair acts as insulation, keeping them warm during those cold desert nights and protecting their skin from the harsh sun of the day. Even the undersides of their tiny little feet are covered in hair, to act like shoes as they dart across the red-hot sand!
Visit the Fennec Foxes at map ref. 13H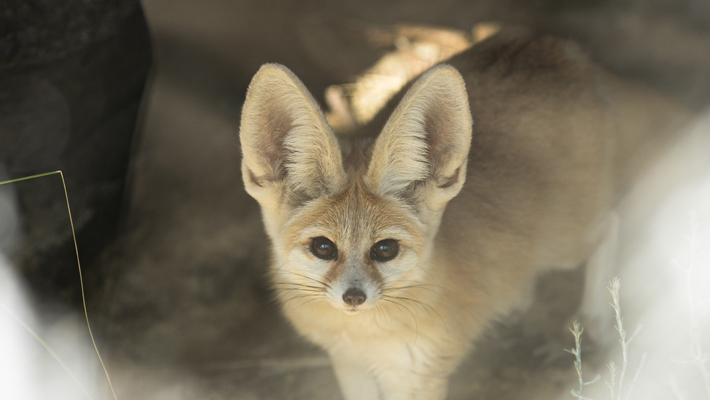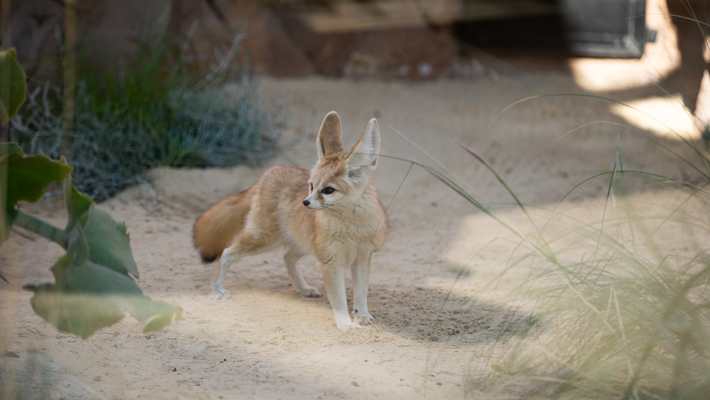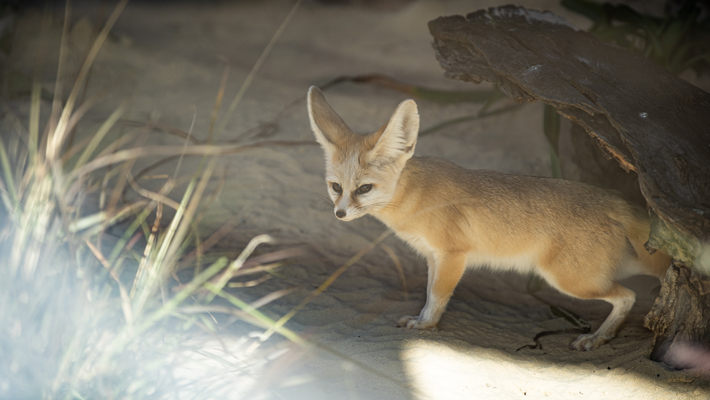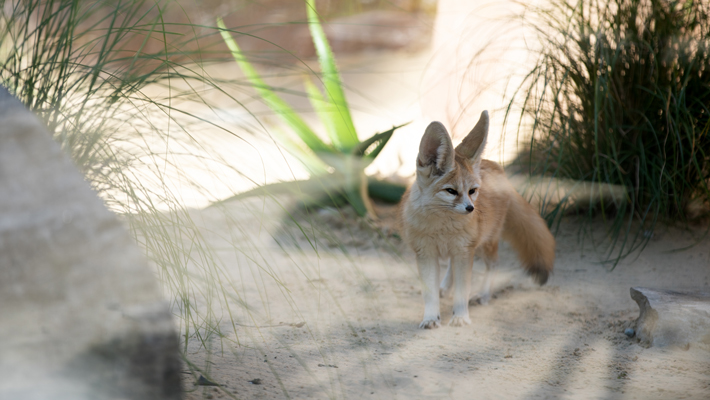 Zebra
Occurs in: East and Southern Africa
No, that's not a mirage! At last, the seemingly endless desert sands begin to fade as you approach a beautiful, natural waterhole. 
Watch as Plains Zebras Kaya and Bwana graze by the water's edge, their stunning striped coats – as individual and unique as a human's fingerprint – on brilliant display. 
The Zebra's striped coat has a number of uses. It allows Zebras to recognise individuals within their herd – particularly useful for a mare raising her calf, (and for the calf to recognise mum!). It also plays a vital role in survival, helping the Zebra to blend in with the grass of the plains. When running as a herd, the stripes also create a blur which can make it difficult for a predator to single out an individual to take down. 
Highly social animals, these Zebras share their home with our Giraffe herd, so get ready for a stunning photo opportunity as you look out across the water!
Visit the Zebras at map ref. 14J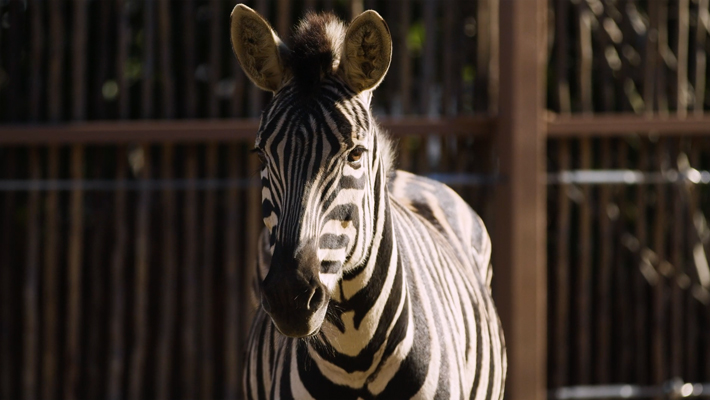 Guineafowl
Occurs in: Sub-saharan Africa
The waterholes of the savannah are the oases of the plains, bringing together species of every kind and size. As you gaze out over the plains, amongst a sea of long, hooved legs, keep a lookout for a feathery flock of Guineafowl as they forage for bugs, grubs, and ticks! 
This is where your savannah sojourn comes to an end, but before you leave the waterhole, hear from Nkiliyian – a mother and businesswoman working to empower the women of her village to earn an income and provide for their families in ways that allow humans and wildlife to not just survive, but thrive.
You can find the Guineafowl wandering around the African Savannah exhibit at map ref. 13J