Posted on 10th October 2019 by Media Relations
Taronga Conservation Society Australia has today opened the Wildlife Retreat at Taronga, a new overnight eco-retreat on Cammeraigal country, nestled within Taronga Zoo on the edge of Sydney Harbour.
Located just 15 minutes from the bustle of urban Sydney, the Wildlife Retreat offers guests an extraordinary, opportunity to have a sleepover with Australia's unique wildlife while supporting Taronga's important conservation and research projects in Australia and around the globe.

Owned and operated by Taronga Conservation Society Australia, the Wildlife Retreat at Taronga features 62 rooms in five environmentally sensitive and sustainably designed lodges and 'The Sanctuary', a thoughtfully designed habitat, created especially for guests of the Retreat. 'The Sanctuary' is home to an array of native wildlife including Wallabies, Bettongs, Short-beaked Echidnas and Koalas, and can be enjoyed either on a guided tour or viewed from the comfort of guests' rooms.
Minister for Environment Matt Kean said Taronga Zoo Sydney is loved by locals and tourists alike and the opening of the Wildlife Retreat will make it even more exciting. The world class retreat will make learning about what Taronga does to conserve our unique and precious fauna even more fun and relevant.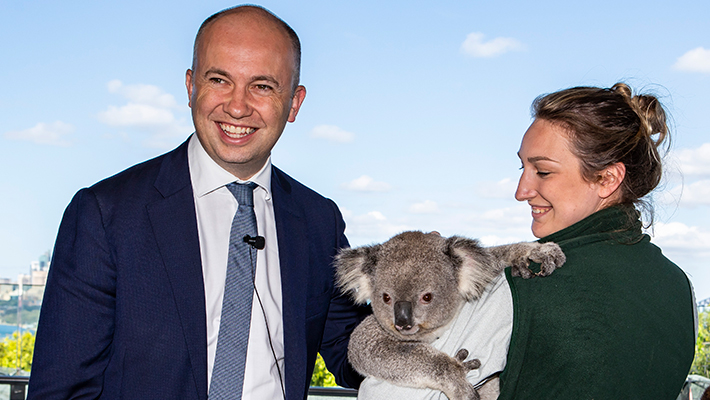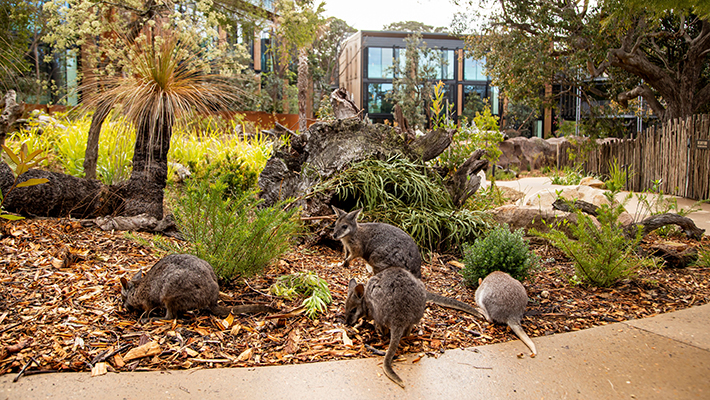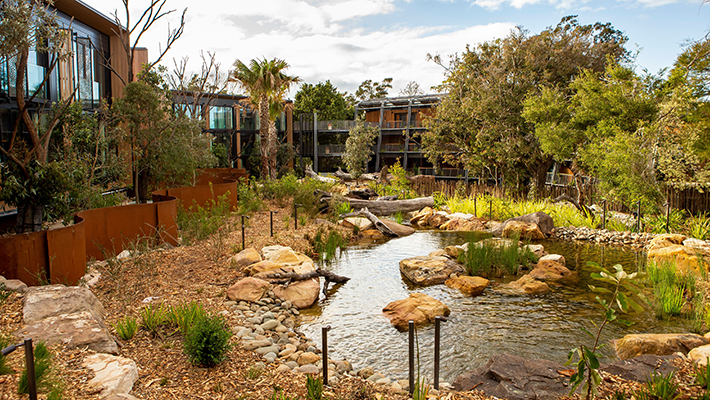 Cameron Kerr, CEO of Taronga Conservation Society Australia said the retreat was an important step forward for Taronga Zoo in securing a shared future for wildlife and people.
"We are so very proud to unveil our new Wildlife Retreat at Taronga and in doing so provide a new way for our guests to develop meaningful connections with amazing Australian wildlife. We have taken great care in the development of the Retreat to ensure it has a strong focus on environmental sustainable design and that it's respectful and in keeping with the natural landscape. We are delighted with the result and we look forward to welcoming guests from across the country and around the globe," said Kerr.
Guests of the Wildlife Retreat will wake up to the sounds of native wildlife and stunning views of the harbour and surrounding bushland. Throughout their stay, they can choose to join guided tours with passionate keepers and guides, or to simply connect with the wildlife and its habitat in their own time, reassured by the knowledge that their stay has made a meaningful difference to this not-for-profit, conservation zoo organisation.
The Wildlife Retreat at Taronga builds on the success of Taronga's existing overnight experiences, including Taronga Zoo Sydney's Roar & Snore and the Zoofari Lodge, Billabong Camp and Savannah Cabins at Taronga Western Plains Zoo in Dubbo which are enjoyed by more than 40,000 people each year.
"We know that our overnight experiences are a great way to inspire our guests to towards conservation-minded behaviours and that they will leave with a significantly increased intention to make a conscious effort to do things to help conserve the environment.
"In creating the Retreat, we hope that our guests will leave not only rejuvenated, but also with a sense of empowerment to make a difference, and with the knowledge that their stay has made a meaningful difference to wildlife and its conservation," said Kerr.
Taronga worked closely with Cammeraigal Traditional Custodian, Professor Dennis Foley, and Gurindji Woolwonga woman, Susan Moylan-Coombs to embed Culture within the retreat experience, providing guests with an opportunity to reflect on the past, present and future as they walk on Cammeraigal country.  Dennis Foley's 'Three Sisters' artwork provides the motif that is featured on the wallpaper in the rooms alongside aerial photographs and hand illustration by Yanyuwa artist Tim Moriarty. 
The Wildlife Retreat at Taronga opens to guests from Thursday 10 October 2019. Rates start at $790 per night for two adults and includes two-course dinner, buffet breakfast, immersive and exclusive Australian animal experiences and complimentary general admission to Taronga Zoo.  Taronga Conservation Society Australia is a not-for-profit organisation and proceeds from every stay support Taronga's ongoing work caring for animals within its two zoos and through conservation programs around the world.