Posted on 31st March 2023 by Media Relations
Baby Meerkats born in time for Easter school holidays
Four fresh-faced Meerkat pups and a roarsome birthday are set to be the highlights of a family visit to Taronga Western Plains Zoo these school holidays!
The Meerkat pups were born just over three weeks ago on March 4 to mum Midra and dad Howell, and weigh just over 110 grams each.
"We're really excited to welcome three baby girls and one little boy to our Meerkat family here at the Waterhole," Senior Keeper Karen James said.

"They don't have names yet but they are starting to show their little personalities, with the little boy a lot bolder than his sisters to go out and explore their habitat.

"They are still quite small so mum, dad and their older siblings are still very protective, but it won't be long before the pups can be seen out doing all the things Meerkats do – digging, foraging for food and of course sentry duty!"
The best time to see the Meerkat mob during the school holidays is during the Meerkat Keeper Talk at The Waterhole at 12.45pm daily.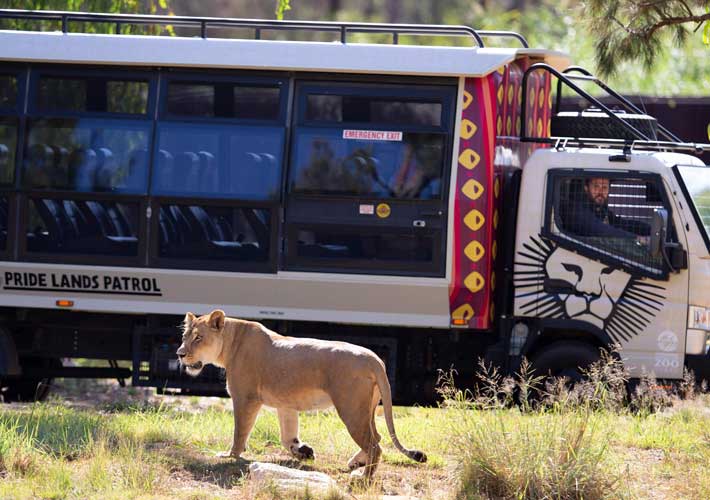 The Easter school holidays will also mark a very special birthday, with Lion cubs Amali, Imani and Mara turning 1 on Good Friday, as well as the return of the much-loved Lions Pride Lands Patrol.
For the first time ever, guests will be able to join the Zoo's pride – Amali, Imani and Mara, mum Marion and dad Lwazi – inside the exhibit on board the Lion Pride Lands Patrol truck.
"There's no better way to see our Lion Pride than from the vantage point of our specially constructed, lion-proof tour bus," Taronga Western Plains Zoo director Steve Hinks said.

"Guests will be in prime position to see the cubs playing, exploring, sleeping and learning from mum and dad. Marion and Lwazi are terrific first-time parents, very patient with their cubs which is adorable to see."
Bookings for Animal Encounters and Tours, including the Lion Pride Lands Patrol, are essential as places each day are limited.
There are plenty of other activities on offer at Taronga Western Plains Zoo, from free keeper talks and animal feeds, including the Wildlife Hospital Aviary Keeper Talk being introduced these school holidays.
The Zoo has also welcomed three Spider Monkey babies, which can be spotted from the Terrace overlooking Savannah Lake.
Opened in December 2022, the Wildlife Hospital provides a window into how the Zoo's veterinary team care for and treat the animals that call the Zoo home, including the birds that are integral to some of the Zoo's conservation breeding programs.
The Wildlife Hospital Aviary Keeper Talk will take place at 2.15pm daily.
Taronga is not-for-profit, so whether you visit, stay overnight, donate, become a Zoo Friend, book an unforgettable behind the scenes experience or buy a gift for a loved one, every dollar you spend has the power to protect and save wildlife.
Tickets to the Zoo are valid for two consecutive days, allowing guests to take their time or hop back around to any of the family's favourite stops.
Taronga Western Plains Zoo is open 8.30am-4.00pm daily during the Easter school holidays. For more information about planning a visit to Taronga Western Plains Zoo or to purchase your tickets online visit www.taronga.org.au/dubbo-zoo