Meet our Tiger family
Three Sumatran Tiger cubs were born at Taronga Zoo Sydney on Thursday 17 January 2019. With only 350 Sumatran Tigers left in the wild, these cubs are incredibly important, representing nearly 1% of the total wild population of tigers.
Our three cubs are settling into Tiger Trek with their mother, Kartika. Their father, Clarence, uncle Kembali and grandmother Jumilah make up the rest of our tiger family at Taronga Zoo Sydney. 
What to expect
Just like any other youngsters, the cubs are likely to have bursts of energy and play actively together, before resting close to mum, wherever she might be at the time. As a result, Kartika and her cubs may be in areas of the exhibit that are hard to see, especially as they all get comfortable in her new environment. 

If you're unsure of whether you'll be able to see the cubs when you visit, our Tiger Trek team members can give you an idea of how visible the cubs are at the time, before you choose to enter. 
About Tiger Trek
Tiger Trek is an Indonesian-themed immersive experience, providing an amazing opportunity for you to get up-close with these magnificent, critically endangered Sumatran Tigers and learn how simple shopping choices can help to preserve their precious, natural habitat.
During your Tiger Trek experience, you will board your flight to Sumatra and be transported to the beautiful forests of Way Kambas National Park to see the magnificent Sumatran Tiger. Explore the village, and discover how we all have a role to play in saving this species from extinction by choosing Certified Sustainable Palm Oil.
The Tiger Trek experience is the natural expansion of Taronga's efforts to help save the Sumatran Tiger.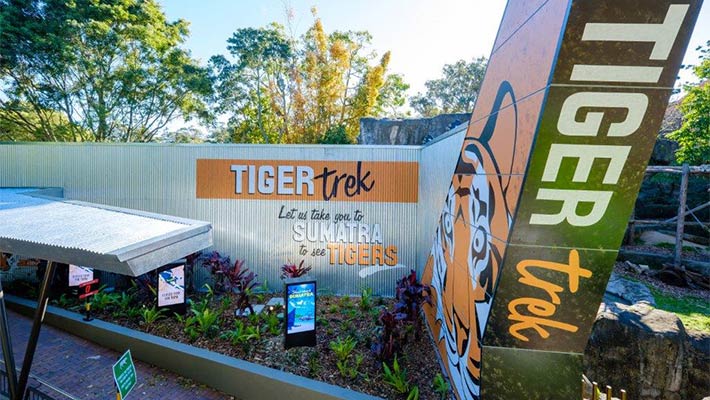 How you can act
We all know the importance of using environmentally-sustainable products, and palm oil is no different. If it's grown sustainably, palm oil can help protect valuable species like the Sumatran Tiger, and the forests they live in.
We celebrate companies that use Certified Sustainable Palm Oil in their products. The more companies transform their supply chain, the more Australians can enjoy their favourite treat free from deforestation.