We're working towards a positive future for wildlife. We understand there is never a good time to build a better Zoo, however the work we are investing in is to improve our animal habitats and deliver experiences that influence positive behaviour change to support the future of our wildlife.
You may come across some construction work when you visit Taronga Zoo Sydney or notice closures, so we have listed any upcoming disruptions below. Most of our animals can be seen as usual, and we can also assure you that there is still plenty to see and do.
Please be aware of the current closures or works at Taronga Zoo Sydney:
In the interest of our guests' health and safety, we will be closing the Sky Safari cable car for an initial 2-week period from Wednesday 18 March
The following indoor animal exhibit spaces have been closed including:
- Nocturnal House (Map ref. 5J - 'Australian Nightlife' on our Zoo map)
- Platypus House (Map ref. 3J)
- Reptile World (Map ref. 13L)
- Taronga Centenary Theatre (Map ref. 12J)
- Tiger Trek Plane (Map ref. 14H)
- Elephant barn (Map ref. 14F)
- Underwater viewing area at Great Southern Oceans (Map ref. 10D)
Wild Ropes (high ropes course) is currently not running until further notice
The QBE Free Flight Bird Show is cancelled on Monday 23 March 2020
View the Taronga Zoo Sydney map to see closure locations.
Coming soon: African Savannah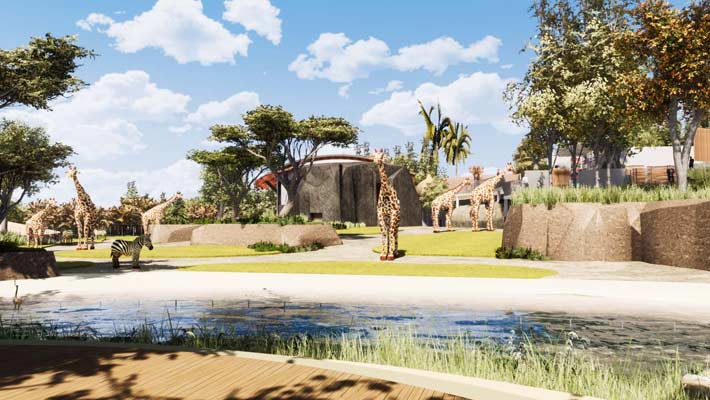 You may notice that a lot is changing at the Zoo. That's because we're creating a new African adventure, Savannah.
Among the animals that will call Savannah home are African Lions, Fennec Foxes, Zebra, Giraffe and Meerkats. Be inspired by wildlife, stories and songs from the vast Savannah grasslands when our new adventure opens.
The Savannah is a part of our 10 year Centenary capital revitalisation plan that began with the opening of Tiger Trek, a world-class, immersive wildlife experience aimed at educating and inspiring guests to help make a positive difference for critically endangered wildlife.