We're working towards a positive future for wildlife. We understand there is never a good time to build a better Zoo, however the work we are investing in is to improve our animal habitats and deliver experiences that influence positive behaviour change to support the future of our wildlife.
You may come across some construction work when you visit Taronga Zoo Sydney, so we have listed any upcoming disruptions below. Most of our animals can be seen as usual, and we can also assure you that there is still plenty to see and do.
Due to important works on our new Savannah Exhibit, guests can enjoy the Chimpanzee Exhibit from the Eastern viewing windows only (map reference 13K). The Chimpanzee Keeper Talk will continue to take place at 12:00pm daily. For other wonderful primate experiences, don't forget to visit:

Explore the Lemur Walk (map reference 11H) with convenient ramp access located at map reference 10H
Say hello to our Squirrel Monkeys located at our state of the art Taronga Institute of Science & Learning (map reference 9L)

An exciting new exhibit is underway next to our Forest Adventure playground (map reference 9I)! Works will begin Monday 13 May and continue until mid-June. During this time, the playground will remain open to guests to enjoy with their families. We appreciate your patience whilst we prepare the exhibit, and cannot wait to introduce you to a new animal family!
The Tasmanian Devils will be off display as of 24 July 2018 due to construction works near their habitat
We apologise for any inconvenience caused.
Coming soon: Savannah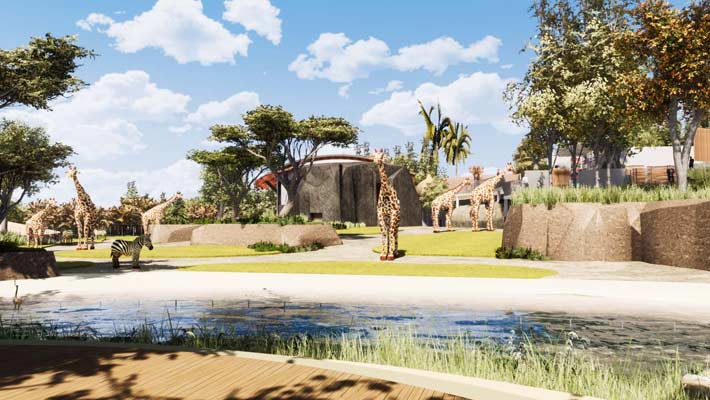 If you're visiting over Summer, you may notice that a lot is changing at the Zoo. That's because we're creating a new African adventure, Savannah.
Among the animals that will call Savannah home are African Lions, Fennec Foxes, Zebra, Giraffe and Meerkats. Be inspired by wildlife, stories and songs from the vast Savannah grasslands when our new adventure opens.
The Savannah is a part of our 10 year Centenary capital revitalisation plan that began with the opening of Tiger Trek, a world-class, immersive wildlife experience aimed at educating and inspiring guests to help make a positive difference for critically endangered wildlife.