We're working towards a positive future for wildlife. We understand there is never a good time to build a better Zoo, however the work we are investing in is to improve our animal habitats and deliver experiences that influence positive behaviour change to support the future of our wildlife.
You may come across some construction work when you visit Taronga Zoo Sydney, so we have listed any upcoming disruptions below. Most of our animals can be seen as usual, and we can also assure you that there is still plenty to see and do. Plan your visit with our Summer guide now.
The Sourthern side of Reptile world will experience partial closures on Tuesday 12th February.
Reptile world will be closed off from public access on Thursday 14th February as we perform critical maintenance works. 
The Sky Safari will experience a late opening at approximately 11:30am on Monday 18 February 2019. If you are planning to arrive by Ferry on any of these mornings, we recommend catching the 238 bus route to take you to the main entrance
The 2pm Seal Show will not take place on 14, 16 and 21 February and 2, 8 March 2019. Guests may enjoy an alternate underwater viewing talk at 2pm at Lower Great Southern Oceans, Map Ref. 10E
The 1pm Seal Show will not take place on Saturday 2 March 2019. Guests may enjoy an alternate Seal Talk at 1pm at Seal Bay
Our Lemurs have moved to a new home at Map Ref. 11J
The Tasmanian Devils will be off display as of 24 July 2018 due to construction works near their habitat
We apologise for any inconvenience caused.
Coming soon: Savannah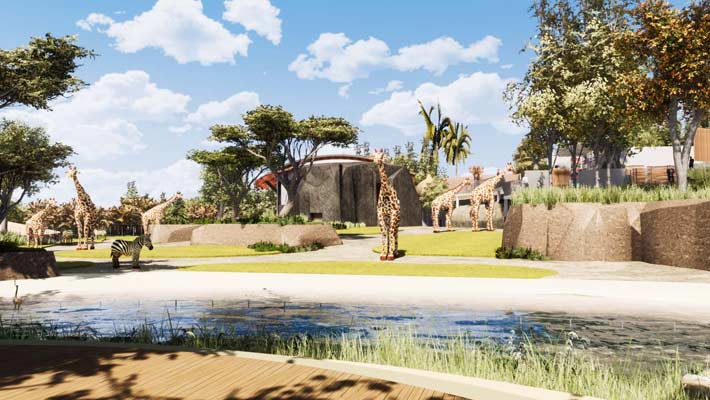 If you're visiting over Summer, you may notice that a lot is changing at the Zoo. That's because we're creating a new African adventure, Savannah.
Among the animals that will call Savannah home are African Lions, Fennec Foxes, Zebra, Giraffe and Meerkats. Be inspired by wildlife, stories and songs from the vast Savannah grasslands when our new adventure opens.
The Savannah is a part of our 10 year Centenary capital revitalisation plan that began with the opening of Tiger Trek, a world-class, immersive wildlife experience aimed at educating and inspiring guests to help make a positive difference for critically endangered wildlife.