Wine Safari Experience
Roar and Snore at Taronga Zoo Sydney is an unforgettable overnight experience featuring intimate animal encounters, fascinating keeper talks, delicious food and safari-style accommodation with spectacular views of the Sydney Harbour.
For 2 special nights only, your Roar and Snore experience includes a roving wine tasting journey and delicious canapes throughout the Zoo with our award-winning sommelier from Me-Gal Restaurant.
This is an over 18 overnight experience and a perfect way to experience Summer nights in Sydney.
Dates: 

Wednesday 29 November
Wednesday 13 December
This stay includes the standard Roar and Snore itinerary. The wine safari will take place from 6pm – 730pm throughout the Zoo.
Simply select one of the above dates when booking, and the Wine Safari Experience will automatically be added on.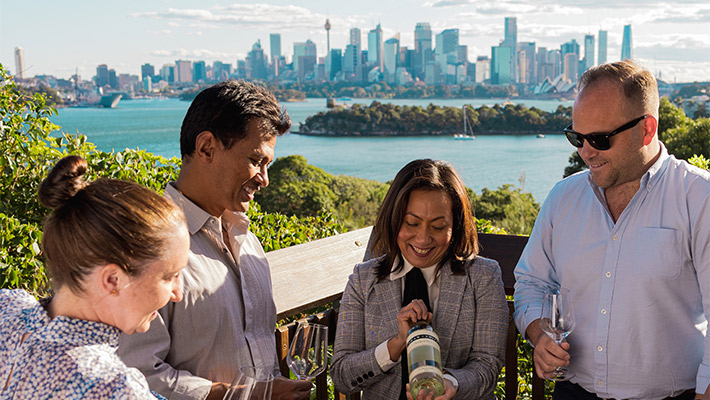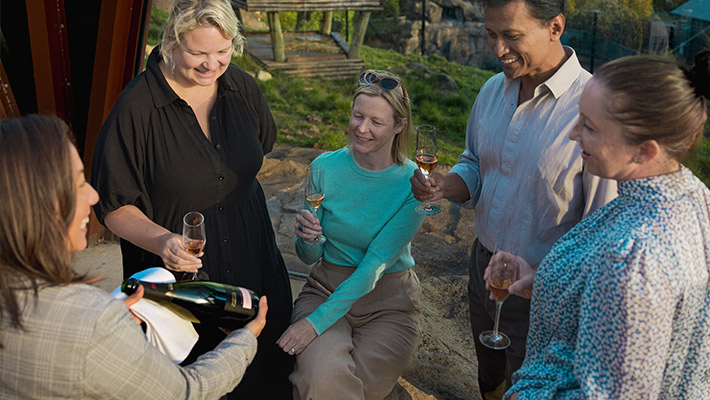 Wine Safari Itinerary
One night stay
Day 1 
From 5.45pm

Arrival and Welcome Drink

On the night of your Roar and Snore adventure, your hosts will meet you at Taronga Zoo Sydney main entrance. Check-in commences from 5:30pm with the program kicking off at 6:00pm.

Guests are welcome to arrive by car, bus and ferry. Taronga Zoo Sydney is a short 12 minute ferry ride from Circular Quay. Complimentary parking in Taronga's multi-storey car park is provided for all Roar & Snore guests.

6.30pm

Embark on your roving wine tasting journey

Embark on your roving wine tasting journey paired with delicious canapes throughout the Zoo with our award-winning sommelier from Me-Gal Restaurant.

8.00pm

Walk to dinner

A short journey through the Zoo grounds to your dinner location.

8.15pm

Buffet dinner served 

Adventuring is hungry work! Fuel up with a delicious buffet dinner before heading out on a night excursion through the Zoo.

9.00pm

Zoo Night Safari - Enjoy the animals and harbour Views 

Experience an exclusive Taronga night safari led by passionate keepers and guides, with the chance to see some of Taronga's favourite animals. Our programs vary by day but rest assured that we have some incredible behind the scenes experiences for you. 

10.00pm

Return to campsite

Unwind in our comfortable safari-style tents, falling asleep to the sounds of the Zoo. Roar and Snore's tented camp is like being on safari with some of the most spectacular views of Sydney Harbour to be found anywhere.

10.30pm

Camp lights out for an early start! 

Time to get some well-earned shut eye.
Day 2 
6.45am

Rise and shine

After a good night's sleep wake up with the sun and get ready for two incredible behind the scenes experiences.

7.30 - 9.00am

Behind the scenes experiences

Every animal has a story waiting to be told. At Taronga Zoo's Roar and Snore, we bring animals, keepers and our guests together, so you can learn the untold stories of the world's greatest creatures, both big and small.

8.00am

Continental breakfast 

Enjoy a leisurely breakfast and get ready for the day ahead. 

From 9.30am

Program finishes

Your Roar and Snore experience has come to an end but the adventure is not over and there is still lots of animals to discover. Enjoy a full day access to the Zoo included in your Roar and Snore stay.