What we're doing
Taronga is committed to reducing fossil fuel driven, grid-based electricity consumption, which is responsible of over half of our total carbon footprint.
We aim to do this by:
consuming less 
using energy efficiently
generating renewable energy onsite 
using sustainable purchasing practices 
supporting conservation related offset projects 
Taronga's solar installations
Taronga has a number of solar installations across our two sites in Sydney and Dubbo. 
The Taronga Institute of Science and Learning
Hot Water Solar and Solar PV
The Taronga Institute of Science and Learning is our first GreenStar Design & As Built, 6 Star Certified building, with two solar rooftop systems in place. One is a solar photovoltaic (PV) system and the other is a hot water solar thermal system, using solar radiation to heat potable water.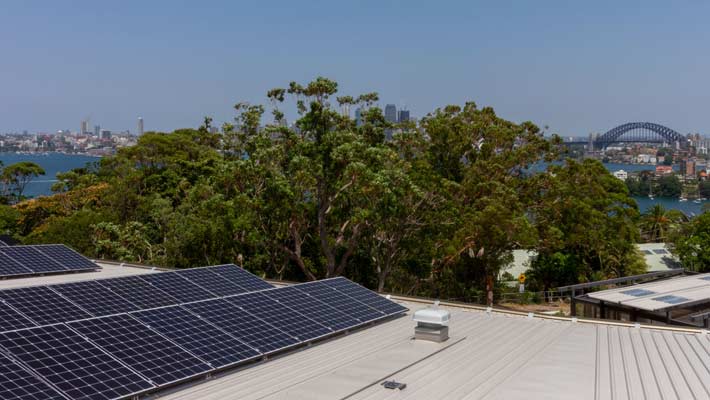 Lemur enclosure, Taronga Zoo Sydney
Solar Hydronic Heating
The Taronga Zoo Sydney Lemur enclosure also uses solar hydronic heating for underfloor heating. This solar alternative to conventional heating enabled a reduction of our carbon footprint by approximately 8 tons per year. The evacuated tubes transform more than 90% of the incoming solar radiation into heat which is then stored for use in the enclosure.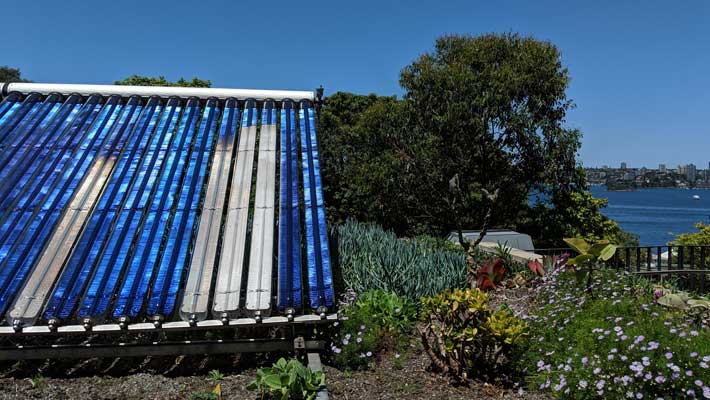 Savannah Visitor Plaza
Taronga Western Plains Zoo Dubbo
In order to reduce energy consumption, Taronga Western Plains Zoo Dubbo installed a 99.76kWh solar panel system on the roof of the Savannah Visitor Plaza in November 2016. This system is one aspect of the Zoo's plan to increase renewable energy on site by 2020. 
The solar panel system spans 456.67m² and saves 110 metric tonnes of CO2 and 157,165kWh annually, resulting in a savings of approximately $19,698 per year. 
The emissions savings achieved by this solar panel system alone are equivalent to taking 23.3 cars off the road for a whole year.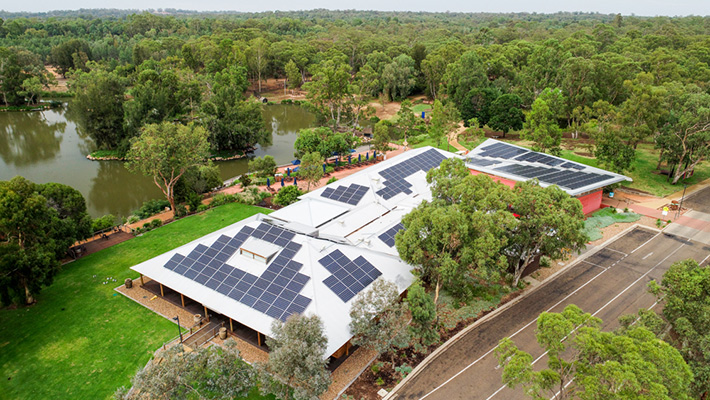 Bike and cart hire facility
Taronga Western Plains Zoo Dubbo
The new hire facility at Taronga Western Plains Zoo Dubbo has an 80 kW solar panel installation, which will produce roughly 136 MWh/annum. The system will generate enough power to charge all of our buggies with a clean source of energy produced onsite, and will also be connected to battery storage to charge the buggies overnight when the sun is not shining.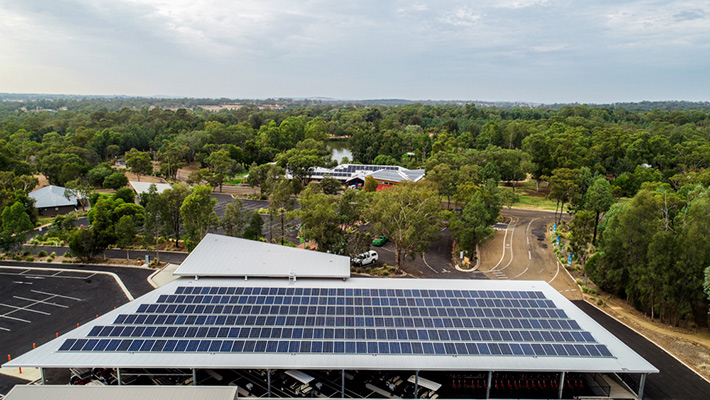 Lion Pride Lands
Taronga Western Plains Zoo Dubbo
The expansive moat surrounding the lion enclosure uses ecologically sustainable methods to treat and reuse and conserve water. By filtering water through selected vegetation, the need for intrusive chemicals and mechanical systems conventionally used for water treating is reduced.
The pump used to operate this system is powered directly from the sun through a 4.5 kW PV installation, avoiding the need for coal powered electricity. 
Billabong Camp
Taronga Western Plains Zoo Dubbo
Billabong Camp is supplied by electricity directly from the sun through a 5kW solar PV installation. The system provides 80% of the site's electricity consumed and a clean source of energy to our campers. 
Elephant Barn
Taronga Western Plains Zoo Dubbo
The elephant barn at Taronga Western Plains Zoo Dubbo features a 10kW solar system which provides power to all three barns at the facility. The barn is constructed from thermal mass concrete providing increased insulation, and has been designed to take advantage of natural sunlight to assist heating throughout the year. Automated louvres allow for cross ventilation and solar hydronic under floor heating is used to heat the sand beds for the elephants.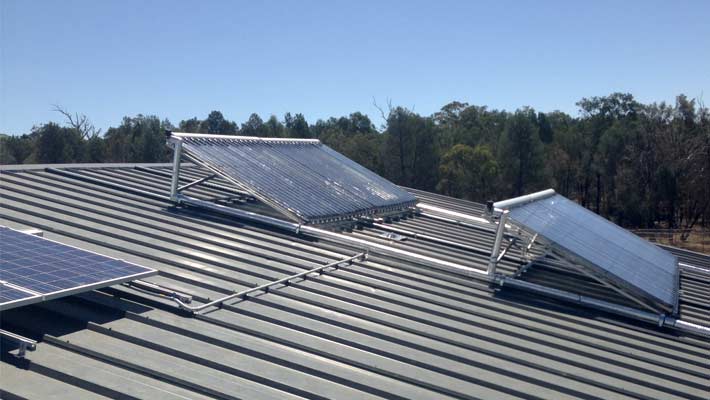 Other sustainable energy practices
In addition to developing renewable energy sources, Taronga is also working to improve energy efficiency in the following ways.
Renewable power station accreditation
Taronga Western Plains Zoo Dubbo
Due to the number of small to mid–scale installations already in place at Taronga Western Plains Zoo Dubbo, the site was accredited in 2017 as a renewable power station under the Clean Energy Regulator's REC program. This accreditation is a positive outcome for the community, demonstrating the range of benefits that can come from implementing clean sources of energy. 
Reducing consumption with voltage optimization
Taronga Western Plains Zoo Dubbo
A recent energy audit has identified that voltage optimization (VO) at Taronga Western Plains Zoo Dubbo would allow us to reduce electricity consumption and ongoing financial costs, and continue to mitigate our carbon dioxide emissions.
It is estimated that this implementation will result in a 77% electricity/carbon saving in both the administration building and the Zoofari Lodge, taking us closer to our 2020 sustainability targets. 
Energy efficiency at Zoofari Lodge
Taronga Western Plains Zoo Dubbo
An energy efficiency project at the Zoofari Lodge was undertaken to reduce electricity consumption in the guest accommodation. The project involved the decommissioning of electric slab heating, replacing it with energy efficient reverse cycle split systems. The replacement strategy lead to a decrease of electricity consumption during winter months of up to 25%.