Exploring by bike
Want to get closer to the animals? Discover smaller paths and trails off the main circuit by bike. 
Hiring Your Bike 
All day standard bike: $17
All day geared bike: $24
Bikes can be hired from our Hire Centre on arrival (no pre-booking). Subject to availability. *Prices effective from 16 November 2018
Need to Know
While the Zoo provides helmets, we recommend visitors bring their own where possible
The first half of the Zoo circuit has a slight incline, but otherwise the path is reasonably flat for riding 
The Zoo circuit is a sealed road. Road rules apply at all times
Guests are also welcome to bring their own bikes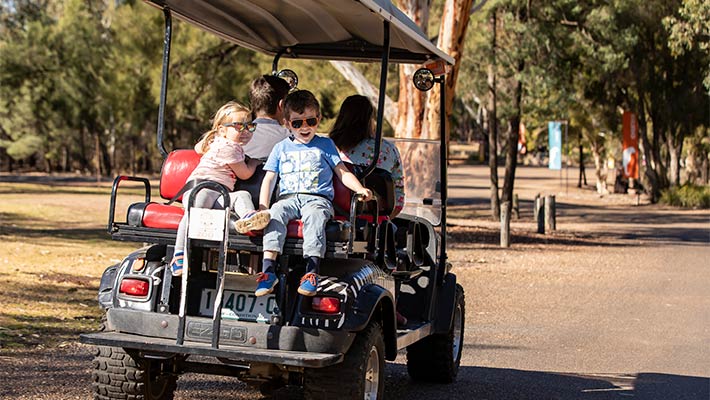 Exploring by cart
Prefer four wheels? Zip around the Zoo in a cart, and hop on and off at the different exhibits around the circuit.
Hiring Your Cart
3 hour electric cart ride: $70*
Carts can be hired in two sessions for three hours only. Subject to availability *Prices effective from 1 July 2020
Cart bookings are non-refundable. Refer to terms and conditions when booking
Need to know
Carts seat up to six people
Drivers must be at least 18 years old and hold an unrestricted drivers licence
Parking is available at each exhibit
The Zoo circuit is a sealed road. Road rules apply at all times
Children under three years old must be restrained in a car seat. Taronga Western Plains Zoo does not supply or install car seats. Guests must supply their own car seat. Note: Only one anchor point / car seat per cart.
Electric carts are not suitable for rear facing car seats