Bring your creatures to spend a night with ours!  
ZooSnooz is the ultimate overnight excursion that your students will remember for years to come! Fall asleep to the sounds of nocturnal marsupials and wake to the morning roars that can only be heard from inside the zoo. 
What's involved
Your ZooSnooz experience will include:
A classic Aussie BBQ dinner
Exclusive Night Tour visiting some of our Australian native animals
Close encounter with some iconic Australian animals
Supper under the stars
Continental breakfast overlooking the Billabong
Exclusive early Morning Walking Tour
Zoo entry the following day
At the Zoo
ZooSnooz provides an exciting Aussie bush camping experience without the fuss, while teaching your students about the care and conservation of animals from across the globe. Set in the grassy grounds of Billabong Camp at Taronga Western Plains Zoo Dubbo, your ZooSnooz host will show students and teachers to their pre-erected tents, overlooking the Billabong.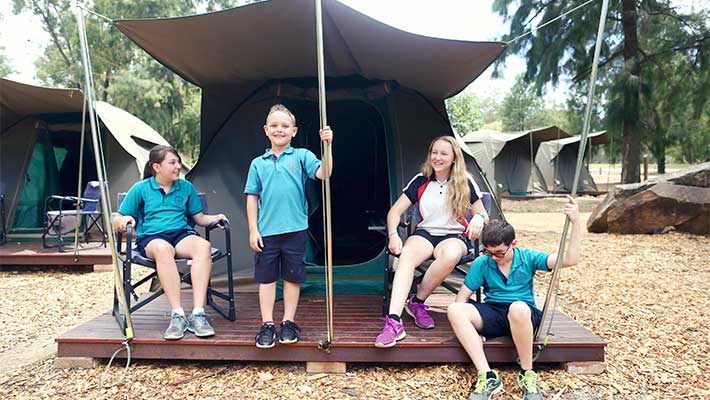 Need to know
Arrival time: The arrival time for ZooSnooz is 4:30pm. Check in point is at the Savannah Visitor Plaza (reference E22 on zoo map). 
What to bring: Your own sleeping bag, pillow, toiletries for showers, torch, warm clothes, enclosed shoes, camera, wet weather gear, plus a sense of fun and adventure. 
How to book: To make a booking please complete page 8 of the ZooSnooz Terms & Conditions document and return to twpzeducation@zoo.nsw.gov.au, then use our online booking form to submit your preferred dates. All bookings require a minimum 14 working days' notice before your visit
Booking conditions
Cancellation with more than two weeks notice will not incur a cancellation fee
Cancellation within 14 days of the admission date will incur a $500.00 cancellation fee
Cancellations within 48 hours of the admission date will result in the full cost of booking being charged
No refunds will be given to students who do not attend
Minimum 20, maximum 80 attendees (including students and adults)