Important notice

After careful deliberation and with consideration to the current situation regarding COVID-19, we have had to come to the decision to postpone all face-to-face school education programs, including teacher professional learning offerings.

We apologise for any inconvenience and disappointment this may cause. However the safety and well-being of our guests, staff, and animals is always our highest priority. Please be assured Taronga is continuing to closely monitor the situation and we will keep you informed as to when normal bookings will resume again. 

In the meantime, we can connect with you and your students through our engaging digital programs. Read more about what you can book to stay connected and feel supported by Taronga's Education team.
Taronga offers accredited, registered and non-registered Teacher Professional Learning courses. We also offer a professional membership program called the Taronga Teachers' Association, granting members unlimited yearly access to our Zoos, teacher-only exclusive events, a range of discounts and more. 
About our courses
Taronga is a NESA Endorsed Provider for Teacher Professional Learning. All courses are developed and delivered in partnership with the NSW Department of Education, Catholic Education Office and our Zoos, as well as other education and environmental experts.
Courses are delivered in person at the Taronga Institute of Science and Learning at Taronga Zoo Sydney or via Video Conference using applications such as Adobe Connect.
Taronga's courses are structured around the following focus areas:
Science and Technology Syllabus
STEM Education 
Depth Studies for Senior Sciences
Aboriginal Education
Cross Curricular priority areas of Sustainability and Aboriginal and Torres Strait Islander Histories and Cultures
Our specialist courses are designed to assist teachers with syllabus interpretation and integration, using Taronga as a rich and powerful learning resource for students to engage with nature.
We will work with you to develop exciting and relevant curriculum materials that will enhance your teaching and learning.
Scheduled courses run throughout the year and can be booked by registering online our website.
NOTE: Any attendance adjustments or cancellations must be made at least 10 days prior to the course date or participants will be invoiced the full course cost. To modify or cancel an event enrolment please contact the Taronga Zoo Education team by emailing education@zoo.nsw.gov.au.
Course dates
Sustainable STEM at Taronga Zoo Sydney
​​​​​​​Aboriginal Education Day at Taronga Zoo Sydney
When: To be announced
Duration: 6 hours
Suitable for: All Stages
Depth Studies with Taronga Zoo Sydney
When: To be announced
Duration: 6 hours
Suitable for: Stage 6 Biology, Earth and Environmental Science and Investigating Science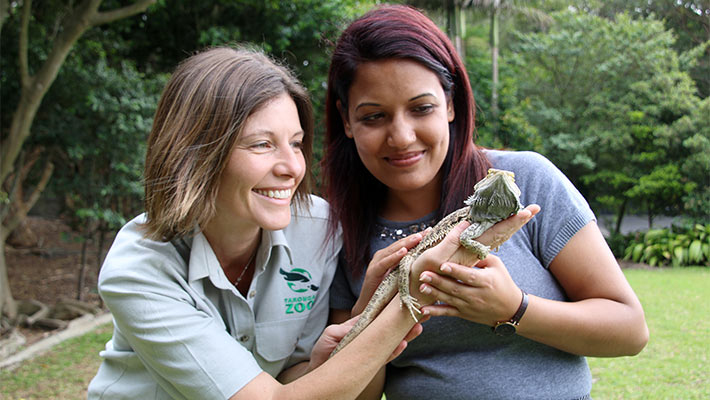 Join the Taronga Teachers' Association
As a member of the Taronga Teachers' Association, teachers can enjoy unlimited Zoo entry at Taronga Zoo Sydney, Taronga Western Plains Zoo Dubbo, access to exclusive, free member-only events and a range of other benefits. All for an annual membership fee of $60.