Animals of the Dreaming Zoomobile is an inspiring program combining two fascinating aspects of unique Australia – native animals and the Dreamtime. This program is delivered by Brewarrina Elder, Colin Hardy OAM and supported by our education staff.
Col Hardy is the recipient of the Order of Australia, for recognition of his contribution to the community over many years. Col has also been recognised for his musical talent through the Tamworth Country Music Festival's 'Golden Guitar' award.
It is Zoomobile's honour to have Col co-present Animals of the Dreaming, delivering an engaging experience of storytelling and music and introducing participants to a wide variety of unique and wonderful animals, such as a frog, possum, lizard, snake, turtle or echidna.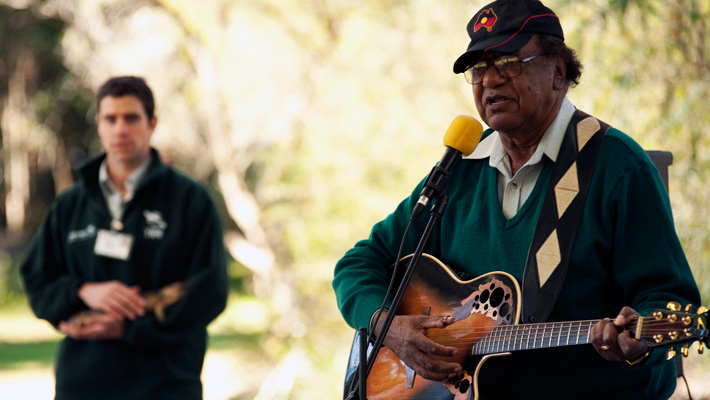 Animals of the Dreaming Live Online Performance
Getting out has been tricky for some of us lately but the Taronga Education team have come up with a plan!
Join us online for one of our most requested Zoomobile Outreach programs.
Listen to Dreaming songs and stories, complemented by native critter encounters up close to the camera to offer the best in Covid safe animal engagement.
Dates for this special delivery of this unique programs will occur monthly so if you can't make it this month, keep your eye on the page for the next months dates!
Cost: $295 for each booking and you can have any number of viewers at your end.
Dates:
Thursday 24 June 2021 at 10am
Inquiries, expressions of interest and bookings

If you would like to get in touch about booking Animals of the Dreaming Live Online Performance, please email our Zoomobile team: zoomobile@zoo.nsw.gov.au