Posted on 03rd July 2018 by Media Relations
An exciting new exhibit called 'Wild Herds' will officially open at Taronga Western Plains Zoo Dubbo today. Designed to reflect a traditional Mongolian village, Wild Herds is home to two species – Takhi (a Mongolian horse also known as Przewalski's Horse) and Fallow Deer.
"We're very excited to open another new exhibit here at Taronga Western Plains Zoo," Director Steven Hinks said. "Wild Herds offers guests a truly immersive experience with a Deer Walkthrough and a beautiful outlook to the Zoo's Takhi herd from a replica Mongolian ger.
"It's a lovely new space for our guests to explore and it achieves what we set out to do – showcase the Mongolian Takhi and the Zoo's role in helping to bring this species back from the brink."
Takhi, meaning "spirit" in Mongolian, were declared extinct in the wild in 1967. In the 1990s Taronga Western Plains Zoo was part of a global zoo effort to reintroduce the Takhi to its native land, releasing seven zoo-bred horses into the Gobi Desert, where their progeny still roam.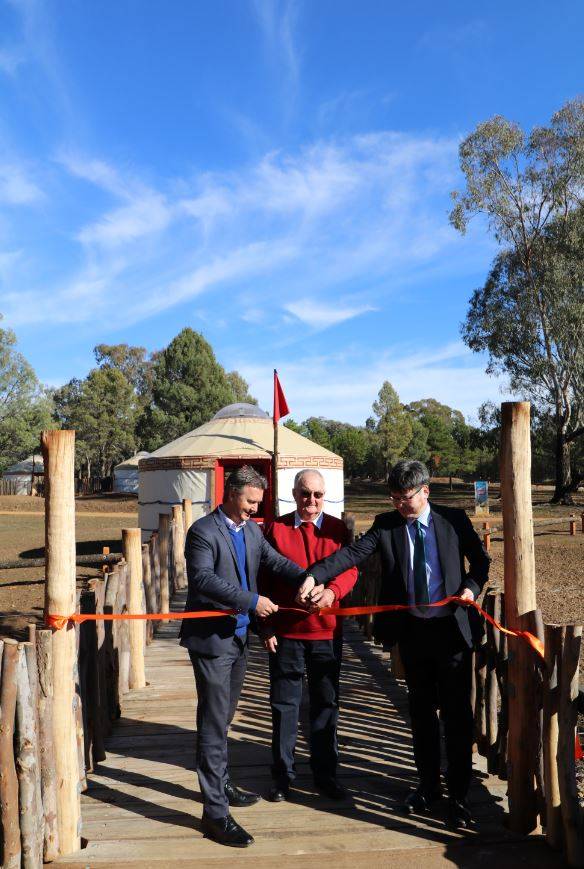 "Today, thanks to the ongoing efforts of global zoos, there are now over 300 Takhi in Mongolia," Steve said. "The species has been reclassified from extinct in the wild to endangered. We're so very proud to have been a part of this story and through our new exhibit we can share this story in a compelling way."
Wild Herds includes an audio overlay voiced by now retired Zoo Keeper John Davis, who accompanied the seven Takhi to Mongolia in 1995.
"Hearing the story of the journey from one of our longest serving Zoo keepers is a really nice part of the Wild Herds experience," Steve said. "Add to this the elements of Mongolian village life we've been able to replicate, as well as the charming walkthrough experience with the Zoo's new herd of Fallow Deer, and the result is a wonderful new part of the Zoo to spend some time in."
Taronga Western Plains Zoo has a very successful ongoing breeding program for the Takhi, and this year has welcomed two foals, the most recent a male named Khan born just in late May. Khan and the rest of the Takhi herd have settled into their new home in Wild Herds. Guests will be able to learn more about the Takhi during the NSW school holidays at an informative Keeper Talk at 2.30pm daily.
The $720,000 Wild Herds exhibit, jointly funded with the NSW Government, is the third experience developed from the Zoo's 10 year Visitor Experience Plan, following the opening of the Savannah Safari in late 2016 and Lion Pride Lands earlier this year.