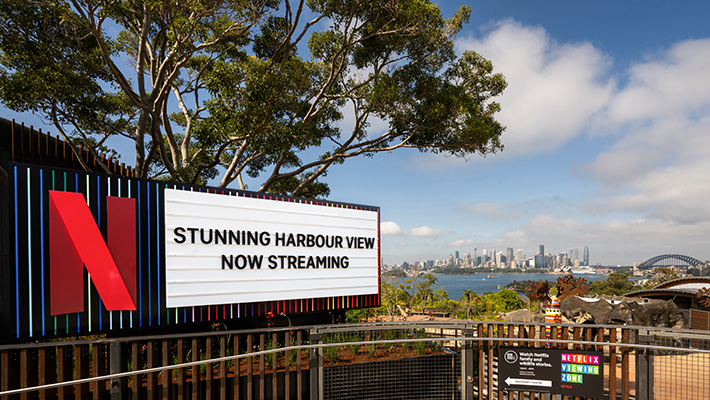 The Netflix Marquee Billboard has appeared in the world's biggest hot spots and this summer it has landed right here at Taronga Zoo. Take a snap with the iconic billboard alongside the spectacular Taronga Zoo and Sydney Harbour view.   
Then sit, relax and enjoy a captivating line up of Netflix family and wildlife stories in the Centenary Theatre. The specially curated content program will focus on local and global wildlife education, sustainability and conservation themes, all through the lens of Netflix's extensive kids and family titles.
Weekly Theatre Schedule
Join any time. New screenings every 30 mins.
Screening every day
TIME
FILM TITLE
10:00
OUR PLANET S1 E1
10:20
LIFE ON OUR PLANET S1 E1
(NEW RELEASE)
10:35
WILD BABIES S1 E2
10:55 
CHIMP EMPIRE S1 E1
11:15
KANGAROO VALLEY
11:30
OUR PLANET S1 E1
11:45
OUR GREAT NATIONAL PARKS S1 E1
12:05
DANCING WITH THE BIRDS
12:27
OUR PLANET S1 E3
12:40
OUR PLANET S1 E1
12:56
LIFE ON OUR PLANET S1 E7 
(NEW RELEASE)
13:08
WILD BABIES S1 E4
13:26
KANGAROO VALLEY
13:40
OUR PLANET S1 E2
13:57
MY OCTOPUS TEACHER
14:16
OUR GREAT NATIONAL PARKS S1 E1
14:30
KANGAROO VALLEY
14:45
OUR PLANET S1 E3
15:05
OUR PLANET S1 E1
15:25
LIFE ON OUR PLANET S1 E1
(NEW RELEASE)
15:38
WILD BABIES S1 E2
Koala Futures Project
Netflix is a proud supporter of Taronga's Koala Futures Project, protecting beloved Koala populations for future generations.