Posted on 30th August 2018 by Media Relations
The Boral Youth at the Zoo (YATZ) Achiever Awards night was held in Taronga Zoo's Centenary Theatre on Thursday 19th July, 2018.
YATZ is a fun, educational program for young people between 13-19 years of age, encouraging participation in activities at Taronga Zoo, Sydney and Taronga Western Plains Zoo, Dubbo and in the field. The activities give members the chance to learn about different aspects of the Zoo, get involved in hands-on conservation work and make new friends and connections with people who share an energy for wildlife and the environment.
Taking out first prize was James Collison, a YATZ member who has been part of the program since November 2013. During his time in the YATZ program, James has been acknowledged for his dedication and commitment to Taronga's vision, logging an extraordinary 700+ hours of volunteer service.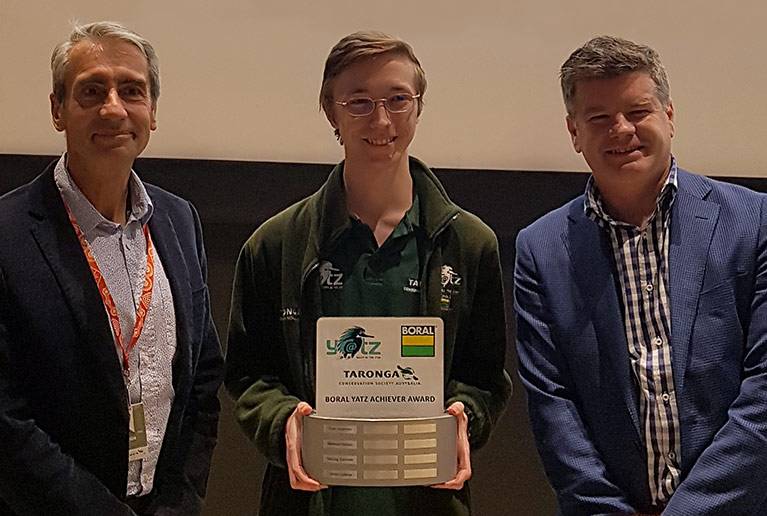 A true advocate for the wild, James was recognised on the night for his enthusiasm, perseverance and demonstration of leadership. A quiet achiever by nature, James has shown an increasing willingness to get out of his comfort zone and speak publicly about the importance of preserving our wildlife and environment, motivating and mobilising other young people to help make a difference.
Director and CEO of Taronga Conservation Society Australia Cameron Kerr spoke at the ceremony about the importance of the YATZ program and the partnership with Boral, "Taronga has a clear vision to 'secure a shared future for wildlife and people'. We are delighted to partner with Boral to work towards achieving this vision, particularly through the YATZ program. Our young people are the future, and it is fantastic to see such passion and leadership amongst the YATZ here tonight who are each doing their bit for the wild." 
Highly Commended at the Awards Night were James' fellow YATZ members Nathan Turner, Chloe James, Ryuma Wakaki and Harry Anderson, who between them have clocked over 1,600 hours of service in areas at the Zoo including Roar and Snore, guest experiences, operations, conservation and campaigns.
Presenting the award to James was Boral representative Anthony Henderson, General Manager Health Safety & Environment for Boral Constructions, who spoke about the importance of the YATZ program to the Boral family. Through its relationship with Taronga, Boral has supported countless young people contribute to important wildlife and conservation activities such as tree-planting days, as well as giving them the opportunity to gain new skills and experience across a range of areas at the Zoo.  
Taronga and Boral are delighted to congratulate this year's recipient of the Boral YATZ Achiever Award, James Collison!