Posted on 18th September 2018 by Media Relations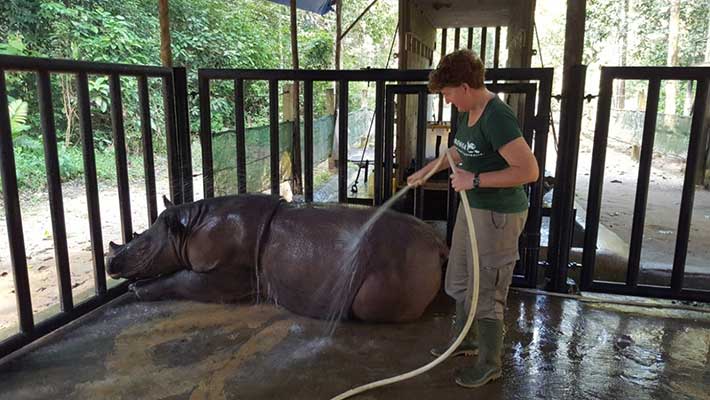 While I was in South Africa in 2007, I saw my first wild Black Rhinoceros and knew then they were something special. It wasn't until I actually started working with them in 2012, that I realised exactly how special they are. I also work with Greater One-horned Rhinos and have been privileged to be a part of the Zoo's breeding programs for both these species.  How lucky am I – to be working with two species of rhino! It was through my work that I became aware of the predicament facing the Asian Rhino species. After seeing pictures and only reading about Sumatran Rhinos, I had the opportunity to travel to Sumatra and work at the Sumatran Rhino Sanctuary (SRS), thanks to a Taronga Zoo Friends fellowship. Never in my wildest dreams did I think that I would get to work with two rhino species – let alone three! I found I had to pinch myself a number of times to check that I wasn't imagining where I was.
Words can't describe the way I felt when I saw a Sumatran Rhino for the first time. They are actually a little smaller than I thought, but full of personality and a lot more vocal than the Black and Greater One-horned Rhinos. They are actually the smallest of all the rhinos and the only Asian rhino to have two horns.  
The main cause of the initial decline of Sumatran Rhinos was poaching for their horn. Now, the populations are also limited by living in fragmented habitats which prevent their ability to get together to breed. Rhino habitat is also continuously encroached by human populations. Widespread habitat loss and fragmentation have led to surviving animals struggling to meet and breed in the wild, while the threat of poaching still looms - threatening to push the Sumatran Rhino towards extinction.
Given the Sumatran Rhino is Critically Endangered, with less than 87 animals now left in the wild, it is important that we learn as much as possible about this species – its basic biology, disease risks, food and habitat requirements, in order to help it survive. The rhinos living at the SRS are doing exactly that. They are ambassadors for their wild counterparts, and a means for education for local communities and the general public.
I had the honour and privilege of working alongside the SRS rhino keepers as they went about their daily routines and saw firsthand the bond between animal and human. There was one particular rhino that preferred human contact to that of her own, so after the morning routine was done her keeper would walk with her to take her out into her forest enclosure (Rosa). 
The most amazing part was having the ability to get so close to a rhino. Working in freely with a rhino was a little frightening at first, but the overwhelming feeling of awe I had for these animals soon overcame that! After only two days, I realised these animals are more like puppies than rhinos. They enjoyed having a bath/being hosed, getting their feet cleaned and being hand fed.  
After visiting the SRS and seeing the dedication and commitment to save these magnificent animals, I left with a greater sense of faith and hope that there is a future for the Sumatran Rhino.