Posted on 18th February 2019 by Media Relations
SCIENTISTS FROM ALL OVER the world have arrived at the Taronga Institute of Science & Learning to train the next generation of conservation scientists in the fields of wildlife health and disease. Hosted by the Australian Registry of Wildlife Health and supported by the Cybec Foundation, the Wildlife Health and Pathology Short Course and Wildlife Translocation Health Symposium aims to enhance the skills and experience of professionals and students working in wildlife health and conservation.
Attended by local and international veterinarians and vet students, disease ecologists and diagnosticians, the four-day Short Course, beginning today, will provide a review of the health and diseases of wildlife, as well as practical skills based workshops – including laboratory skills, necropsy and virtual microscopy.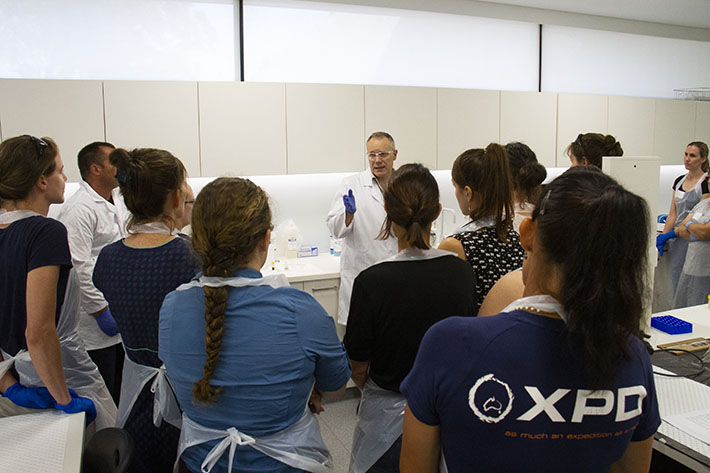 An additional Wildlife Translocation Health Symposium (being held on Saturday 23 February) will unite local and international ecologists and health scientists to discuss a best practice framework for intensive wildlife conservation actions, such as moving species one from one area to another. The symposium will highlight the many disciplines of translocation science, including ecology, nutrition, behaviour, welfare, and disease risk analysis. Panel discussions will provide an opportunity for engagement and the exchange ideas and best practice.
"The aim of the course is to provide vital training in the investigation of wildlife health and disease," says Dr Karrie Rose, veterinary pathologist and registrar at the Australian Registry of Wildlife Health. "We're also aiming to foster collaboration by creating national and international linkages across all sectors involved with wildlife health: universities, zoos, agriculture and environment departments, vertebrate pest controllers, wildlife managers, and wildlife rehabilitators. It is our belief that building a trained and collaborative workforce ultimately improves our ability to detect and respond to wildlife health threats."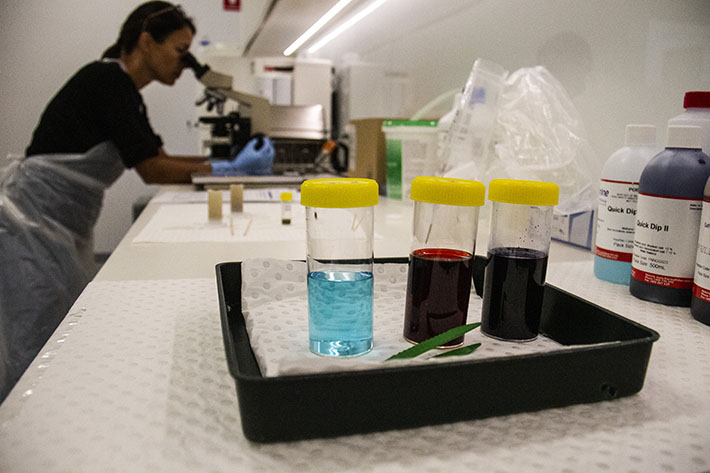 The Australian Registry of Wildlife Health (a Taronga Conservation Society Australia program) has previously conducted successful short courses in 2008 and 2012 to address critical skills shortages in the field of wildlife health and comparative pathology, and, in doing so, contribute to the security of Australia's rich biodiversity, and human, livestock, and environmental health.
This year more than 150 participants from every state and territory – Luxemburg, New Zealand, Canada, USA, India, Philippines, and Vietnam – are attending the course, based at the Taronga Institute of Science and Learning in Sydney.
Following the Short Course and Symposium in Sydney, a satellite course on the Pathology and Diseases of Wildlife, initiated by Taronga staff, will be conducted in Bangkok Thailand, in collaboration with Chulalongkorn University. With registrants from more than 20 Asian countries, the course will aim to foster an international wildlife health and conservation network.
Speakers
The Short Course and Symposium in Sydney will feature talks by internationally acclaimed wildlife pathologists, including Drs Judy St Leger (SeaWorld), Bruce Rideout (San Diego Zoo), Michael Garner (Northwest ZooPath), Kevin Keel (University of California, Davis), nutritionist Ellen Dierenfeld (Nottingham Trent University), and eminent ecologist Professor Carl Jones (Durrell Wildlife Conservation Trust), as well as local wildlife specialists and Threatened Species Commissioner Dr Sally Box.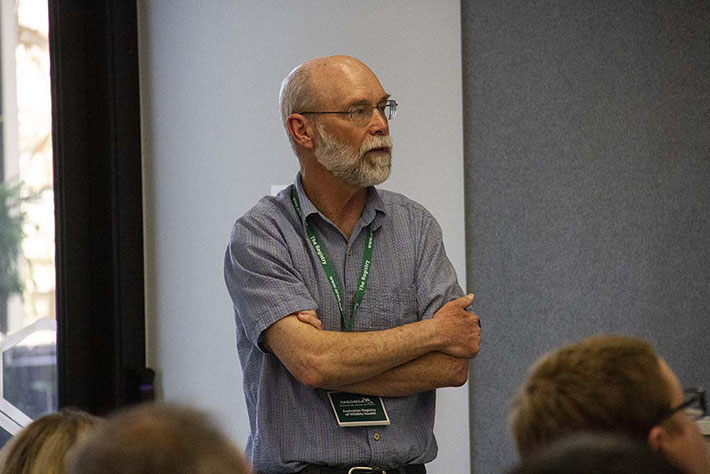 Scholarships
Due to generous financial support from the Cybec Foundation, five scholarships have been awarded: two for international professionals – including veterinarian Hai Lam from Saving Vietnam's Wildlife – and three for Australian students to participate in the short course. Five additional student scholarships have also been funded by the student chapter of the Australasian Wildlife Disease Association.
Find out more about the Wildlife Health and Pathology Short Course here.
...
Taronga's Australian Registry of Wildlife Health (the Registry) has a 34-year history of delivering a diagnostic service for Australian wildlife and science-based decision support for wildlife carers and managers. The Registry:
Engages with a wide network of partners (universities, state and commonwealth government agencies, other zoos, wildlife carer groups, human health professionals) to address complex wildlife health problems.
Has a huge caseload, with over 13,000 wildlife cases in its database and over 40,000 individual animal cases, which includes both free-ranging and zoo-based wildlife.
Has been key in the discovery and identification of numerous wildlife diseases of concern including a novel bacterium threatening critically endangered reptiles on Christmas Island, and more locally, tularaemia, leishmania, macropod babesiosis, macropod orbivirus, and the Bellinger River Snapping Turtle Virus.
Last year the Registry was recognised as a specialised Wildlife Health Diagnostic Service in the government's National Animal Health diagnostic Business Plan, reflecting the standing of this program as a key program in the wildlife health sector.