Posted on 31st March 2022 by Media Relations
Taronga Western Plains Zoo wins Bronze at Australian Tourism Awards
Taronga Western Plains Zoo received the Bronze Award in the Major Tourist Attraction category at the Australian Tourism Awards ceremony on Friday night.
"Receiving the Bronze Award at the national level is an achievement we are all very proud of," said Zoo Director Steve Hinks.
"To be named as one of the top three best major attractions in the country is a wonderful achievement for Taronga Western Plains Zoo and for tourism in regional NSW."
Steve attended the awards ceremony held on Queensland's Sunshine Coast, accepting the Bronze Award on behalf of the entire team.
"It was so good to represent our beautiful part of the world alongside other regional tourism operators, who also received awards. It really speaks for the high quality of tourism products and experiences on offer in Central West NSW."
"I really want to thank our extremely hard-working team, dedicated volunteers and supporters, all of our amazing guests who have visited and stayed onsite with us and of course our beautiful animals that are inspirational ambassadors for conservation every single day," Steve said.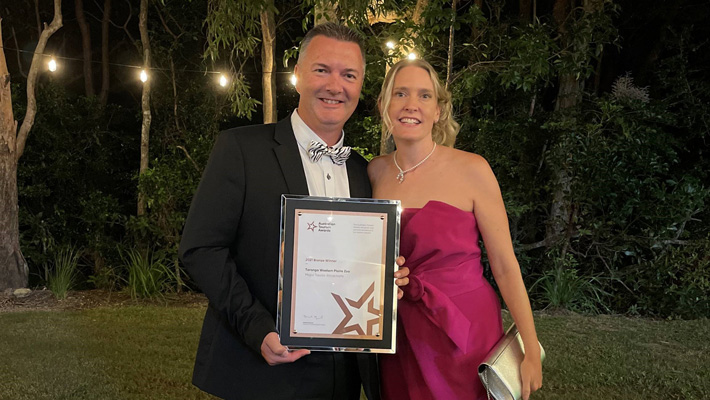 "We have had so many challenges in recent years, like so many of our tourism industry colleagues, so receiving the Bronze Award is a real testament to our team and their resilience and dedication throughout drought, bushfires, a mouse plague and a pandemic."
Thanks to a tourism boom in regional NSW, Taronga Western Plains Zoo has seen record breaking visitation numbers in 2021, with similar numbers coming through this year. 
"A trip to Taronga Western Plains Zoo or an overnight stay at Zoofari Lodge are very special experiences that provide lasting holiday memories for families, so we are thrilled to be recognised as one of the leading major tourist attractions in the country."
The Zoo boasts plenty of activities for the family to enjoy, from expert keeper talks, exclusive animal encounters and guided Savannah Safari tours, where guests are alongside giraffe, white rhino, zebra and eland.
"We are really looking forward to the year ahead and continuing to welcome guests exploring regional NSW. Now that the borders are open, our State has so many great family destinations on offer and we really encourage everyone around Australia to get out and explore your backyard this year," encouraged Steve.
Taronga Western Plains Zoo has a state-of-art Wildlife Hospital under construction that is set to be a unique aspect of the overall zoo experience, allowing guests to see the Zoo's Wildlife Hospital team in action and learn about the wildlife conservation projects the zoo undertakes, usually behind the scenes.
"The new Wildlife Hospital will allow us to expand the critical work of our veterinary team in their care for injured and sick wildlife and provide an educational opportunity to guests and school students about the service it provides our region and preventative health care programs."