Posted on 30th August 2022 by Media Relations
Taronga's two zoos are home to a range of incredibly unique fathers from within the Animal Kingdom. From Kibali, our strong Silverback Western Lowland Gorilla to the illusive and critically endangered Plains-wanderer where male birds care for and raise the chicks.
However, there is a tail of two dads that is particularly heart-warming. It is a story that explores two, five-year-old Lion brothers, Ato and Lwazi, and their journeys of fatherhood.
This Father's Day we are shining a light on these two remarkable Lions and just how they've taken to establishing their very own prides.
Check out our interview with Taronga Zoo and Taronga Western Plains Zoos' Carnivore Keepers below.
Lion brothers & their cubs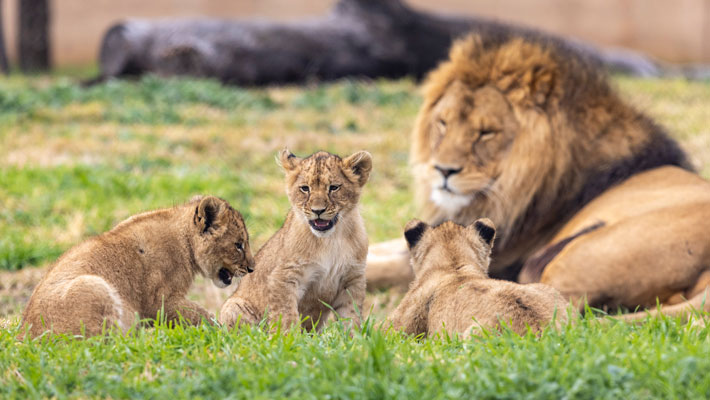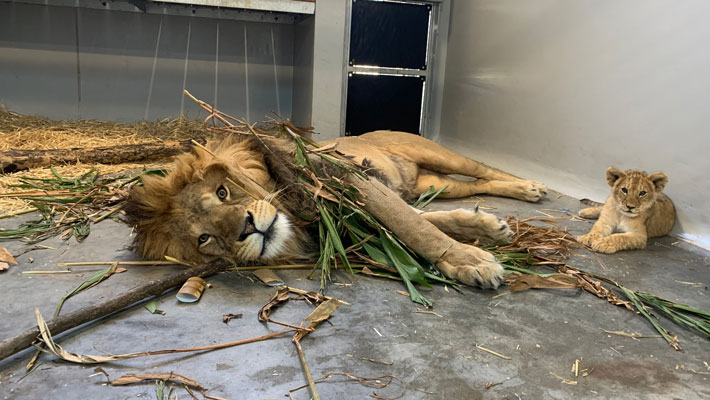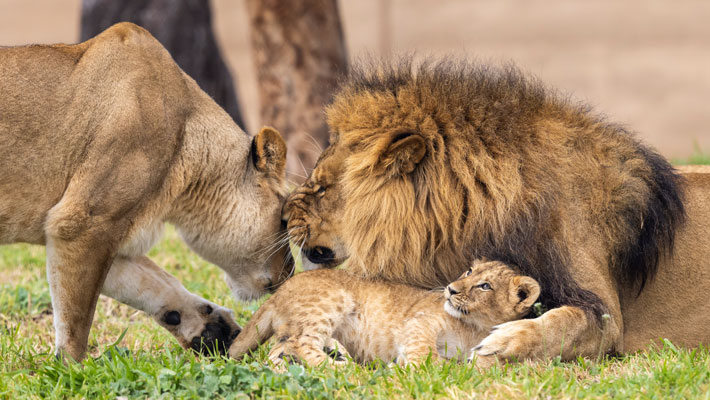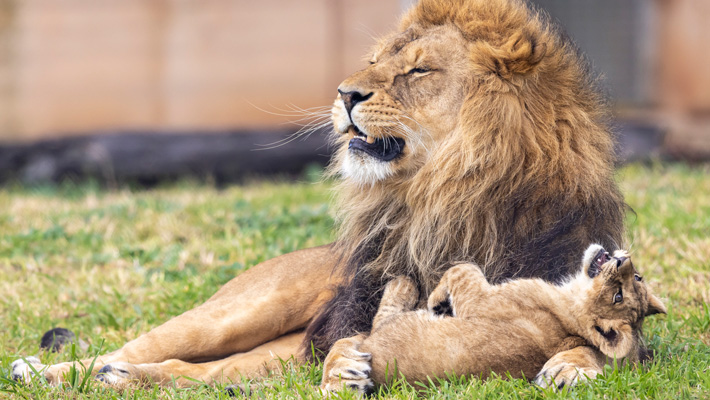 Interview with Carnivore Keeper Ellen Wilson - Taronga Zoo Sydney
Can you describe what Ato's journey has been like as a first-time dad? 

Lion brothers Ato and Lwazi arrived at Taronga Zoo Sydney together, and once they settled, they were gradually introduced to lioness Maya. At first, this was in side-by-side dens where Ato remained cool, calm and collected and was extremely interested in Maya while Lwazi on the other was less eager and Maya showed little interest in him.
 
Taking cues from the couple themselves and their behaviour, we moved ahead with gradually introducing Maya and Ato, and as we did their relationship grew stronger. They became very fond of each other and would often head rub each other when reunited after their daily morning feeds. Not long after, we noticed Maya had been putting on weight and we were pretty confident that she was pregnant. 
 
On 12 August 2021, the pair were lucky enough to welcome five beautiful healthy cubs. While Maya remained separate from Ato for a short period of time whilst the cub's crew stronger and bonded with their mum, Ato was still very much aware of his surroundings and sometimes we would see Maya carry over a cub in her mouth to show Ato who was in another area. 
 
When Ato was first introduced to the cubs, he appeared a little bit confused and unsure of exactly what they were and how he should act. We did see him walk up and nudge them and attempt to play with them, but this was when they were a little too small. 

Given he was a first-time dad, and this was Maya's fourth litter, she had to show Ato the ropes. Maya showed Ato how to gently interact with the five cubs and after a couple of days, he got the hang of it and has now become the father he is today, playing and chasing them around their exhibit and protecting his pride.
 
What is his relationship like with Maya and the five cubs? Does he have a favourite?

Ato and Maya are extremely fond of each other. They are often seen resting together and their head rubbing throughout the day, I have also noticed that Ato tends to pop his front paw or back leg on top of Maya when they are resting from time to time. Ato has grown to become a great father and loves to chase and play with the cubs around the exhibit. He does occasionally need some 'dad' time which is when he often climbs into a large tree in the exhibit or rests on top of our shelter. This was a good plan, but now two of the cubs can join him up there, so it's slightly less peaceful. Caring for five cubs is a lot of work and although I don't think he has a favourite although he does tend to prefer playing with the girls. 
In one word, how would you describe him as a father?

Fascinating
Do you have a particular memory of observing Ato as a father? 

Recently, I was watching some overnight footage of the pride in their den and discovered that the entire family rests all together in one of the dens. I find it adorable that they all rest together in a 'cuddle party'. Another incredible moment was the cub's first day out on exhibit, I will always remember that moment.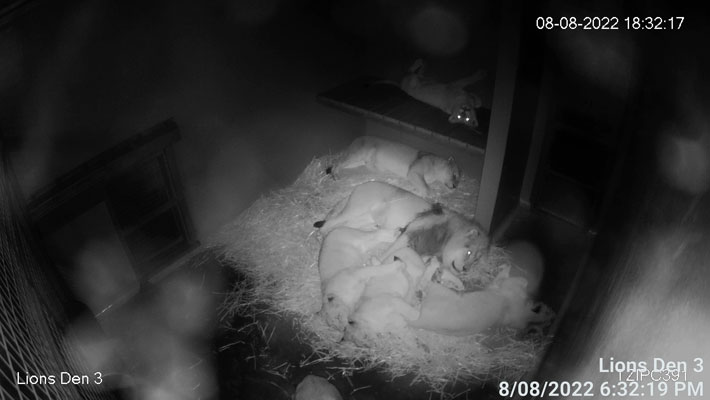 Interview Lion Keeper Mel Friedman - Taronga Western Plains
Can you describe what Lwazi's journey has been like as a first-time dad?

Lwazi has been an amazing lion from the moment he arrived with us on the 26 July 2021. Shortly after his arrival and after he had settled into his new surroundings, protected introductions began with lioness Marion. By mid-September 2021, things were going well, and we had progressed to full introductions between the two lions. Things continued to go well we saw all the behaviours we were hoping to see. Lwazi seemed to really be loving his new domain, and Lwazi and Marion spent lots of time together. By early 2022, we were thrilled to suspect she was indeed pregnant. 
 
Our new pair welcomed three girls on the 7 April 2022 after a gestation of approx. 110 days. It wasn't until May that Lwazi started to have the opportunity to have protected contact with his three girls under mum's watchful eye. It was obvious to us straight away that he loved them! He just wanted to be near them and interact with them all the time. When Lwazi finally had the chance to go in with the cubs he was unsure what to do at first but also cautious of Marion. It's been amazing to see how much joy it brings him to interact with his cubs. They now spend their days all together out on the smaller of the two exhibits and the cubs launch themselves onto Lwazi's back, into his mane and climb all over him. He is besotted with them and loves playing with them. It's a joy to watch. 
What is his relationship like with Marion and his three female cubs? Does he have a favourite? 

Lwazi still knows that Marion is boss when it comes to the cubs, but they all just enjoy each other's company. Lwazi is completely in love with his girls and loves to play and wrestle with them as do they. I don't think he has time to choose a favourite as they are all over him!
In one word, how would you describe him as a father? 

Amazing
Do you have a particular memory of observing Lwazi as a father that you would like to highlight?

 I absolutely love watching when Lwazi is lying down, and a cub comes over into the area between his giant paws and jumps into his face then rolls upside down in his paws. Lwazi then puts his giant head into the cub's belly and has a smell and then looks up like a very proud dad. I could watch this over and over again, but honestly, every interaction is just fantastic to watch!