Posted on 01st August 2023 by Media Relations
Raise your palm for Sumatran Tigers
In celebration of World Tiger Day, let's meet the three Sumatran Tigers that call Taronga Western Plains Zoo home!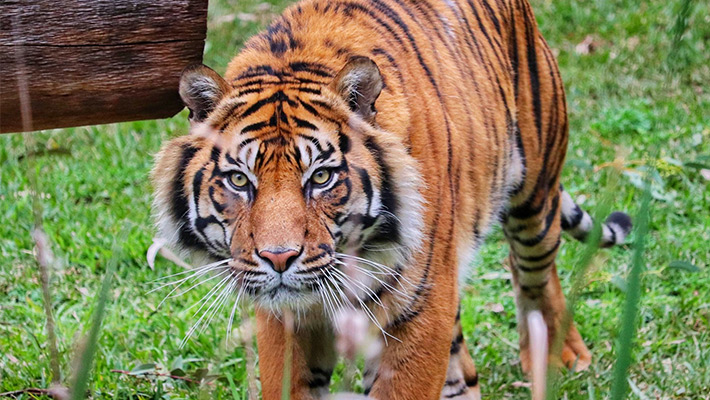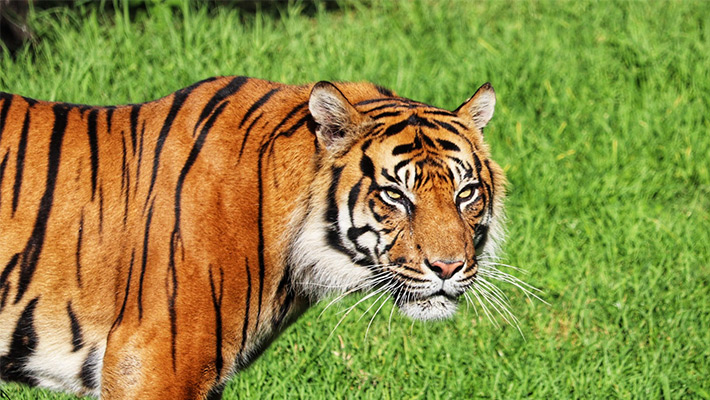 Sakti
Born at Taronga Zoo Sydney, Sakti is an 11-year-old Sumatran Tiger. Keepers describe Sakti as a wonderful tiger to work alongside. He shows many of the personality traits of his mother (Jumilah). He loves plucking at cardboard boxes and carpet rolls that keepers hide his food in - this plucking behaviour mimics the plucking action that tigers do to remove fur and feathers from their prey. He can also be a very 'chatty' tiger like his mother - he will often do short, 'chatty' vocals to keepers. He is a very curious animal and actively participates in training sessions which allow keepers to give him needles and take blood for routine health checks.
Indah
With a name meaning 'beautiful' in Indonesian, 16-year-old Indah is our female Sumatran Tiger at the Zoo, described by Keeper Mel as a "super sweet individual". She was hand-raised and therefore loves to interact with her keepers. She even does a tiger greeting called a 'chuff' to say hi to her keepers, and they 'chuff' back!
Satu
At almost 17 years of age, Satu is our oldest Sumatran Tiger here at the Zoo. Keepers enjoy working with him because he is generally a laid-back, relaxed animal. Although he is a magnificent Sumatran Tiger he can be aloof, and challenges keepers with his 'cat-like' personality (if you have a pet cat, you know!
). However, this facade quickly disappears if you offer him some herbs and spices. Satu loves interacting with his olfactory enrichment, with his all-time favourite being nutmeg. Putting a sprinkle of this spice in his exhibit will see him rolling in it, licking it and generally having a wonderful time!
As their name suggests, these tigers are native to the Indonesian Island of Sumatra, a biodiversity hotspot right on Australia's doorstep! The smallest of the tiger subspecies, their size makes it easy to move through the dense forests they call home. They also have webbing between their toes that, when spread, makes them very fast swimmers.
Sadly, the Sumatran Tiger is classified as critically endangered, and with as few as 400 left in the wild, they could disappear forever.