Posted on 03rd August 2023 by Media Relations
Green turtle that underwent five hour-surgery to remove seven fishing hooks released back to the wild
A female Green turtle that underwent a five-hour long surgery at Taronga Wildlife Hospital in Sydney to have seven fishing hooks removed from her intestines has recovered so well that she was able to  be released back to the wild last week. 
The turtle was returned to the ocean together with another female Green turtle just outside Sydney Heads thanks to a joint operation by Taronga Wildlife Hospital and NSW Police Marine Area Command. 
"Releasing turtles and other wildlife back into the wild is the best part of my job. This turtle made a remarkable recovery after her surgery, and she was definitely ready to be released back into the ocean," Taronga Wildlife Hospital Rescue and Rehabilitation Coordinator Libby Hall said.
The 50kg Green turtle was rescued from Lake Macquarie and brought to the Taronga Wildlife Hospital in March. X-rays revealed that she had ingested seven fishing hooks, four of which were in a gang-hook formation.
"On ultrasound examination, I was very suspicious that there was bunching of the intestines, an indication that fishing line is causing damage, so we decided to perform surgery immediately. Surgery on turtles is extremely difficult, as everything is encased within the shell, so the access is 
limited," Taronga Wildlife Hospital Senior Veterinarian Larry Vogelnest said. 
During the five-hour procedure, Larry was able to access parts of the intestines that were affected, and together with the team successfully remove the fishing hooks and line. The line – which was attached to the hooks – had already cut into the turtle's intestines, but not yet all the way through. 
"To be honest, I wasn't sure if the turtle was going to survive. Incredibly, just a few days after the surgery, she was feeding well and then made a remarkable recovery," he said.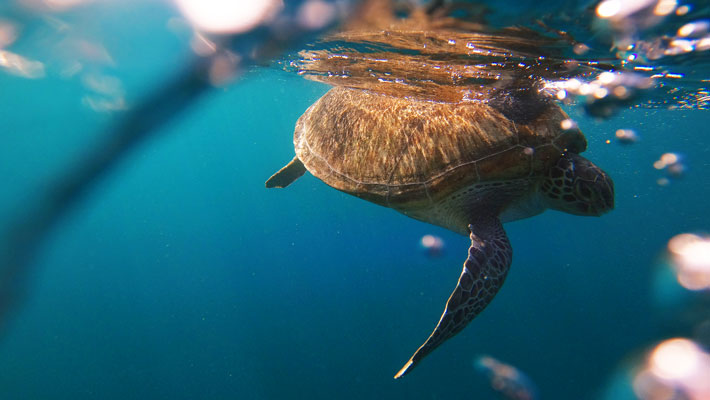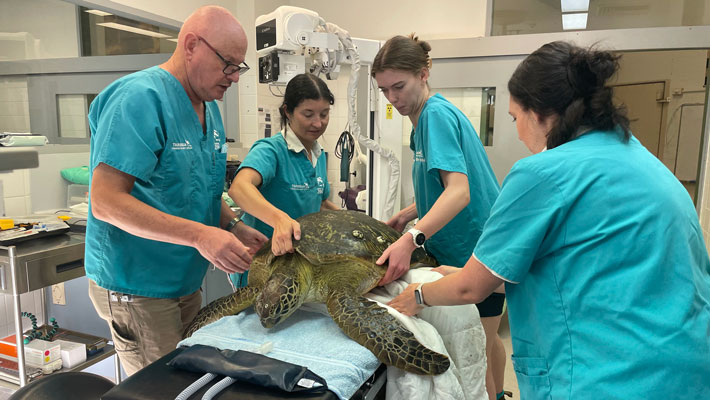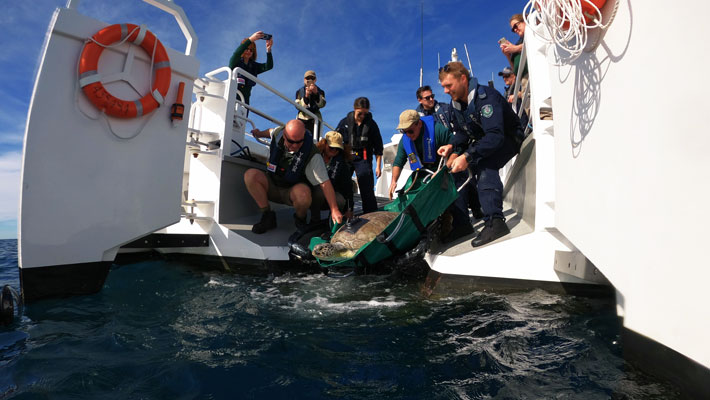 The Taronga Wildlife Hospital team were also able to release another female Green turtle to the wild last week. The 80 kg female was admitted to the hospital in April 'very unwell and floating' according to Larry, after having been rescued from Anna Bay in Port Stephens.
Upon examination, the team discovered she had swallowed fishing line. No hooks were present, and she passed the line safely without the need for surgery. 
Before the double turtle release, both were fitted with satellite trackers as part of Taronga's Marine Turtle Satellite Tracking Program. The research program, funded by Veolia, monitors survival and movement of rehabilitated turtles and provides data on critical habitat use in NSW.
Six of the world's seven species of marine turtle occur in Australian waters, and all six are listed as endangered or vulnerable. Marine turtles play a vital role in maintaining the health of our oceans because they are important transporters of nutrients across ecosystems, thus benefitting a wide 
range of species.
"Marine debris and plastic pollution are among the biggest threats to Australia's unique wildlife, including turtles. So please consider your impact and always take your rubbish with you," Larry said. 
Every year, 1,500 animals are admitted to Taronga Wildlife Hospitals, and Taronga is the leading contributor to veterinary services in wildlife treatment and rehabilitation in NSW.