Posted on 30th August 2023 by Media Relations
The quest to save the Greater Bilby is going from strength to strength at Taronga Western Plains Zoo, where the population has jumped from 18 to 136 in the space of four years.
The species is nationally listed as vulnerable and is presumed extinct in NSW. To rehabilitate the species, a free-ranging population of just 18 Greater Bilbies was introduced into the Taronga Sanctuary in Dubbo in 2019.
Over four nights in 2023, Taronga's conservation team from Dubbo and Sydney set, checked and cleared traps in the 110-hectare feral predator free area. New animals were identified, microchipped and weighed, health assessments were conducted, and pouches were checked for signs of breeding.
81 unique individual Greater Bilbies were assessed, including 55 that had not been captured before.
Analysis estimates the total population in the Sanctuary to be 136. These figures do not include animals that have already been released back into the wild.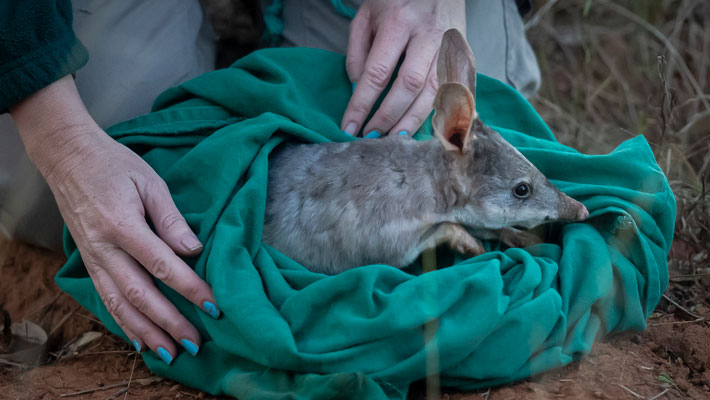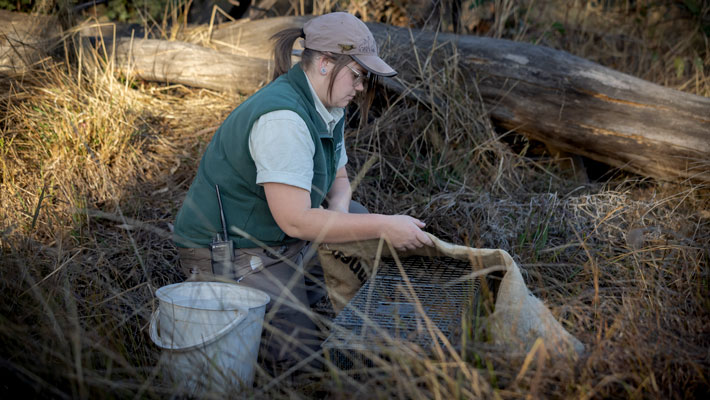 NSW Minister for the Environment Penny Sharpe said: "The Taronga Greater Bilby population is a significant stronghold for conservation efforts for the species. Greater Bilbies bred at Dubbo have been released into Sturt National Park as part of the Wild Deserts program, and the Newhaven Wildlife Sanctuary in Central NT.

"Seeing the population grow is very rewarding for all involved and crucial to bilby conservation efforts in NSW.

"One of my first acts as Minister for the Environment was to sign a National Recovery Plan for the Greater Bilby. The NSW Government is committed to bringing this precious species back from the brink, and it was a privilege to join the team on the ground and see their hard work pay off."
Taronga Conservation Officer Rachael Schildkraut said: "The Greater Bilby is one of Taronga's Legacy Species and we are committed to returning bilbies to NSW and supporting the species' recovery nationally.

"We estimate there are at least 136 bilbies in the Taronga Sanctuary in Dubbo. All of the bilbies that were captured and assessed were in fantastic condition, and all mature females showed signs of breeding."