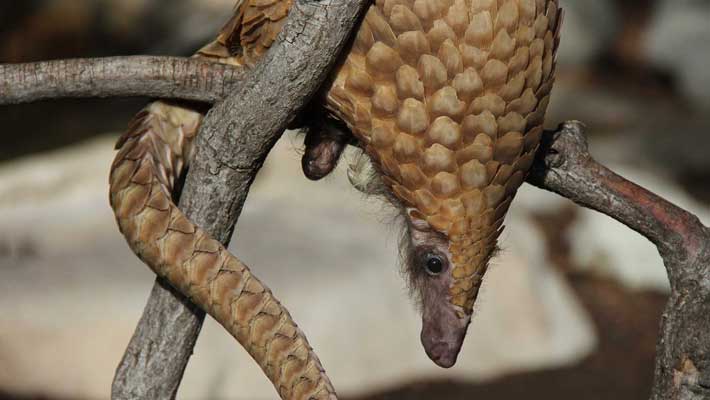 AN EXTINCTION CRISIS: WHAT DO WE DO?
Global species decline is worse than ever before in human history. A million flora and fauna species are at risk of extinction, many within the coming decades. In the most comprehensive undertaking to date by the Intergovernmental Science-Policy Platform on Biodiversity and Ecosystem Services (IPBES), report findings concluded:
more than 40% of amphibian species are threatened with extinction
almost 33% of reef forming corals, sharks and shark relatives are threatened with extinction
more than 33% of marine mammals are threatened with extinction
Without conservation measures, more than 6 species of ungulate (hoofed mammals like rhinos) would likely be extinct or surviving only in zoo breeding programs, including Przewalski's Horse which Taronga played a role in reintroducing to Mongolia after they became extinct in the wild. The species is now listed as Endangered, with populations increasing
If those figures aren't enough to make you want to kick into action, the NSW State of the Environment Report, a tri-annual report on the state's natural assets highlights that in NSW alone, over 1,025 species of plants and animals are also considered at risk of extinction. Since the last report in 2016, the number of critically endangered species has risen by 30%.
Where does that leave us?
These alarming reports force us to consider our personal impact and the legacy we would like to leave.
Although humans are the driving force behind nature's decline, importantly we are also the solution.
At Taronga, this solutions-based thinking underpins our education programs, conservation research priorities, wildlife management, behaviour change programs and our vision to secure a shared future for wildlife and people. Our conservation programs address species population declines locally and globally through:
participation in global breeding programs
national Recovery Programs (e.g. Regent Honeyeater, Corroboree Frog)
innovative scientific and community-based response to human/wildlife conflict and
collaboration with government agencies, academia, local and global conservation groups.
If you are wondering what you can do, start by taking note of what is happening in your local area, here are some ideas:

make your garden wildlife friendly and install a nest box to provide shelter for local species;
contact your local member regarding an environmental issue you're concerned about;
support Taronga's conservation work in Australia as well as in 33 countries around the world, by making a donation;
use your consumer power to buy from companies with sustainable products. Find out more here.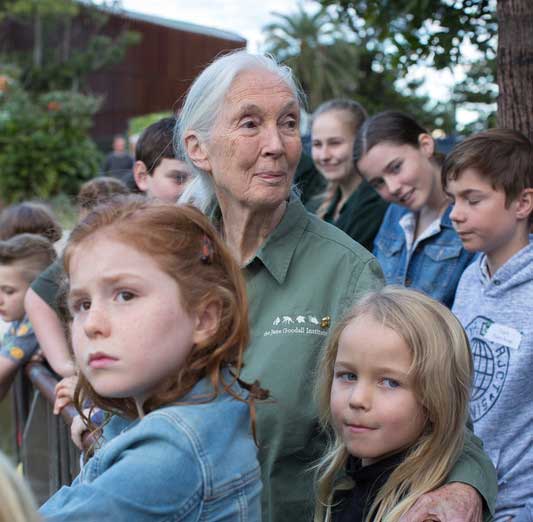 DR JANE GOODALL VISITS YOUNG CONSERVATIONISTS AT TARONGA
She's 85 and there's no sign of her slowing down. Dr Jane Goodall is on a mission to empower as many people as she can, to make a positive impact on the planet.
Taronga was thrilled to have Dr Jane Goodall visit recently and spend the afternoon with a group of young conservationists including Taronga's YATZ (Youth at the Zoo) and Jane Goodall Institute Australia's Roots & Shoots groups.
Remarkably, Jane travels 300 days a year to spread her message of hope for our future. Her main message to the children was that each and every one of them has it in them to create positive change, through working hard and never giving up hope.
To honour her lifetime of steadfast commitment to conservation, Taronga dedicated the Education Centre in the Taronga Institute of Science & Learning to her. Taronga has celebrated a partnership with the Jane Goodall Institute Australia for 22 years and looks forward to a long future working together to continue conservation efforts globally.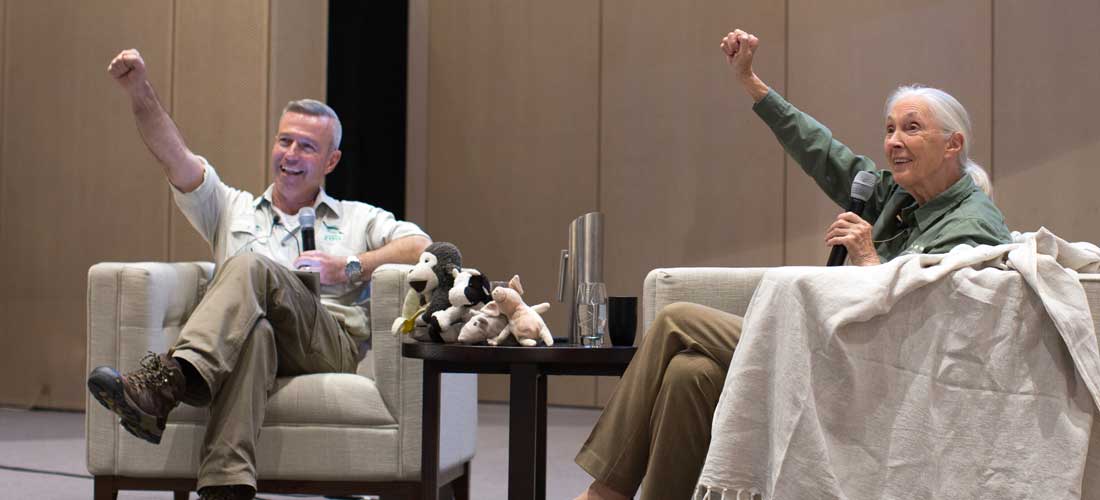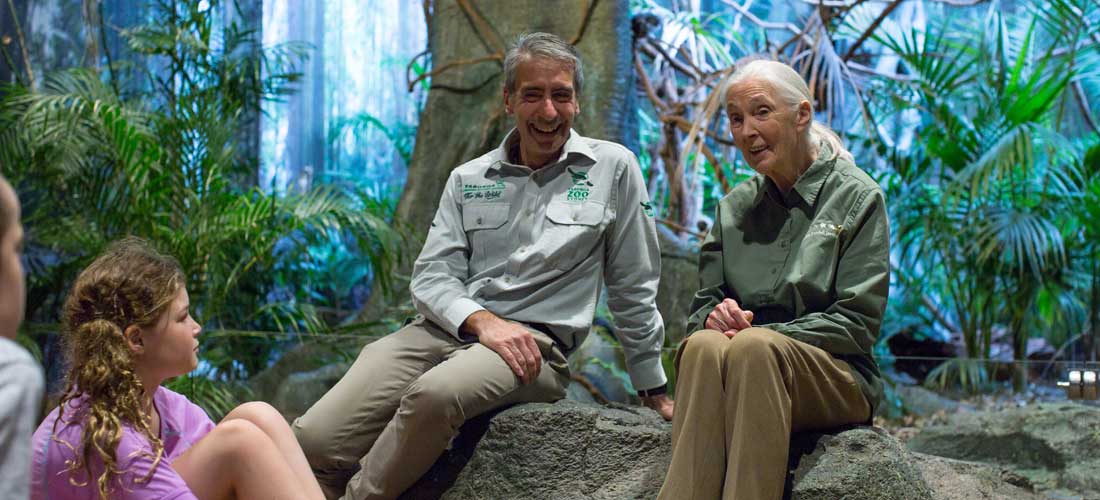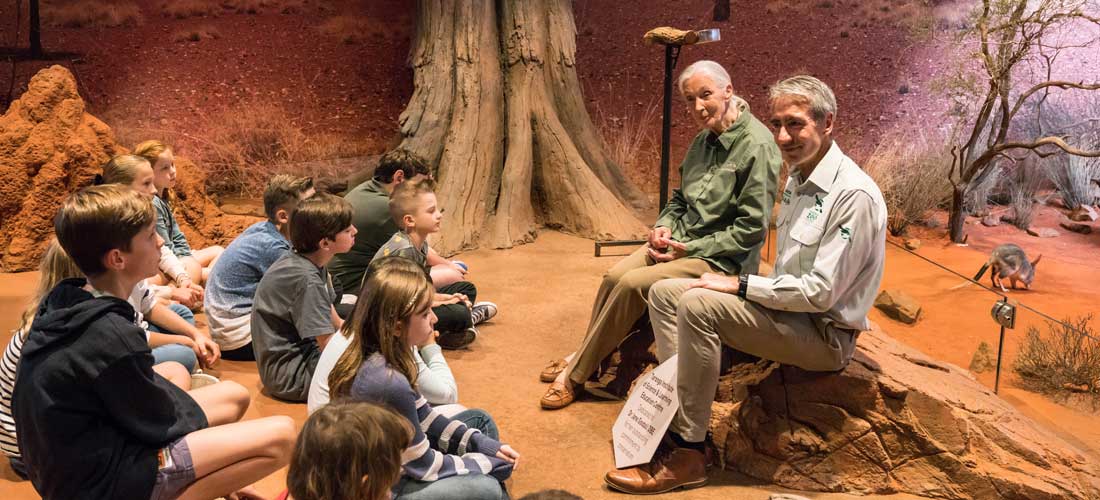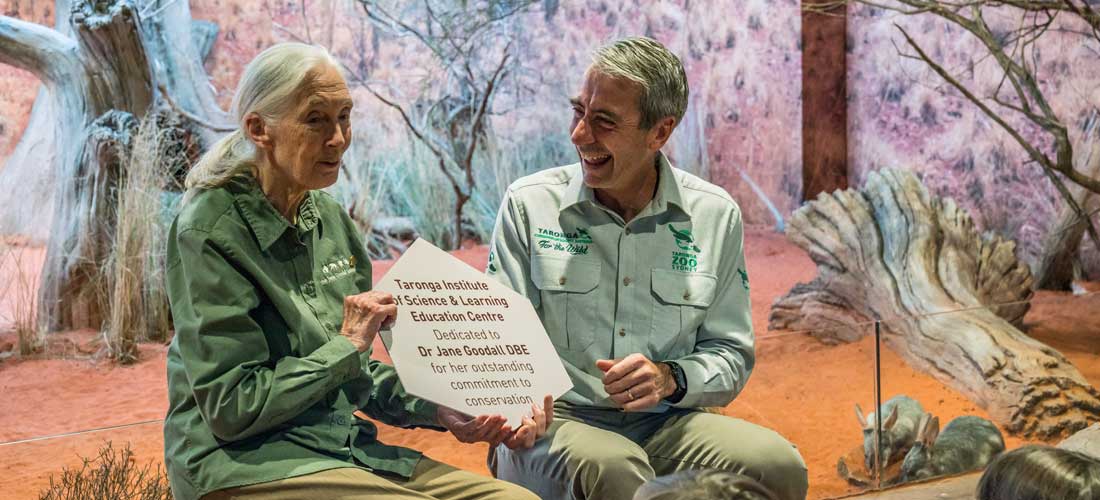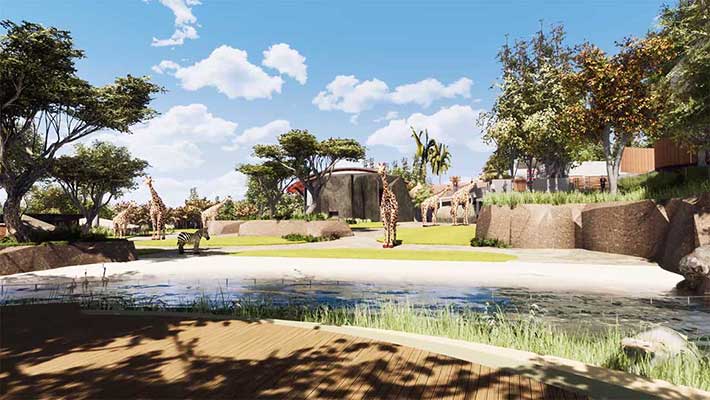 AFRICAN SAVANNAH - A SNEAK PEEK
It is hard to miss the African precinct undergoing a major redevelopment and I'm sure you've noticed the Giraffes have left their iconic post overlooking the harbour. However, when they return at the end of the year, they will be met with increased space and will be living alongside Zebra and Ostrich, as you would see in the wild. With animal welfare, best practice husbandry and guest experience at front of mind, the Savannah Experience will feature natural water boundaries between visitors and the giraffe.
Meerkats and Fennec Foxes will also have new residences and in phase II opening, we welcome a new lion pride to Sydney.
The state-of-the-art exhibit will enable crucial breeding programs to support insurance populations, particularly of lions, which are now extinct in 27 African countries. Through immersive design and authentic story-telling, the precinct will showcase Taronga's conservation partnerships in Kenya and the Republic of the Congo, connecting visitors to communities in these countries who are working to create hope for African wildlife.
Savannah is due to open in December 2019, with the lion exhibit opening in 2020.
For more information on Taronga's Savannah project, and/or acknowledgment opportunities as a donor or corporate partner, please email Helen Wright on hwright@zoo.nsw.gov.au. Or to support directly, please donate here.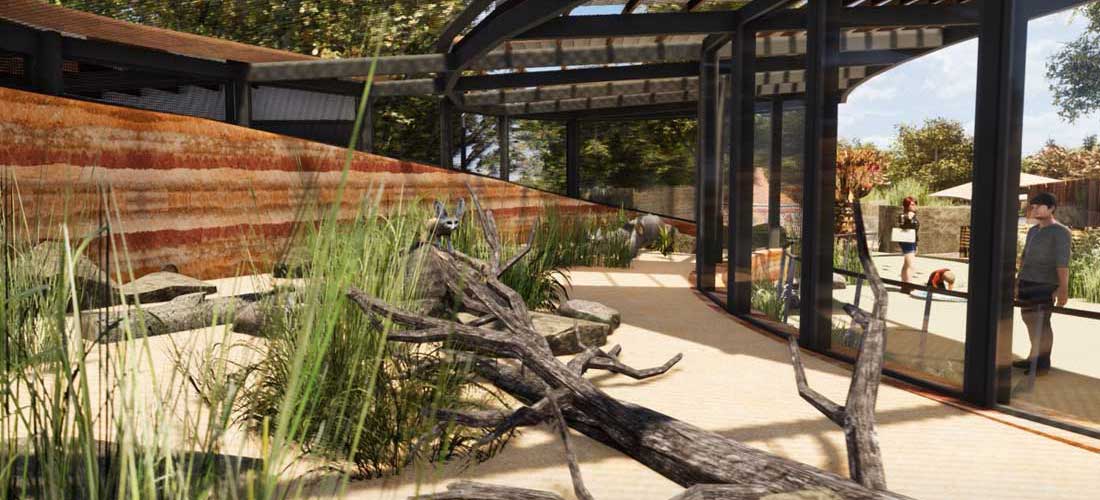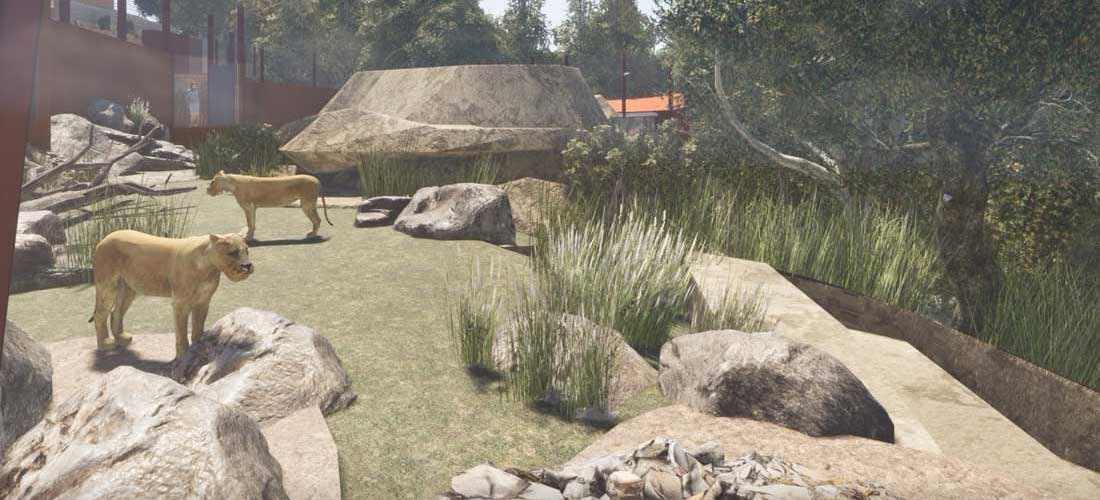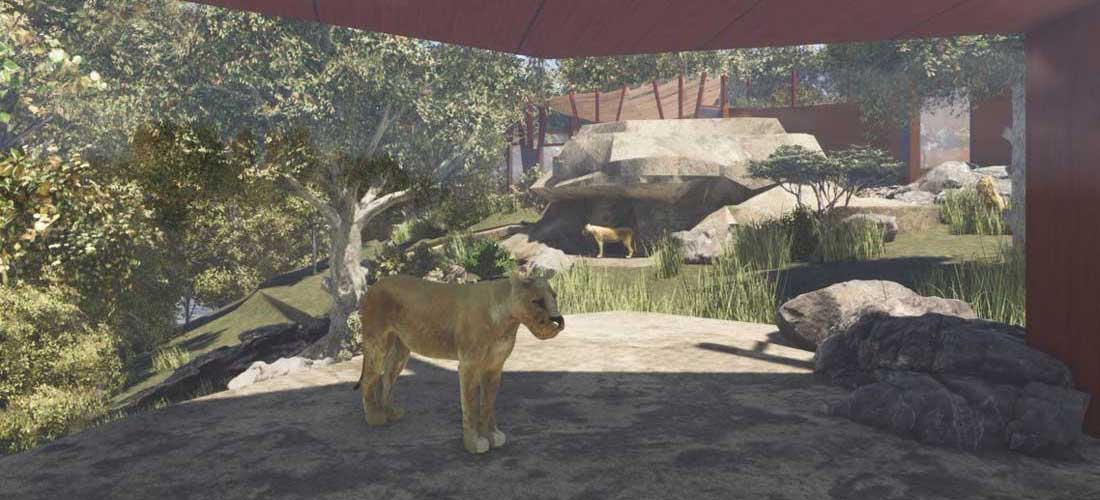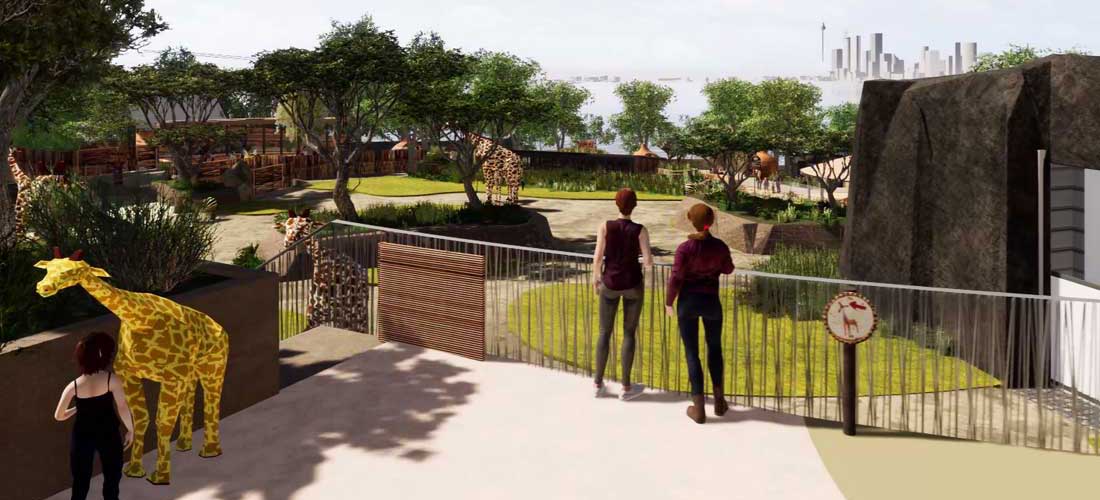 How do you rehabilitate an injured turtle, or bring a species back when there's only 6 breeding males in the wild? Find out in Taronga's exciting new podcast, where each episode delves deep into the lives of the people who hold some of the most unique jobs in the world. Listen to the stories the behind the animals, the people and everything in between. Some highlights of the podcast I'm sure you'll love:
Rehab and Release with Libby Hall - As Manager of Taronga's Wildlife Hospital, Libby shares raw glimpses into the trials and triumphs of life on the edge of tragedy, the hope of rehabilitation and the catharsis of release.
Rebound from Extinction - From breeding and releasing the tiny Southern Corroboree Frog back into Kosciuszko National Park, to conducting field research of the mighty Komodo Dragon in Indonesia, Michael McFadden shares his passion for the 'unsung heroes' of the animal world.
Taronga is much more than a zoo. Subscribe to the podcast for an episode each week as we unveil stories that will touch your hearts and open your minds.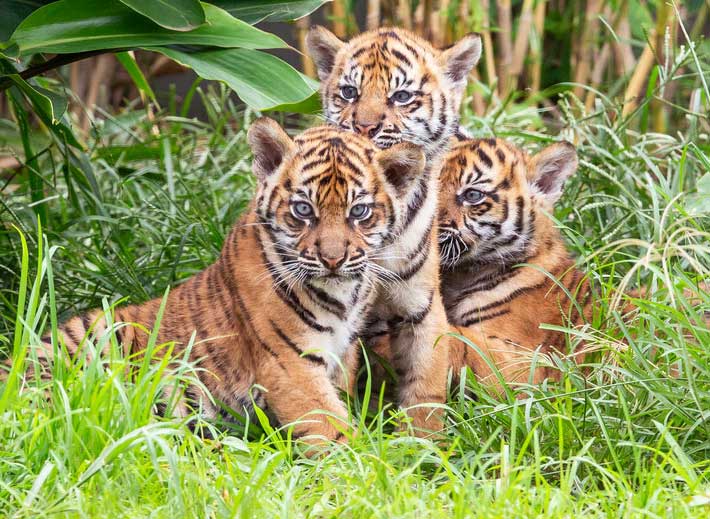 PAWS FOR THOUGHT
With as few as 350 Sumatran Tigers left in the wild, the arrival of three cubs represents an incredible success story. Each birth is vital to increasing the worldwide population.
The arrival of three tiger cubs in January – one male named Pemanah and two females, Mawah and Tengah Malam – represent an incredible success story for this rare species and highlights Taronga's commitment to protect this species from extinction.
The biggest threats to these tigers is habitat loss due to unsustainable palm oil plantations, poaching and the illegal wildlife trade.
Taronga is part of a regional breeding program – since 1980, 21 tigers have been born at Taronga. Each cub is a very crucial addition to the worldwide population. These three cubs account for almost 1% of the total wild Sumatran Tiger population. The 360 degree approach to conservation also includes education, ranger patrols in the Sumatran jungles and informing your consumer choices.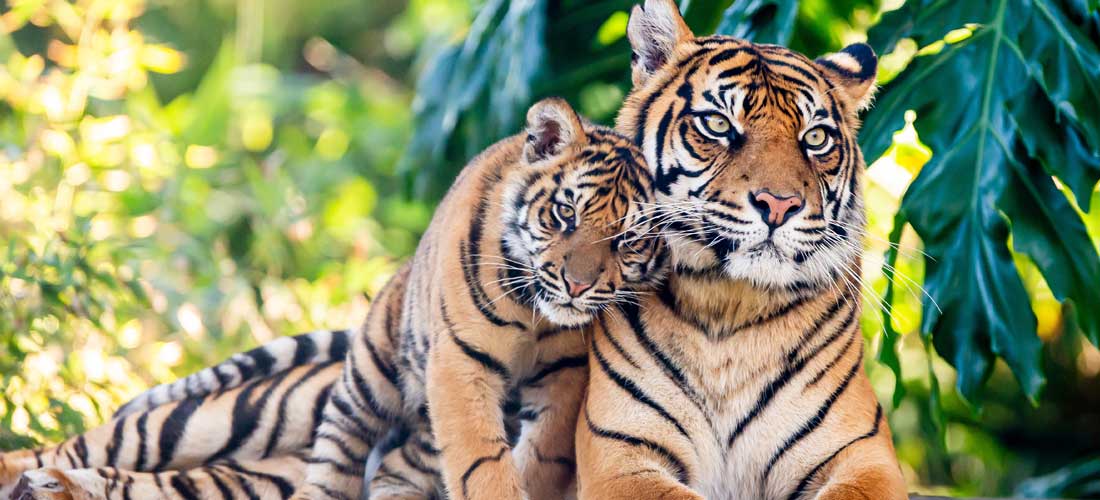 How you can help

You can do your part by choosing brands that use 100% Certified Sustainable Palm Oil (CSPO). The oil itself is not the problem – the problem lies with how and where it has been produced.

Choosing sustainable products is the best way to protect the environment and the people and wildlife that live in it. This guide can help you.

Carnivore keeper Louise Ginman has been working at Taronga for 25 years and features in episode 1 of the Taronga Talks podcast. Listen to her story here.

To support the conservation efforts, donate to our Sumatran Tiger appeal here.