Watch our graceful seals catch fish, climb and dive in this dynamic display. You'll see species such as the Australian sea lion, Californian sea lion, and New Zealand fur seal show off their natural abilities while you learn about their marine environment.
Need to know
Additional 1pm presentations - April

Across April, an additional 1pm Seals for the Wild presentation will be running on the following dates:

Friday 16 April
Saturday 17 April
Sunday 18 April
Saturday 24 April
Sunday 25 April
Monday 26 April
Sundays, Mondays, Tuesdays, Wednesdays, Thursdays and Saturdays: 11am and 2pm
Fridays: 11am

The 2pm Seal Presentation will be cancelled on Fridays until further notice during school term due to maintenance work in the pool. Don't forget you can still say hello to your favourite seal at the 11am Seal Presentation (map reference 9F)

No booking required (however, shows fill up fast so arrive early to save your seat)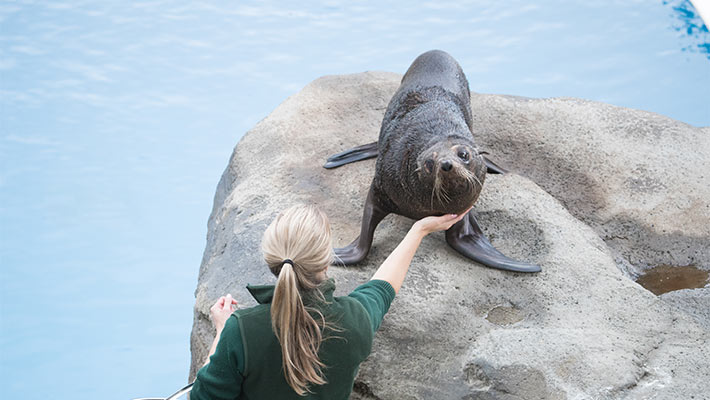 Your choice matters
At Taronga we believe in the power of choice when it comes to caring for and protecting wildlife and wild places. Seals for the Wild is powered by Red Energy, a 100% Australian energy retailer, owned by Snowy Hydro. Whether it's reducing your plastic footprint, choosing MSC when purchasing seafood or supporting renewable energy – you can be a champion for the wild.