Forage and Graze
Fancy a flat white amongst the peacocks? Grab a light meal at Forage and Graze (near the Zoo's main entrance) before you head in. Or pop in for lunch under the courtyard's gumtree, for a view of the Tree Kangaroos.
Menu*
Genovese Fair-Trade coffee and tea
Filled croissants 
Sandwiches and wraps 
Salads 
Muffins, cookies and slices 
Coca-Cola soft drinks, slushies and Peters ice creams
Need to know
Open from 9am to 4.30pm
No Zoo admission ticket required for entry 
90 minutes free parking for non-zoo visitors
Indoor and outdoor seating
Access to complimentary WiFi, restrooms and children's play area available
*Subject to change.
Taronga Food Market
For the safety of our staff and guests, the Taronga Food Market is currently operating in a limited capacity, in line with restrictions on the number of guests we are permitted to have seated inside.
Café
Coffee Shop at the Taronga Food Market – access opposite the elephants only.
Open 10am to 3.30pm.
Genovese Fair-Trade Coffee & Tea
Burrito of the day
Pies & sausage rolls
Pastries and sweet treats
Gourmet sandwiches
Coca-Cola soft drinks and  Peters ice creams
Taronga Food Market
Open 11.30am to 2pm on weekends, public holidays and during NSW school holidays.
Burgers
Hot chips
Burritos
Fish & chips
Vegan curry
Child friendly meals
Sandwiches
Salads
Sushi
Coca-Cola soft drinks, slushies and Peters ice-creams
Need to know
Conveniently located in the middle of the zoo
The Taronga Food Market may close early or not operate during wet weather
Indoor seating is limited, ample outdoor seating
Access to restrooms
*Subject to change.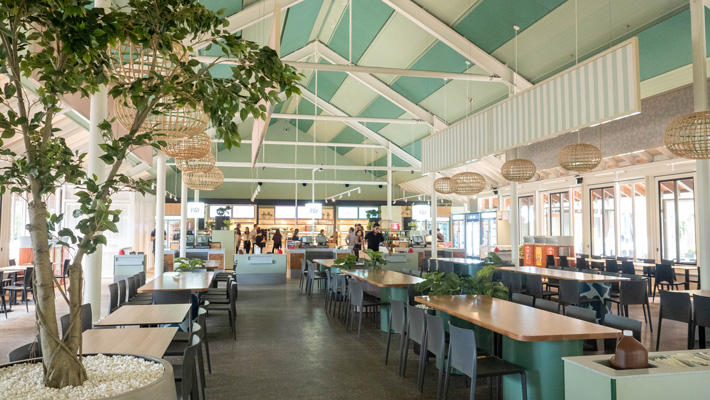 Picnic areas
There are plenty of lawn and picnic table spots to enjoy a meal with a view at Taronga Zoo Sydney. Spread out under the sun, and indulge in views of Sydney Harbour, the Bridge and the city skyline.