Forage and Graze
Fancy a flat white amongst the peacocks? Grab a light meal at Forage and Graze (near the Zoo's entrance) before you head in. Or pop in for lunch under the courtyard's gumtree, for a view of the tree kangaroos. 
Enjoy cafe favourites with the Taronga touch - think avocado crush with Persian fetta and toasted olive bread, and plenty of kid-friendly treats as well. 
Food available*:
Bircher muesli and yoghurt
Toast with a variety of toppings 
Filled croissants 
Bacon and egg rolls 
Sandwiches and wraps 
Salads 
Muffins, cookies and slices 
Tea and coffee
*Subject to change
Need to know:
Open from 9am
All-day menu available 
No zoo admission ticket required for entry 
90 minutes free parking for non-zoo visitors 
Access to lockers, restrooms, ATM and children's play area available
Taronga Food Market
The brand new Taronga Food Market is now open! Having recently undergone a full renovation, the Taronga Food Market is a bright space serving a selection of diverse and contemporary hot and cold food options. Choose from freshly cooked roast chicken to a delicious salad or simply relax with a coffee in a calm oasis setting.
Options include:
Hot food
Burgers
Hot chips
Roast Chicken
Noodles & Curries
Fresh cold options
Children's Pick 'n Mix
Sandwiches 
Salads 
Sushi
Drinks, Slushies, Ice Cream
Café
Coffee & Tea
Pies & sausage rolls
Pastries and sweet treats
Gourmet sandwiches
Cold drinks and ice cream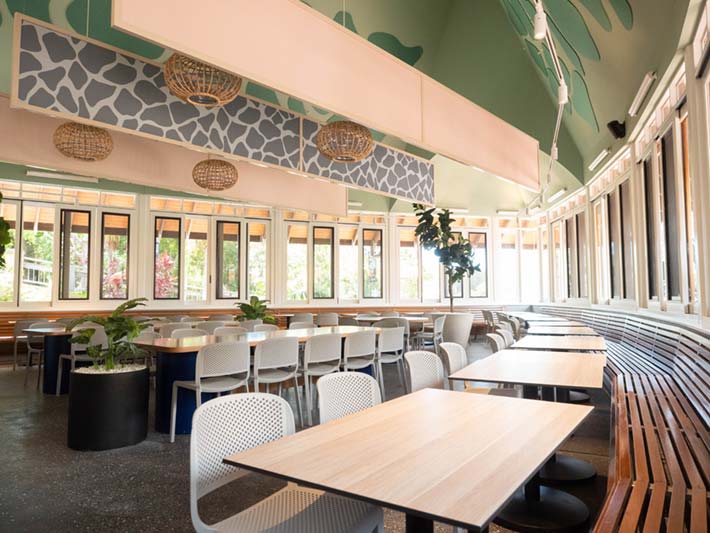 Picnic areas
There are plenty of lawn and picnic table spots to enjoy a meal with a view at Taronga Zoo Sydney. Spread out under the sun, and indulge in views of Sydney Harbour, the Bridge and the city skyline.