NOTE: the health and safety of our guests and our staff is Taronga's top priority and we will take all necessary precautions to ensure their continued welfare as we manage risks associated with the current COVID-19 outbreak.
In response, Taronga Zoo Sydney has put the following measures directly affecting food and drink offerings in place effective immediately:
Reusable cutlery and keep-cups are temporarily not available on site. These have been replaced with our fully biodegradable alternative
Seating across our food and beverage facilities set up for social distancing
For more details on what the Zoo is doing to keep you safe, stay updated on our COVID-19 notice page.
Forage and Graze
Fancy a flat white amongst the peacocks? Grab a light meal at Forage and Graze (near the Zoo's entrance) before you head in. Or pop in for lunch under the courtyard's gumtree, for a view of the tree kangaroos. 
Enjoy cafe favourites with the Taronga touch - think avocado crush with Persian fetta and toasted olive bread, and plenty of kid-friendly treats as well. 
Food available*:
Bircher muesli and yoghurt
Toast with a variety of toppings 
Filled croissants 
Bacon and egg rolls 
Sandwiches and wraps 
Salads 
Muffins, cookies and slices 
Tea and coffee
*Subject to change
Need to know:
Open from 9am
All-day menu available 
No zoo admission ticket required for entry 
90 minutes free parking for non-zoo visitors 
Access to lockers, restrooms, ATM and children's play area available
Taronga Food Market
Having recently undergone a full renovation, the Taronga Food Market is a bright space serving a selection of diverse and contemporary hot and cold food options. Choose from freshly cooked roast chicken to a delicious salad or simply relax with a coffee in a calm oasis setting.
Options include:
Hot food
Burgers
Hot chips
Roast Chicken
Noodles & Curries
Fresh cold options
Children's Pick 'n Mix
Sandwiches 
Salads 
Sushi
Drinks, Slushies, Ice Cream
Café
Coffee & Tea
Pies & sausage rolls
Pastries and sweet treats
Gourmet sandwiches
Cold drinks and ice cream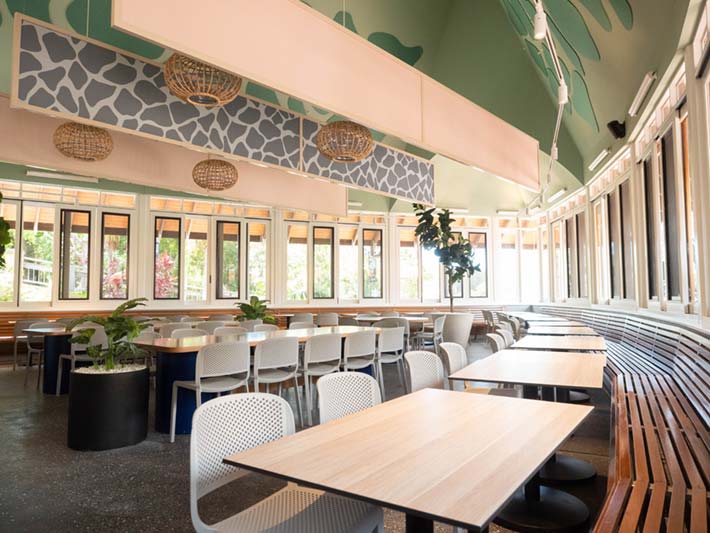 Picnic areas
There are plenty of lawn and picnic table spots to enjoy a meal with a view at Taronga Zoo Sydney. Spread out under the sun, and indulge in views of Sydney Harbour, the Bridge and the city skyline.