Welcome to the Wildlife Retreat at Taronga on Cammeraigal country, an immersive, overnight experience like no other.
The Wildlife Retreat is located just 15 minutes from Sydney CBD yet feels a world away, in a secluded, harbourside bushland setting. It's a peaceful, rejuvenating experience that connects guests with native Australian wildlife and forms an integral part of Taronga's vision to achieve a shared future for people and wildlife.
Immerse yourself in the stories of our expert keepers on exclusive tours within our unique eco-retreat, nestled inside Taronga Zoo Sydney. Feel inspired, knowing that income from every Wildlife Retreat stay directly supports Taronga's important animal conservation programs in Australia and around the world.
Inclusions
Enjoy connecting with incredible native wildlife on our Classic Retreat Package. With elegant accommodation, a guided tour through 'The Sanctuary', a precinct exclusive to guests of the Wildlife Retreat featuring up-close wildlife experiences and a buffet breakfast at on-site restaurant Me-Gal, the Classic Retreat Package is an immersive overnight stay and the following inclusions:
An afternoon tour of the Sanctuary, the Australian native wildlife habitat at the centre of the Wildlife Retreat home to Koalas, Wallabies, Echidnas and other unique Australian species
Buffet breakfast at Me-Gal restaurant
Complimentary access to Taronga Zoo for the duration of your stay
Free parking at the Main Visitor Carpark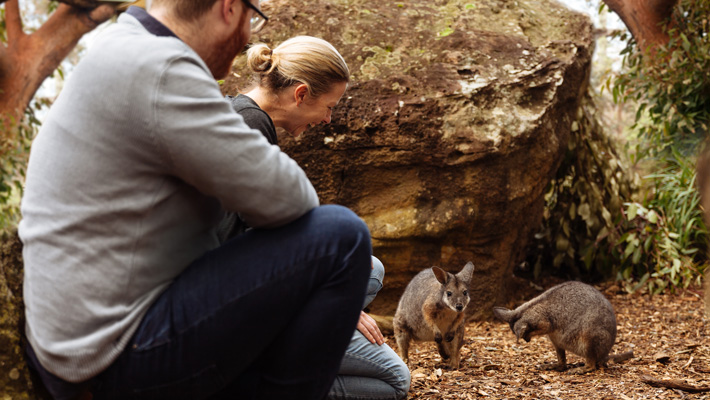 Itinerary
Classic Package Itinerary
One night stay
Day 1
From 9.30am

Prior to Check-in

Your stay at the Wildlife Retreat includes entry into the Zoo during Zoo hours on the day of arrival, during your stay and the day of check out. If you would like to arrive prior to check-in time at 2pm the front desk team will be happy to hold your bags and provide you with a pass for entry into the Zoo to meet some of the incredible wildlife.

From 2pm

Check in

Check in to your accommodation at Wildlife Retreat at Taronga. Please enter the retreat car park (past the main zoo entrance) from Bradley's Head Road to drop your bags. Complimentary parking is then available in the main Zoo carpark if required. 

At check in, our front desk team will be able to select timings for your afternoon Sanctuary Tour and Dinner at Me-Gal (if it has not been pre-selected via a booking link sent to you pre to arrival) as well as answering any questions you have about your stay.

2 to 5.00pm

Time at leisure

Zoo entry is included with your stay, so please feel free to wander into the grounds during Zoo opening hours and meet some of the animals in our care. Reception will be able to provide you with a map. The Zoo closes at 5:00pm in Summer and 4:30pm in Winter.

3 to 5pm

Sanctuary tour

'The Sanctuary' is a thoughtfully designed habitat, created especially for guests of the Wildlife Retreat at Taronga. Nestled amongst the accommodation lodges, views of the Sanctuary and the unique Australian animals that live within it can be enjoyed from the rooms.

Available between 3pm and 5pm daily, our guides will lead you on a journey where you can get close to some adorable Australian animals including bettongs, echidnas, pademelons and wallabies, hear fascinating talks and deepen your connection with Cammeraigal country.

Your Sanctuary Tour time will be selected at check in.

From 5.15pm

Dinner at Me-Gal

Dinner is not included in the Classic Package, however should you wish to add on Dinner at Me-Gal a booking link will be sent to your email prior to arrival to secure a reservation.

Light fare will also be served in N'Gurra lounge which does not need to be booked. View the N'Gurra Lounge menus.
Day 2
From 7am

Breakfast

After a night spent listening to the bellow of koalas outside your window and to the sounds of our local lyrebird, wake up with the animals and enjoy an buffet breakfast at Me-Gal before a day of exploring the zoo.

10am

Check out

Return back to the Wildlife Retreat at Taronga for check out. If you're not yet done exploring, you're welcome to store your bags with reception and spend some more time in the zoo.