Welcome to the Wildlife Retreat at Taronga on Cammeraigal country, an immersive, overnight experience like no other.
The Retreat is located just 15 minutes from Sydney CBD yet feels a world away, in a secluded, harbourside bushland setting. It's a peaceful, relaxing experience that connects guests with native Australian wildlife and forms an integral part of Taronga's vision to achieve a shared future for people and wildlife.
Your itinerary takes you inside our unique eco-retreat's facilities and includes exclusive tours within Taronga Zoo Sydney. Revenue from the Retreat supports Taronga's important animal conservation programs.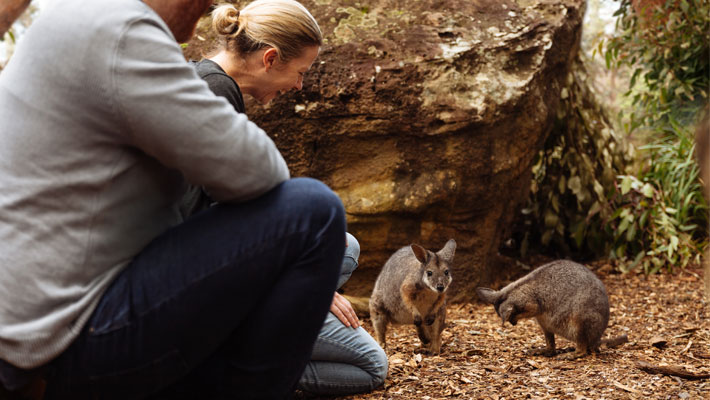 Inclusions
An afternoon tour of the Sanctuary, the Australian native wildlife habitat at the centre of the Wildlife Retreat home to Koalas, Wallabies, Echidnas and other unique Australian species
A three-course dinner at on-site restaurant, Me-Gal, exclusive to guests of the Retreat. Me-Gal boasts breathtaking views of Sydney Harbour
Buffet breakfast at Me-Gal restaurant
A morning tour of the Zoo exploring the Wollemi Aviary with rare and endangered native Australian birds, meeting the Red Kangaroos, Australia's largest roo, and the endangered Tasmanian Devils
Complimentary access to the Zoo for the duration of your stay
Free parking at the Main Visitor Carpark
Your itinerary
Your time at the Wildlife Retreat includes a range of guided tours, including one through 'The Sanctuary', a precinct exclusive to guests of the Wildlife Retreat, while another explores surrounding exhibits within Taronga Zoo Sydney. Both feature up-close wildlife experiences.
Check in: from 2pm
Check in to the Retreat from 2pm, arriving at the Wildlife Retreat entrance on Bradleys Head Road in Mosman, just down the hill from the main entrance to the Zoo.
You'll be greeted by staff who will take your care of your bags while you park your car in the main Visitor Carpark (100 metres up the hill).
If you are arriving by Ferry, make your to the lower entrance to Sky Safari and let the attendant know that you are a guest of the Wildlife Retreat. Sky Safari is Sydney's only cable car and will take you straight to the top of the Zoo, while also allowing you to take in sweeping views of Sydney Harbour. Once you arrive at the top of the Zoo, one of our friendly staff or volunteers will be able to direct you to the Wildlife Retreat. 
Afternoon Sanctuary Tour: from 3.30pm
'The Sanctuary' is a thoughtfully designed habitat that is home to native Australian species: Koalas, Tammar Wallabies, Rufus Bettongs, Potoroos and Pademelons. You'll likely meet Robbie, our 30-year-old Echidna, as he ambles up the central pathway and you may need to dodge a Wallaby hopping across the habitat.
Tours are led by our experienced guides and keepers who share their detailed knowledge of the animals and the extensive conservation work carried out by Taronga to preserve our precious wildlife.
Your tour will let you get up close to unique Australian animals, hear fascinating stories all whilst deepening your connection to Cammeraigal country.
The Reception team will organise a tour time for you.
Details
Afternoon guided tours generally begin at 3.30pm
Duration: 30 - 45 minutes
Multiple tours run each afternoon to accommodate all guests
Guided experience, leaves from the N'gurra Lounge
Comfortable shoes, a hat and sunscreen are recommended
The Sanctuary tour is completely wheelchair accessible
Dinner at Me-Gal Restaurant: from 6.30pm
Dinner is served at the Me-Gal restaurant - Cammeraigal word for 'tears' which evokes the saltwater harbour.
Experience an exciting modern Australian menu serving native ingredients and sustainably sourced local produce. A three-course dinner of your choice from the a la carte menu is included as part of your Retreat experience and there are generally two evening sittings.
Retreat Staff can book you into the restaurant.
Details
Extensive beverage menu and selection from a carefully curated wine list also available to purchase at an additional cost
While the Wildlife Retreat at Taronga does not stipulate a dress code, smart casual wear is recommended for dinner at Me-Gal restaurant
After dinner: unwind in the N'Gurra Lounge
Enjoy an after-dinner drink in the N'gurra Lounge and relax around the central 'campfire' as you soak up the sparkling city views.
Listen close in the quiet of the evening as the animals snuffle and walk amongst the bushes, birds fill the sky with song and koalas chew lazily in the treetops.
Buffet breakfast with a view: 7am - 10am
Hot and cold buffet breakfast offers an array of delicious items and importantly focuses on free range and sustainably sourced produce. Enjoy the locally inspired jams and condiments, and in-house made pastries.
Details
Served at Me-Gal Restaurant
Morning tours: from 7.15am
Join our guides for a morning tour of the Zoo and enjoy the early-morning atmosphere before it opens to the public. You'll wander through the Wollemi Aviary which is home to rare and endangered native Australian birds, you'll meet the resident Red Kangaroos, Australia's largest roo, and pop in to see the endangered Tasmanian devils.
The Reception team will organise a tour time for you upon check-in. 
Details:
Duration: 30 - 45 minutes
Guided experience, leaves from the N'gurra Lounge
Multiple tours run each morning to accommodate all guests
Comfortable shoes, a hat and sunscreen are recommended
Check out: 10am
Check out is 10am. If you're spending time in the Zoo, you can leave your luggage with Reception.
You will need to validate your parking ticket at Reception when you check out.
Free time: explore the Zoo with complimentary tickets
Spend the day exploring the Zoo with complimentary passes. Meet over 4,000 animals of 350 species, sit in on over 20 keeper talks, take in the QBE Free Flight Bird Show or Seals For the Wild.
Don't miss the South American Capybaras, Asian Elephants, Giraffe and more. If you venture into the Zoo early, you'll also likely catch the Tiger cubs when they're most active located in the Tiger Trek.
Read more about what there is to see at Taronga Zoo Sydney and navigate to the daily timetable.
Details:
Speak to Front Desk staff to arrange
Luggage storage available
Comfortable shoes, a hat and sunscreen are recommended