Your itinerary
Welcome to the Wildlife Retreat at Taronga on Cammeraigal country, an immersive, overnight experience like no other.
Your itinerary takes you inside our unique eco-retreat's facilities and includes exclusive tours within Taronga Zoo Sydney, overlooking magnificent Sydney Harbour.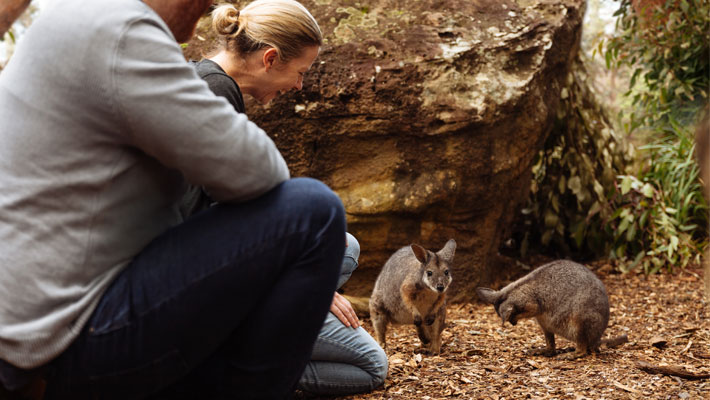 Our keepers and guides will share their knowledge and help you connect with our incredible country and its wildlife.
Taste culinary delights that are rich with fresh and native ingredients, before finally resting your head in a thoughtfully curated designer room.
Inclusive experiences
Your time at the Wildlife Retreat includes a range of guided tours, including one through 'The Sanctuary', a precinct exclusive to guests of The Wildlife Retreat, while another explores surrounding exhibits within Taronga Zoo Sydney. Both feature up-close wildlife experiences.
Discover koalas, wallabies and many other unique Australian species, meet their keepers and learn from their expertise. Learn how you can help ensure the survival of these incredible animals for the wonderment of future generations.
Check in: 2pm
Check out: 10am
Sanctuary tour
'The Sanctuary' is a thoughtfully designed habitat, created especially for guests of the Wildlife Retreat at Taronga. Nestled amongst the accommodation lodges, views of the Sanctuary and the unique Australian animals that live within it can be enjoyed from the rooms.
Our Guides will lead guests on a journey where they can get close to Australian animals, hear fascinating talks with our keepers and deepen their connection with Cammeraigal country.
Duration: 30 - 45 minutes
Guided experience, leaves from the N'gurra Lounge
Multiple tours run each afternoon to accommodate all guests
Dinner at Me-Gal Restaurant
Experience an exciting modern Australian menu serving sustainably sourced local produce at Me-Gal Restaurant. Enjoy delicious food and a carefully curated wine list accompanied by incredible Sydney Harbour views in the heart of the Wildlife Retreat.
Two courses*
Two sittings available
Extensive beverage menu available to purchase
*Two course meal included with your package, with option to add a third course at an additional cost.
Daybreak walk
The Daybreak Walk is a quiet, guided walk through the Zoo in the early morning. Walk on Cammeraigal country at first light. See the Zoo with fresh eyes, as a natural habitat where the plants that grow throughout the Zoo provide shelter and food for wild inhabitants of the Zoo. And perhaps most importantly, enjoy the peace, serenity and incredible views that our harbour-front Zoo offers at this time of day.
Duration: 45 minutes
Guided experience, leaves from the N'gurra Lounge
Tour runs once per morning
Buffet breakfast
Hot and cold buffet breakfast offers an array of delicious items and importantly focuses on free range and sustainably sourced produce. Enjoy the locally inspired jams and condiments, and in-house made pastries.
Two sittings daily
Served at Me-Gal Restaurant
Morning tour
After a delicious breakfast overlooking Sydney Harbour, set out with our Guides to enjoy more of the Zoo before our gates open to the general public. We will lead you through the Wollemi Aviary, where you'll find yourself surrounded by rare, unique Australian birdlife as they fill the air with song to welcome the new day. Continue onwards to see iconic Red Kangaroos and Tasmanian Devils, whilst enjoying the unique early-morning atmosphere of the Zoo.
Duration: 30 - 45 minutes
Guided experience, leaves from the N'gurra Lounge
Multiple tours run each morning to accommodate all guests
Complimentary access to Taronga Zoo Sydney
After your overnight stay, enjoy complimentary general admission to Taronga Zoo Sydney, home to over 4,000 animals of 350 species. Sit in on over twenty keeper talks, animal presentations and live shows delivered daily or relax over coffee at one of the cafes.
Speak to Front Desk staff to arrange
Luggage storage available