Posted on 28th June 2023 by Media Relations
Taronga Western Plains Zoo is celebrating the arrival of a White Rhino calf, born on Friday 16 June 2023.
The male calf was born overnight to mother Mopani, with Keepers delighted to discover him at the beginning of their work day.
"We had been keeping a close eye on Mopani as she approached the end of her gestation, which is approximately 16-18 months for a White Rhino," Keeper Fiona Cameron said.

"Mopani is an experienced mum and her pregnancy was very smooth. A couple of weeks ago we observed that she was getting closer to delivering.

"Happily when I arrived at the White Rhino yards, I saw the calf up and about and by her side. It was pretty special to be the first to know he had arrived."
The calf is now just over a week old and meeting all his early milestones, including suckling, sleeping and putting on weight as newborns do.
"He's very active and inquisitive about his surroundings and moving around with mum really well," Fiona said.

"Taronga Western Plains Zoo is now one of the largest holders of White Rhinos in our region, which is absolutely crucial for conservation, and raising awareness of the plight of this remarkable species."
After spending the past week bonding behind the scenes, Mopani and her calf have now joined older female Likwezi on the main paddock, much to the delight of guests.
The calf was sired by Umfana, who resided at Taronga Western Plains Zoo for about 20 years before moving to Monarto Safari Park in 2022.
The Zoo is now home to four males, including breeding bull Satara and younger males Winston and Humphrey.
The Southern White Rhinoceros is classified as near threatened in the wild, largely due to the threat of poaching for its horn. The horn is made of keratin fibres, the same as human hair or fingernails, but is a highly sought-after commodity for dagger handles and for use in traditional medicines, despite there being no scientific evidence of its efficacy.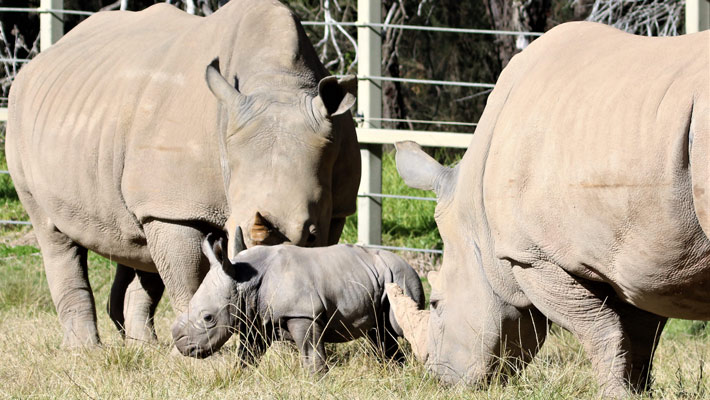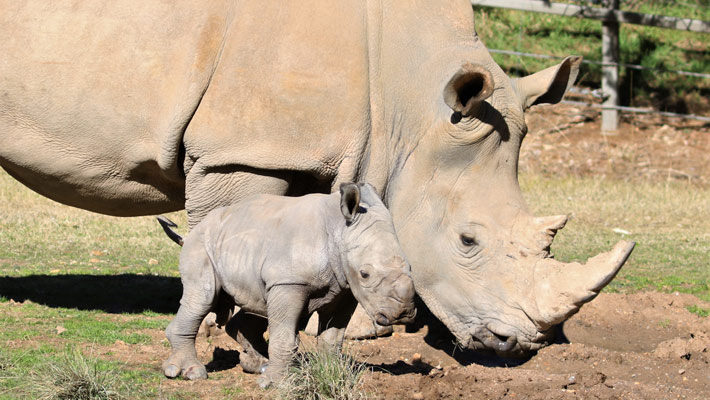 Taronga is a founding member of the International Rhino Foundation, and Taronga Western Plains Zoo has a long-established breeding program for the Southern White Rhinoceros.
Taronga actively supports conservation efforts for wild rhinos in Africa, Indonesia and India, providing funds and support with the International Rhino Foundation for anti-poaching and wildlife protection units, habitat protection and restoration, and expertise in veterinary care and reproduction to ensure all rhino species continue to survive in the wild.
Rhinos are not the only babies bouncing around at Taronga Western Plains Zoo, with three-month-old Meerkat pups Asali, Karoo, Keo and Nia growing into strong, healthy and confident little Meerkats. The paw-some foursome are right at home at the Waterhole where guests can see them busy digging, foraging, playing and of course doing sentry duty. The pups are growing up fast and will be full-sized in just three more months, so get in quick to see these adorable babies for yourself.
The five Giraffe calves are growing in curiosity – and height! Get up close and personal with the Zoo's tallest residents at the daily Giraffe encounter.
And don't miss out on the chance to join Lion cubs Amali, Imani and Mara in their exhibit aboard the Lions Pride Lands Patrol truck. Guests will be in prime position to see the cubs playing, exploring, sleeping and learning from mum and dad, Marion and Lwazi.
Plan your next adventure at: https://taronga.org.au/dubbo-zoo/discover
Taronga is not-for-profit. Every dollar you spend has the Power to Protect. Whether you visit, stay overnight, donate, become a Zoo Friend or Zoo Parent, book an unforgettable behind the scenes experience or buy a gift for a loved one, every dollar you spend helps save wildlife.