Project update
Taronga and its partners continue to make exciting progress with the reforestation project in Way Kambas National Park, Sumatra, Indonesia.
In 2020, 21,500 seedings and 10 hectares of forest were replanted. The survivability rate is currently 72%, well above the average of 50%. There is evidence of at least 22 different fauna species already utilising the new habitat, including a Sunda Pangolin!! 54 local and inclusive jobs have been created to date including and over 200 school students have participated in replanting and education programs. The priority for the first half of 2021 is restoring a further 10 hectares. Read more about how you can help!
Simply protecting remaining habitat is not enough. Degraded habitat must be restored.
Together with Indonesian conservation partners, Taronga is replanting 50 hectares (ha) of critical degraded forest habitat in Sumatra over four years. This year, Taronga has committed to planting a minimum of 15 ha.
Your donation today can:
$1,000 - plants 500 seedlings
$5,000 - plants 2,500 seedlings (1ha) and a sign with your name will be placed at the site of planting
$10,000 - plants 5,000 seedlings (2ha) and a sign with your name will be placed at the site of planting
$35,000 - plants 50% of required new forest, receives the above recognition, and a giant animal plush of your choice
We are working together for Habitat, for Wildlife and for Communities and we invite you to be involved
For Habitat
Significant areas of this forest have been highly impacted by human activity. While all illegal agricultural activities in the region have been ceased for over five years, much of the habitat is now a significantly degraded monoculture of elephant grass with opportunity for successful restoration.
This project is the basis for an ambitious long-term radical reforestation project, aiming to replant 5,000 ha (12,355 acres) of forest over the next decade.
For Wildlife
Way Kambas is one of the last strongholds for the critically endangered Sumatran Tiger and Sumatran Rhino and the endangered Sumatran Elephant – species Taronga is committed to protecting.
Experts agree that the only way to save the Sumatran Rhino from extinction in our lifetime is to manage the population in breeding facilities and protection zones like Way Kambas, which has been identified as one of two viable national parks.
For Communities
This work involves and supports local communities, with more than 50 local people employed throughout the duration of the project. Local farmers' groups are contracted to grow seedlings, and people with disabilities are hired to plant seedlings, trim invasive species and maintain the new growth areas by hand.
Rangers are hired from local communities, to manage the reforestation sites and patrol the areas to prevent poaching.
Donate online now or call 1300 369 116
All donations of $2 or more are tax-deductible for Australian residents.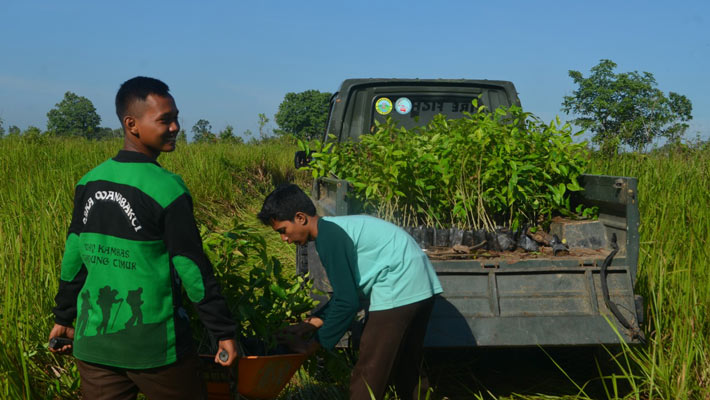 We invite you to be involved
You can support this work by donating to plant new habitat.
Funds will be directed to growing and raising seedlings in the nursery, planting and maintaining the new forest as well as providing equipment and resources.
Taronga is seeking to raise $72,825 to plant of 37,500 trees across 15 ha of critical degraded habitat in Way Kambas National Park and maintain the previously planted 35 ha.
Donations at all levels are welcome.
Our Delivery Partners are:
 International Rhino Foundation (IRF)
 Rhino Foundation of Indonesia (YABI)
 Way Kambas National Park 
 Directorate General of Nature Resources and Ecosystem Conservation
Taronga Conservation Society Australia is a not-for-profit conservation organisation with over 100 years of history and a truly global reach.
We believe that all of us have a responsibility to protect the world's precious wildlife, not just in our lifetimes, but for many generations to come.
Thank you for your support and we look forward to keeping you informed on how your donation is helping make a difference.