Competition details
From backyards to balconies, beaches to bushland, wildlife is all around us. You'd be surprised how many creatures and animals you could spot if you took the time to connect with nature and capture its wonder.
Students of all stages are invited to enter this photography competition to showcase local wildlife.
Entry details
Simply take a photo with a mobile phone, camera or other photo device of wildlife that is local to you. Whether it's a tiny insect on a leaf, to a kangaroo spotted on a walk, grab a camera and get your best snap!
Competition open: Week 4 of Term 2 - Monday 10 May 2021 at 9am

Competition close: Week 7 of Term 2 - Friday 4 June 2021 at 3pm

Winners will be announced during Week 9 of Term 2 (Monday 14 - Friday 18 June 2021)
You must:
Only submit one (1) image per student
Make sure your image does not contain any people - only wildlife and nature
NOT edit or manipulate your photos (e.g. via Photoshop)
Submit your entry only via the online form. No entries will be accepted via email or any other method
Provide a creative caption of your photo upon submission that describes your entry
Name your photo something that makes it clear it is yours and which school you attend - e.g. 'First Name Surname - School Name - Taronga Wild Snaps' 
Example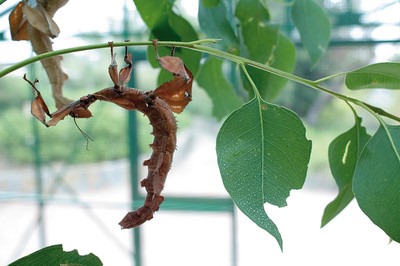 Creative caption: Is it a leaf? Is it a stick? It's a Spiny Leaf Insect! Hidden amongst its surroundings, this creature enjoys its daytime snack while camouflaging perfectly to avoid become a snack to something else!
NOTE: your safety, well-being and health is our top priority. If you cannot safely venture into the outdoors due to COVID-19, we ask that you please respect current self-isolation guidelines. You would be surprised how much you can discover from some in-home exploring. There is so much to see from a balcony or even lurking around the house!
The prize
There will be one (1) winner from each category below:
Category one: Kindergarten to Year 2
Category two: Year 3 to Year 6
Category three: Year 7 to Year 9
Category four: Year 10 to Year 12
Each fortnightly winner's winning photos will be shared on Taronga Education's Facebook page. Plus, each winner will receive a family pass to visit Taronga Zoo Sydney or Taronga Western Plains Zoo Dubbo!
Follow us

Follow the Taronga Education Facebook and watch as the winners are announced!
Past winners
Congratulations to the major prize winners from Round 1 of the Wild Snaps photo competition which took place in April 2020.