Posted on 22nd December 2017 by Media Relations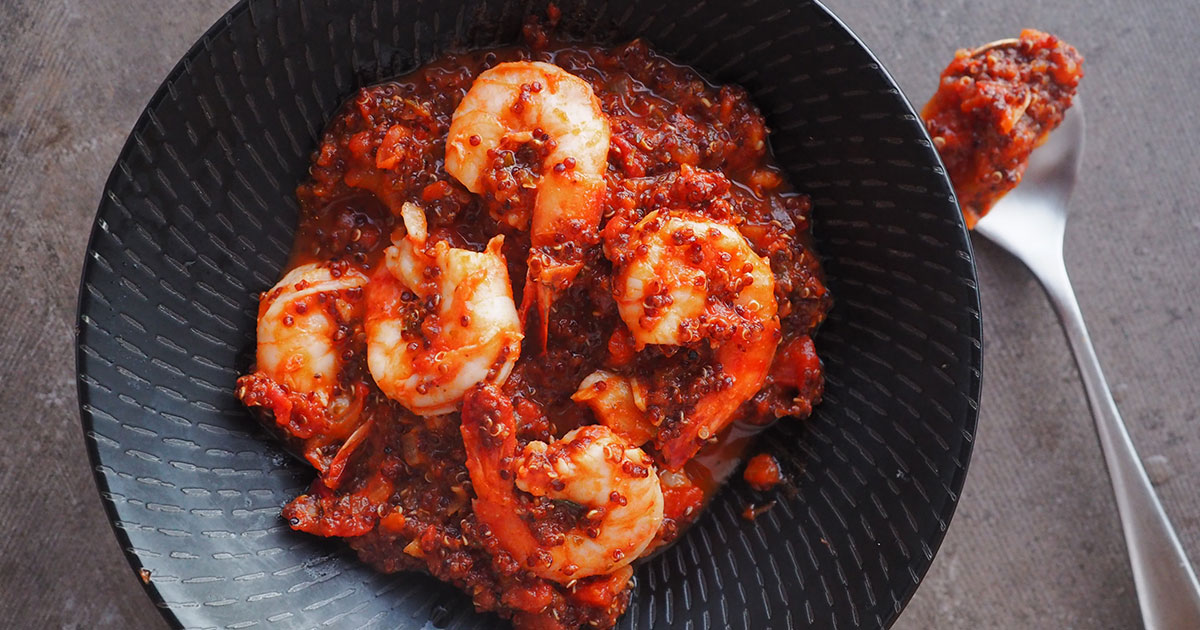 Taronga Zoo is proud to have collaborated with health coach, author and sustainable seafood advocate, Scott Gooding, to share MSC sustainable seafood recipes this summer. Scott has several other delicious recipes too for fresh inspiration. 
Serves 2
Ingredients
12 Tiger Prawns (or any prawn)
1 small brown onion - finely chopped
3 garlic cloves - finely chopped
1 long red chilli - finely chopped
3-4 anchovy fillets - roughly chopped
2 tin toms (unsweetened)
1 cup passata
1 cup red quinoa - washed and drained
sea salt
black pepper
Method
In a large fry pan fry off the onion, garlic and chilli in the olive oil until they begin to soften (3-4mins) (low heat)
Add the anchovies, tin toms and passata
Allow to gently simmer for 10 minutes or until it reaches a consistency you're after
To make the quinoa place a cup of quinoa (washed and drained) in 1.5 cups of salted boiling water
Allow to return to the boil
Turn the heat down to lowest and pop the lid on for 15 minutes
After 15 minutes remove for the heat and allow to sit for 5 minutes with lid on
Remove the lid after 5 min and lightly fork through
Add the prawns to the tomato sauce and allow to cook until opaque (3-4 minutes)
With 1 minute left to cook the prawn throw in 3-4 tbs of the cooked quinoa
Almost 90% of our oceans are overfished or overexploited – but it is possible to make good choices when you're choosing seafood. Next time you're shopping for seafood, look for the MSC eco-label and you can help ensure we have fish for the future.
Read more about sustainable seafood and what you can to do help.