Posted on 31st January 2019 by Media Relations
THE BIRTH OF AN ANIMAL is always an exciting time at Taronga, especially for our Zoo Keepers, who develop strong bonds with the animals in their care. The recent arrival of Torre (pictured above), a male Australian Sea-Lion pup, was particularly special for Ady D'Ettorre, who has worked as a Marine Mammal Keeper at Taronga for 33 years.
"I was here for the birth of Nala, who is Torre's mum, as well as the birth of her mum Kira. I was also here when Kira's mum was rescued from a beach and brought to Taronga," Ady says.
Although she has been a Keeper at Taronga Sydney for 35 years all up, Ady says no two days are ever the same. "There is so much diversity to the job – we could be hosing a pool, cleaning up poo, presenting in the Seal Show or rescuing a stranded or injured seal from a beach," she says.
Starting at Taronga in 1984, Ady first worked as a veterinary nurse, caring for young and orphaned animals. Within a few years she had moved into the Marine team; today she is their longest-serving keeper.   
"I've been very lucky to work with seals one-on-one for so many years," she says. "They are so charismatic, smart and challenging. They are also part of our team – the seals and Marine Keepers are like a big family, and I see the animals as lifelong friends."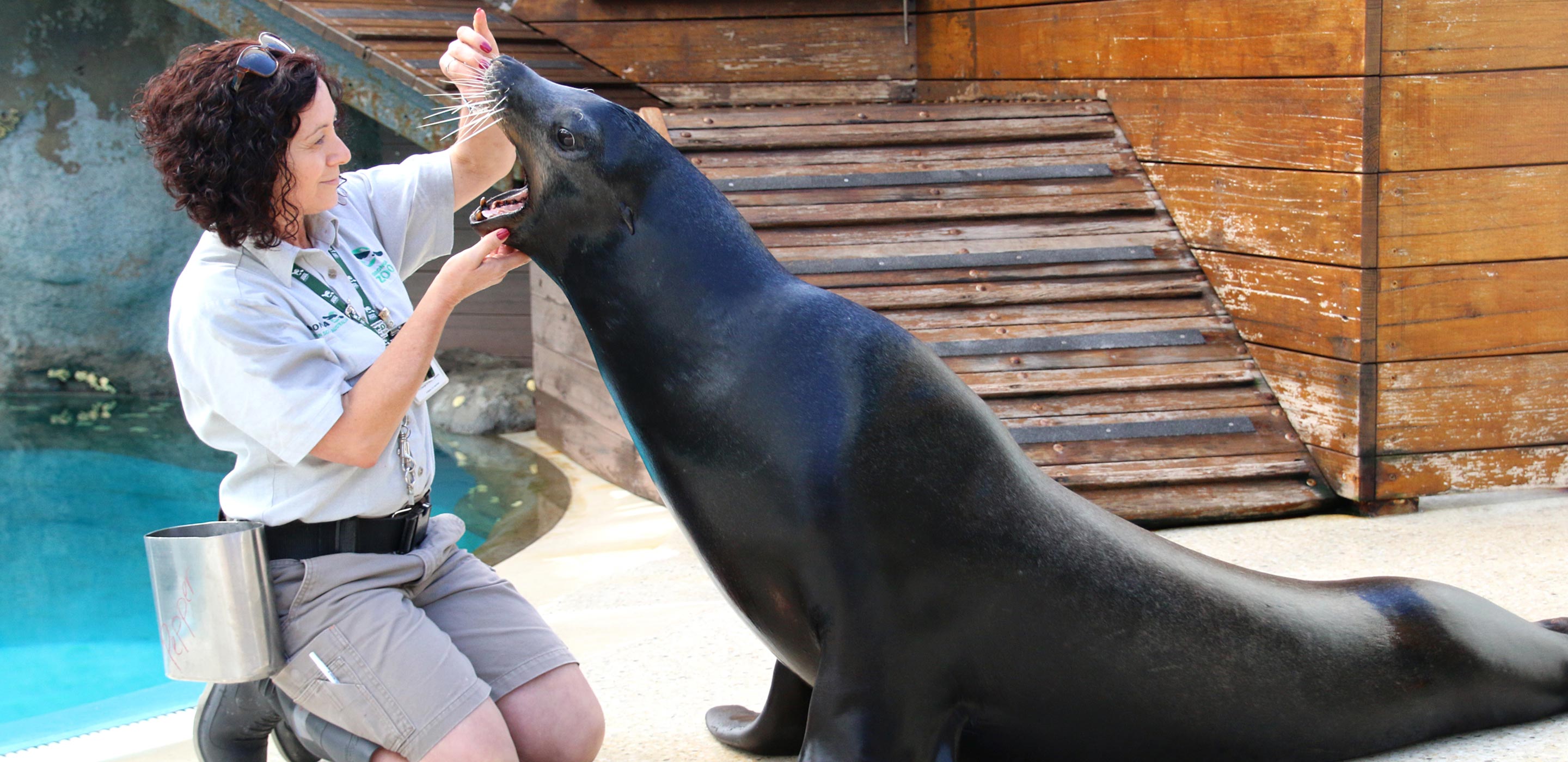 After more than three decades at Taronga, Ady will soon take some much deserved time off. In recognition of her dedication to the animals she's cared for, the name 'Torre' (an abbreviation of Ady's last name, D'Ettorre) was suggested by her colleagues for the most recent addition to the Marine Mammal family – our little Australian Sea-Lion pup.
"It's such a privilege to have Torre named after me," Ady says. "It's beautiful recognition and a real highlight. A special milestone that I can leave with."
"Right now he's so playful and curious," she adds. "He loves his toys and being hosed down by the keepers in hot weather. He also loves being out in the big pool, and like any puppy he does a lot of feeding and sleeping. He's still very reliant on his mum for milk and Nala is doing a great job taking care of him."
During her time at Taronga, Ady has spent countless hours presenting in the Seal Show and talking to guests about why seals like Torre are so special and what we can all do to ensure they have the best chance of survival in the wild.
"We need to protect our environment," Ady says. "People need to be more respectful in all areas – from taking better care of our oceans to looking after our domestic pets properly. Humans are just one tiny piece in the puzzle that is our planet and we need to understand that our actions have repercussions."
Read about the actions you can take to save our wildlife here. And meet the Marine Mammal team each day at our Seal Show: it begins at 11am and 2pm (plus 1pm on weekends).