Taronga's newest immersive experience, Nura Diya Australia is now open. Explore 23 iconic and rare Australian species and the unique habitats that call home.  
Along the 400-metre walking trail, you will stroll amongst Kangaroos, come paw-to-paw with our Dingo pups, walk within the tree canopy to see Koalas up close and then venture into the darkness to see curious night-loving creatures.  
These animals are some of the oldest and rarest wildlife found nowhere else on earth. We invite you to immerse yourself amongst native Australian flora and fauna, connect with Country and reconnect with nature. 
Nura Diya Australia combines four unique landscapes: 
buru nura - Kangaroo Country 

gulamany nura - Koala Country 

wuragal nura - Dingo Country 
nguwing nura – Nocturnal Country 
PLEASE NOTE: The ramp surrounding the Dingo habitat will be closed from Monday 27 November - Wed 29 November until 11am.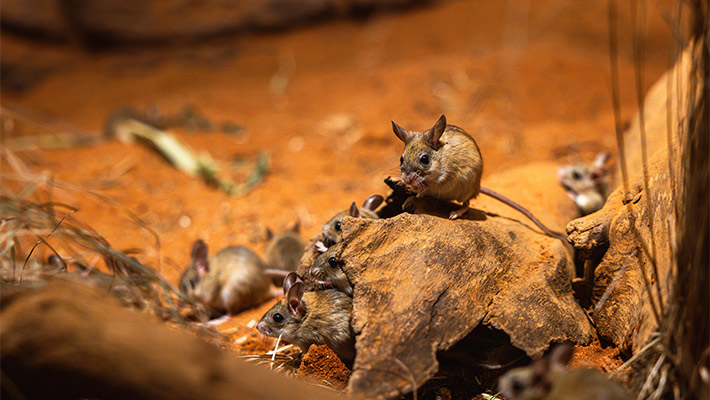 nguwing nura – Nocturnal country
Opening on Friday 22 September.  
Journey from day to night as you enter our new Nocturnal Habitat to discover some of our most iconic night-loving Australian wildlife including Spinifex Hopping mice, Fat-tailed Dunnarts,Ghost Bats, Chuditch (Western Quoll), Rufous Bettong, Greater Bilby and the Yellow-bellied Glider
Guests will be instantly transported to the deserts of Central and Western Australia or the bushland along the East Coast of Australia where they will come eye-to-eye with lesser-known species such as the Greater Bilby and Chuditch.   
nguwing nura – Nocturnal Country completes the Nura Diya Australia experience, which aims to educate and inspire local guests to care and protect wildlife found in their very backyard.  
Be once of the first to step inside our new Nocturnal habitat where day becomes night.  
PLEASE NOTE: Nocturnal House will be closed during Monday 27 November - Friday 1 December until 12pm.